Nic:
Hello, everybody. My name is Nic, and today I will be listing down various types of office chairs that you can consider getting in Singapore. Joining me today is my co-host, the entity behind My Negative Thoughts and The Reason I Can't Sleep At Night.
Inner Voice:
Hello. Thanks for the warm introduction.
Nic:
What do you look for in a good office chair, especially in a place like Singapore?
IV:
Firstly, office chairs should have good lumbar support – that's the thing that stops your spine turning crooked. They should also be made out of a material that doesn't tear itself apart after a couple of months. Cheap leather tends to crack in cold temperatures if it's not well-maintained – and who the hell wants to maintain a chair at work?
Nic:
I see. What about armrests?
IV:
Technically, there is no reason to have an armrest if you're working like you're supposed to, since your hands should be on your keyboard all the time. But we all know people like that don't exist, so get chairs with armrests. It also looks more professional if you have clients over.
Nic:
What about offices that don't see a lot of clients?
IV:
Then they provide a place for you to rest your arms. But enough talk, let's start with the reviews.
Nic:
This listicle will include all the details that I was able to find on their product page. Before you begin to read it, it would be good to know a few things:
Most of these products are 'Made in China'
I cannot read Chinese
They tend not to have a very extensive product specifications because, well, they're just chairs
I have not reviewed any of these products myself, although I would welcome any company that wants to do a sponsorship
IV:
The chairs are also listed in no particular order, although we will do our best to suggest why a particular chair might be more value-for-money than another one.
Products
Price:
$79.90
$38.70
Product details:
Nylon mesh
Steel chrome wheels
Memory foam cushion
Hydraulic height adjustment
Self assembly required
Comes in seven colours: Black, Grey, Blue, Green, Red, Orange, and Pink
Materials listed:
Nic:
This is the white bread of office chairs, but in more colours. It's affordable, has decent lumbar support, a mesh back, and wide, hard plastic armrests. This is the office chair by which all other office chairs will be judged against.
IV:
Yeah, there isn't much to say about this. It doesn't stand out in any way, except if you get one of those coloured ones. I can't think of a company who would get a coloured version, except maybe Lego. Then again, do you really want your chairs to stand out in an office?
Nic:
Reviews online say that they had difficulties screwing the chair on, since the pins aren't properly aligned. To that, I would like to remind these people that the chair is $38.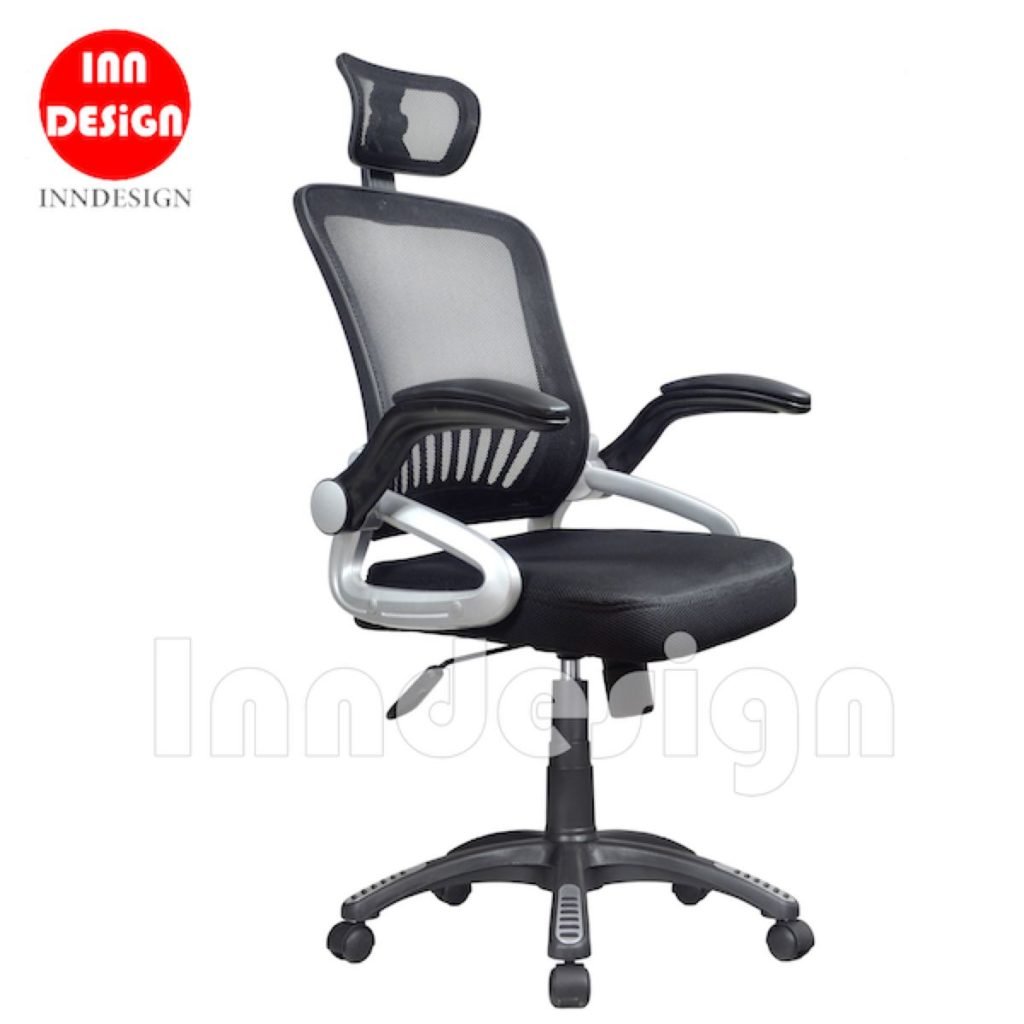 Price:
$299
$179
Product details:
Comfortable armrests with an adjustable back angle mechanism.
Strong back casing
Pneumatic height adjustment
Sway/lock adjustment on the headrest
Materials listed:
Nic:
I like this chair. It's simple, has a headrest, and there's paddings on the armrests. The armrests can be raised backwards if, for some reason, you don't want them there. You can also lean back comfortably on the back casing, and your spine won't hurt after sitting on it for prolonged periods. They even install it for you for free.
IV:
First of all, Zenna. Mesh isn't a material. Mesh is a stitching style that usually uses nylon or polyester in its creation. The good thing about mesh is that it's breathable and allows your skin to 'air', so that it doesn't absorb sweat. It works off the same theory as dry-fit shirts, except that the holes are a lot larger because you don't usually wash chair fabric. The bad thing about it is that leaning on mesh for too long will result in an itchy back if you're not wearing a thick layer of clothing.
All the listed product mechanisms are typical of an office chair; no more, no less. Ergonomic design, back rest, wheels. I'll say one good thing about it, though: the seat isn't mesh as well. You know what happens with mesh seats? After your first pantry raid, they get filled with crumbs from snacks.
Nic:
The price tag is what's putting me off. Although it offers more than the previous chair, it's almost $140 more expensive. If you can afford it, I guess this option is pretty decent.
Price:
$168?! Jesus Christ.
$58.10
Product details:
Polyurethane (PU) Leather covered
High density cushions
Hydraulic height adjustment
Reinforced steel frame
PU Grey caster wheels
Comes in five colours: White, Black, White and Black, Red, and Pink
Materials listed:
PU Leather
Reinforced steel
Nic:
I don't know about this one. The plain white and plain black ones are fine; they'll fit in most offices. The others, though…
IV:
The red one looks like it belongs in a retro-themed barbershop, and the pink one is something out of Barbie's dollhouse. I don't know how I feel about the black/white one too – it looks like someone folded a mattress in half and slapped chair legs on it.
Nic:
About the chair itself; it's below standard for an office chair. There's no lumbar support, no headrest, and the metal parts on those armrests will get cold pretty damn fast. Especially for office chairs in Singapore, where the air-con is on most of the time, it's highly likely that you'll get a rude shock every time your skin comes into contact with them. Can they even be called armrests? They're like thinner versions of the handlebars on the MRT train for the disabled people.
IV:
The only written review states that the chair is uncomfortable after sitting on it for a prolonged period, which is something I really don't want to see. If I'm going to be seated for nine hours a day, it has to at least not be uncomfortable enough for me to notice. Even if it's 'only' $58.10. It's a hard pass from me, but ultimately, you make your own choice.
Price:
$69.90 for the black option
$79.90 for coloured options
Product details:
Ergonomically designed
Height adjustable up to 13-15cm
Breathable mesh
Designed to support hours of work like typing and writing
Curved backrest design that can recline up to 130 degrees
Adjustable headrest
Comes in six colours: Black, Blue, Green, Orange, Purple, Red
Materials listed:
Hard plastic for the armrests. No other materials stated.
Nic:
Look at this beauty. It's sleek, sassy, and the polish on those chairs? C'est magnifique. I wish they listed more materials for the chair, but really, what more is there to say? A chair like this wouldn't look out of place in any office. Best of all, it's relatively affordable compared to other chairs in the market.
IV:
The worst review is that it takes a long time for the delivery to arrive, but I can understand. If it were me, any waiting time for this would be too long.
Nic:
Unfortunately, one review states that the delivery time exceeded the Shopee Guarantee date. This means that if the chair arrived and was faulty, there is nothing you can do about it. I don't know if it's a one-time thing or if the seller just has a habit of releasing items slow, but I wouldn't mind taking a risk and buying it. After all, it's only $79.90 at most.
Price:
$199.00
$135.00
Product details:
Comfortable neck
Handrails
Bent back
Hydraulic adjustable height
Chair feet (?!)
Materials listed:
Nic:
Well… damn. Let's start off with the good points.
It definitely looks… boss-like. The product details read like a checklist of chair parts. That headrest is almost definitely no good for your neck, since you'd have to lean back in order to rest your head. You want a headrest that protrudes forward a little bit, like the Zenna or Eaton models, because your head isn't actually aligned directly to your spine when you're doing work.
IV:
It gives off a strong old-school vibe. Maybe it would be good for offices that follow a retro theme, but even then, there are probably better choices out there. The matte finish on the armrests and legs look terrible.
PU leather is also prone to cracking after a couple of years, especially on cheaper chairs. That's because PU leather lacks the flexibility and elasticity of genuine leather, and cannot stretch without breaking. Areas that are highly prone to breaking would be the parts that bend the most – in this case, the front of the seat and the top of the headrest.
And also, those product details suck. 'Comfortable neck' for an uncomfortable head, and a 'bent back' for your bent back. Describing chair legs as 'chair legs' just seals the deal for me; I'm saying no.
Price:
$299.00
$189.00
Product details:
Ergonomic design
Reclinable mechanism
Foot rest
Comes in two colours: Black, and Brown.
Materials listed:
Nic:
This chair is definitely better designed than the other. As with the INNDeisgn Boss Chair, the UMD makes use of PU leather in its design, but in a smarter way. Take a closer look at the seat and headrest. The edges end off at a seam, reducing the stress on the leather in a way that doesn't compromise on comfort.
IV:
It also comes with a footrest, which may look nice, but isn't very practical in an office setting if you're seated in a cubicle. The instant you bust them out, you're going to push yourself away from your table. Unless you have a lot of legroom, this feature is going to be wasted on an office chair.
It doesn't seem to have decent lumbar support. To be fair, lumbar support isn't mentioned in its product page. However, the 'ergonomic design' feature that you see on so many chairs is a reference to its curved spine and sculpted seat. When you see 'ergonomic design' on any office chairs in Singapore, it's just marketing speak for 'designed for optimal comfort'.
You'll probably get your money's worth on this model, even if it's a little bit pricier than the other chairs so far. Installation also comes free, which should be a relief for prospective buyers. Imagine installing all those fiddly bits on your own.
Price:
$299.90
$139.90
Product details:
Ergonomic design
Artificial leather
Power source
360 degree turn (lol)
MASSAGE OPTION
Four sections of backrest with anti-dumping design (no idea what this means)
Materials listed:
Artificial Leather
Stainless steel
Nic:
Artificial leather is also called faux leather. It doesn't speculate on the material, but my guess is that it's made of PU leather as well.
The most obvious benefit that this has over the other chairs is that it has, of course, a massage option. Do you need a massage option? No. Would it be nice? Yes. My body wants it, but I'm not sure how comfortable it will be.
IV:
As mentioned, the tendency for man-made leather to crack isn't as low as one would like. When you include the massage beads spinning in all directions at once, that leather is going to wear and tear a lot quicker. Furthermore, how often do you get to really lie back in your chair when you do work? If you're anything like me, the only places in contact with your office chair are your butt and the lower half of your back. You'll never be able to make use of the chair's full range of capabilities.
If you do switch on the massage option, you'd better hope there's some serious soundproof padding included. My experience with massage chairs has always been marred by the consistent low hum of the engines, making it hard to really relax and clear my mind. Then again, since I'm just Nic's inner voice, I don't really have a mind of my own.
Nic:
I also want to draw attention to the 'power source'. If you're not an idiot like me, you'll know that the power source refers to a USB port that you can use to charge your devices while you sit on the chair. BUT. You can already do that with your office plugs, which means that it's just another pointless function that you're paying money for.
IV:
I'd get this as a chair for my own personal purposes, or if work leaves me free a lot of the time. Apart from that… I can't justify buying it. It doesn't look good, has a load of semi-useful functions, and as mentioned, the footrest isn't as useful as it sounds.
Price:
$115.00 for non-footrest options
$145.00 with a footrest
Product details:
Ergonomic design (pfft)
Iron/steel frame
Can tilt back 160 degrees
Comes with a head and waist pillow
Come in four colours: Red, White, Blue, and Green
Option to include a footrest
Materials listed:
Nic:
Told you. I think it's made of PVC leather as well – most gaming chairs tend to be made of PVC instead of PU leather, since it looks sleeker and doesn't absorb as much sweat. Apart from that, the only real major difference from the previous chair is that it doesn't have rotatable armrests. Maybe the quality is different too, but I wouldn't know – I don't have any to test at the moment.
Just looking at the features, however, you're paying about $370 less for a chair that can't rotate its armrests. You can still adjust the head and back cushions, lean down a whopping 150 degrees, and look cool while doing so.
IV:
Provided it performs as well as it looks, this is my favourite chair of the lot, apart from the strange name choice. $145 is actually really affordable for a gaming chair – too affordable, in fact. I fear that there is a catch somewhere I didn't pick out, especially since there is only one model sold and there are no reviews at all. If I had a choice, though, I'd buy this for everyone in the office, but in white, so that I sit stand out in my hot red version.
Nic:
As a special mention, here are two chairs above the $200 price range that I've found while mucking around on the interwebs.
Price:
$649.00 the f*ck
$519.20
Product details:
Ergonomic design (yeah yeah whatever)
Sturdy 5 star aluminium base
Load-bearing up to 120kg
Adjustable design
Stylish appearance (can't fault that)
Materials listed:
Nic:
This. This is a thing of beauty. Sirius is known as the dog star, which happens to be the brightest star in our galaxy. The name definitely fits this shocking pink chair; all eyes will be drawn to it the instant it's wheeled into the office. It's beautifully designed, and the PVC leather means that it'll be less tacky compared to its PU leather counterparts after prolonged use. PVC is a bit more slippery, which can be a good or bad thing depending on your preference, but I like myself slippery chairs.
IV:
When it says adjustable design, it really does mean adjustable design. Every aspect of this chair can be adjusted, from the height of the headrest to the swivelling armrests. You can even lie down on it. The 360 degree rotation and adjustable height is a default requisite for office chairs, so I won't count them as major benefits.
The lumbar support cushion is adjustable by pulling on the tags. You can set the cushion to be as high or low as you like, which should prove to be a blessing to shorter people. No matter where the curve of your spine is, the chair will accommodate you.
HOWEVER. Don't just buy it yet. This chair, while stunningly crafted, still costs about $520. This isn't money that you can just throw at something without considering any alternatives.
Price:
$2585.00. Oh boy, here we go.
Product details:
Innovative ergonomic design
Pixelated support
Comes in sixteen colours, of which you can look at the website to see for yourself.
Backfit adjustment
Layers of intelligence
Functional technology
Materials listed:
Nic:
There are words being used in the description of this chair that I have never thought would be used to describe a chair. The product page states that more than 20 physicians and PhDs have combined their biomechanics, vision, physical therapy and ergonomics expertise to aid in the development of this chair.
IV:
Pity they didn't hire a product designer. I mean, can you tell this chair costs $2.5k just by looking at it?
Nic:
Let's break down the features one by one. Pixelated support means that you'll… uh… get the sense of floating, yet you're perfectly balanced. I'm not sure about you, but I personally feel like this is a novelty function that I'll learn to ignore after a week. This apparently reduces pressure on your spine, encourages healthy blood circulation, and improve your focus.
The chair's back is designed to mimic a human's, with a central spine and flexible ribs. This ensures that the spine fits your back and adapts to your movement, adjusting automatically to your shifting positions. Even if you lean forward or recline, the support remains constant.
IV:
Now… about the layers of intelligence. The Embody seat has four different support layers, created with all sorts of different materials and properties to orient themselves to your body shape. It also claims to be able to accomodate for your pockets, which sounds kind of horrifying. These layers are also designed for airflow, and will keep you cool and comfortable as you sit down and work.
As for functional technology – honestly, it's just the same thing repeated over and over. In essence, the chair conforms to your back, and each part of the chair is designed to maximize your health.
Would I buy it? No. Even if I were the richest man in the world, I would rent it for perhaps a week, just to see what it's all about, then go back to the Sirius chair further up in the article.
Conclusion
And there you have it. Thank you for listening to me talk to myself this whole time, it really made me feel like somebody finally cares about what I have to say.
Picking out an office chair is highly dependant on your office layout, your budget, and whether or not it sparks joy. Always remember: no chair is so bad that it has killed someone trying to sit on it.