While we generally enjoy good air quality in Singapore, there are times when the island is covered with smoke. During the annual haze season in Singapore, it's always good to have an air purifier to help us filter those harmful PM2.5 particulates.
But before we get to our list of the best air purifiers in Singapore, let's find out more about how the various types of air purifiers work.
Types of air purifiers
1. Ultraviolet air purifiers
Ultraviolet (UV) air purifiers work by zapping viruses, bacteria, and pathogens with UV rays. These rays break up molecular bonds in their DNA and prevent the cell from dividing, which stops infection entirely.
Residential UV air purifiers are small and compact, and the light rays are contained within a chamber.
Because UV lights run on a bulb, you'll have to replace the bulb once it wears out. How often it wears out depends on your frequency of use and the model of bulb, but a good gauge would be once a year.
These air purifiers are suitable for killing moulds, viruses, and bacteria, although they are pretty useless when it comes to stuff like fur and dust. To cover for this weakness, most UV air purifiers work in tandem with other filters, which will be covered below.
2. HEPA air purifiers
HEPA is an acronym for High-Efficiency Particulate Air. Air purifiers that use HEPA filters can trap an estimated 99.97% of all particles larger than 0.3 microns.
Here's a bit more information on what a micron is:
A micron is a term used to describe a millionth of a metre, or 1/1000 of a millimetre.
The smallest particle that can be seen with the naked eye is anything above 50 microns.
A human hair is about 100 to 150 microns across.
Bacteria range from 0.2 microns to 3 microns.
HEPA filters work by trapping particles in one of these 3 ways:
Interception
Particles that come within the radius of a fibre is stuck to it due to static.
Impaction
Particles that collide with the fibres are embedded in them and trapped.
Diffusion
Particles that collide with gas molecules are slowed, making it more likely that they get stuck to a fibre.
While HEPA filters may be the most effective way to trap airborne particles, they fall flat when it comes to removing odours, chemicals, or gases. That's why most HEPA air purifiers often come with some sort of activated carbon filter to absorb whatever passes through the HEPA filter.
HEPA filters also have to be replaced every 2 to 4 years, once the filter becomes overly saturated. Air purifiers in Singapore that utilise this technology will probably need to have the filters changed after each haze season.
3. Activated carbon technology
Activated carbon filters are made from processed carbon, which makes it extremely porous. This gives it a very large surface area and makes it perfect for absorbing all those nasty toxins out of the air.
The activated carbon can effectively absorb pollutants such as chemical emissions, gases, tobacco smoke, and other odours. Any captured pollutants will not be released back into the air, eliminating the risk of recontamination.
These filters also work well in absorbing formaldehyde, which can be found in certain types of household furniture. Perfumes and other fumes are also absorbed by the carbon filter, making it easier for those with asthma and/or sensitive noses.
Unfortunately, they don't perform that well when it comes to removing airborne particles and allergens, since it relies on absorption rather than sticking. For instance, you can throw a strand of hair into a HEPA air purifier and it would disappear. But if you repeated the same action with an activated carbon purifier, your strand of hair would simply fall to the ground.
They also work poorly around contaminants that are too far away, since they rely quite heavily on a fan to force air through the filter.
4. Negative ion/ ionisers
Negative ion air purifiers fire out negative ions into the air. These negative ions are simply oxygen molecules that have been given an electron. Negative ions attach themselves to smaller particles such as pollen or dust. They will form into a bigger one for easier filtration by the air purifier.
But these particles may also not get filtered by the air purifier. Instead, they attach themselves to a solid surface, such as a wall or a curtain.
5. Ozone purifier
Ozone air purifiers work in a similar manner to negative ion purifiers, but make use of ozone to trap pollutants instead. When it makes contact with organic material, it reacts with the item while creating oxygen as a byproduct. This makes ozone very effective at getting rid of odours, mould, and microbes.
However, ozone can irritate the lungs over time. Another thing to note about ozone is that it doesn't remove stuff like dust and pollen, so they have to work in tandem with negative ion technology – which also doesn't remove stuff like dust and pollen.
Here is a handy list of what each air purifier can do, assuming it doesn't come with multiple filters.
Type of air purifier
Capability
HEPA
Traps airborne particles, bacteria, and virus that are larger than 0.3
microns
Activated carbon
Absorbs odours
UV
Kills bacteria and virus
Ioniser
Produces negative ions that stick to airborne particles, bacteria, and
virus to get rid of them
Ozone
Produces ozone molecules that
react with odours, moulds, and
microbes to get rid of them
With that, let's get on with our list of the best air purifiers to get in Singapore, which can come in handy especially during the haze season.
Top 15 air purifiers to get in Singapore
| | |
| --- | --- |
| Technology | Ioniser |
| Price | $23.90 (usual price $49.90) |
| Size | 220 x 220 x 180mm |
The Pure Water Air Purifier 606A is one of the cheapest air purifiers in Singapore. You can consider getting this one if you're on a tight budget.
While it doesn't have features like activated carbon and HEPA filters. This air purifier has an ioniser that neutralizes harmful micro-organisms such as germs, bacteria, and fungus.
This air purifier works by drawing in the polluted air into the purifier. The water and anti-bacterial solution in the container then trap and neutralise the pollutants, releasing purified air. To remove unpleasant smells, you can also add essential oil to the water.
| | |
| --- | --- |
| Technology | Activated carbon and HEPA filters |
| Price | $195 (usual price $299) |
| Size | 240 x 240 x 520mm |
| Noise level | 32.1dB |
The Xiaomi Air Purifier is pretty small, taking up space the size of an A4 paper, and claims to use less electricity than an energy-saving bulb. The noise level, pegged at 32.1dB (slightly louder than someone whispering) is also low.
With the HEPA and activated carbon filters, almost all sorts of particles are picked up by the air purifier. A display on the front also tells you the concentration of particles in the air.
The Mijia air purifier can also be linked to your phone, so that you can be updated on the air quality of your home at any time. If you have more than one Xiaomi Mijia product, they can be synced together for intelligent voice control over your gadgets. Unfortunately, it only supports Chinese as of now.
Technology
Ioniser and HEPA filter
Price
$239 (usual price $249)
Size
400 x 463 x 182mm
Noise level
Not stated, but fan operation
becomes quiet during Sleep Mode
This SHARP Plasmacluster utilises a mixture of ionizing technology and a HEPA filter to trap almost all the particles present in your air. The way it works is simple – negatively charged ions are released into the air, which collide with dust mites, mould, and other airborne microbes.
These ions then fall to the ground. A fan blows circulating air around the room, and forces all the particles into its filters. They are then captured by the filter and trapped inside.
| | |
| --- | --- |
| Technology | HEPA filter |
| Price | $249 (usual price $399) |
| Size | 424 x 400 x 133mm |
| Noise level | 47 – 51dB (max) |
The good thing about the Hitachi EP-A3000 Air Purifier is that its air suction draws air from 6 different directions, allowing better coverage.
Fitted with HEPA filter, the Hitachi EP-A3000 Air Purifier can filter contaminants such as odours, allergen, and pollen effectively. It can also remove smells from pets, tobacco, cooking, and toilet.
Plus, it come with 3 modes: air purify, odour, and pollen. If you just need to remove the curry smell in the house after cooking a pot of curry, you can just switch on the odour mode.
Technology
Ioniser, HEPA and activated
carbon filters
Price
$388
Size
383 x 225 x 520mm
Noise level
Depends on setting, from less than 40db to 59db
The Novita Air Purifier NAP811i filters air through its 5-step PuriPRO Filtration System. Its HEPA filter works by removing airborne particles, viruses, and bacteria, while the activated carbon absorbs unpleasant odours in the air. Its ioniser also helps to remove airborne allergens through negative ions.
With all these features working together, it's a good air purifier to use during the haze season. It can potentially remove 99.99% of PM2.5 particulates.
Additionally, it comes with an air quality sensor and light indicator that notifies you on the current air quality.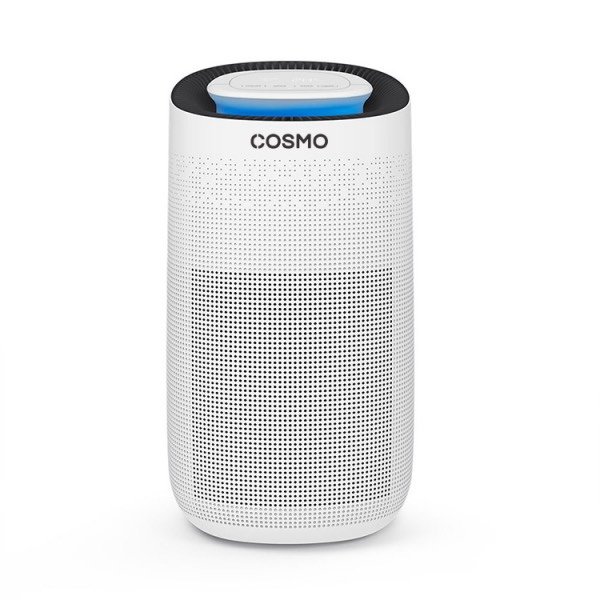 Technology
Ioniser, activated carbon, and
HEPA filters
Price
$450 (usual price $538)
Size
303 x 270 x 497mm
Noise level
20dB
Unlike the typical air purifier in Singapore, the Cosmo Prime Air Purifier has a circular design that enables it to absorb contaminants including smoke, bacteria, and virus from all angles. This also means that the air will be filtered more effectively.
At a noise level of 20dB, this air purifier is also one of the quietest ones in Singapore. You can be sure that you'll be able to sleep peacefully without getting disturbed by the sound of the purifier at work.
Technology
Patented titanium and
HEPA filters
Price
$453
Size
645 x 338 x 195
Noise level
Low noise
This air purifier model from TCA provides HEPA PM2.5 dust removal and 7-stage filtration system. These features effectively remove dust, pollen, and air pollutants in your home, helping your family members with asthma or allergies. Its multifunctional filter also eliminates unpleasant odours that make you breathe clean and fresh air.
If you desire to have a clean, germ-free and fresh home, try to consider this as an option!
| | |
| --- | --- |
| Technology | HEPA and activated carbon filter |
| Price | $499 |
| Size | 254 x 247 x 401 mm |
Like the Dyson Tower Fan on this list, this Personal Purifier Fan doesn't only purify air, but also produces cool air. And it's another air purifier on this list that's fitted with a HEPA filter to trap 99.95% of particles, gases, pollutants, and allergens in the air.
But what's unique about this Dyson fan is its dome design and mechanism, which allows you to control the strength of each air jet and direct airflow to precisely where you need it.
And if you prefer to use it to purify the air throughout the room, you can also set it to rotate from side to side at a range of 70˚.
When it comes to maintaining air purifiers, changing the filter can be a hassle. So Dyson has made its filter easy to change. Plus, there's the built-in reminder to notify you when you should change the filter.
| | |
| --- | --- |
| Technology | HEPA filter |
| Price | $549 ($599) |
| Size | 110 x 190 x 1018mm |
| Noise level | Ranges from quiet at sleep mode to noisy at full power |
This air purifier combines their signature fan model with an air purifier's function. Simply put, the airflow produced by the fan causes particles to trap themselves within the filter. The fan also oscillates, and has a long-range projection that circulates purified air around the entire room.
Their upgraded HEPA filter can remove 99.95% of all particles, down to particles 0.1 microns large. Additionally, the purifier comes with a borosilicate filter that has been pleated 254 times, increasing its chances of trapping particles.
The Dyson Pure Cool™ TP00 Tower Purifier Fan also notifies you when its filters need changing, so you don't have to worry about switching out an under-utilised filter for a new one.
| | |
| --- | --- |
| Technology | Patented titanium and HEPA filters |
| Price | $598 |
| Size | 645 x 338 x 195 |
| Noise level | Lowest noise |
Getting a TCL TKJF320A will significantly improve your condition if you're suffering from asthma or allergies. This air purifier's HEPA filter technology reduces any air contaminants and cleans your air by eliminating unwanted odours in your home.
If you or your family has asthma, allergies or any other condition that impairs your ability to breathe, consider investing in this product!
| | |
| --- | --- |
| Technology | HEPA filter and ioniser |
| Price | $599 |
| Size | 416 x 728 x 291 mm |
Utilising both the HEPA filter and high-density Plasmacluster Ions (PCI), this SHARP air purifier works to remove particles like airborne mould, viruses, and odour in the air.
It's also one of the few air purifiers on this list that can cover a huge area. With a coverage area of 48m², it can sufficiently cover a big room such as the living room. In addition, this SHARP air purifier has a compact design, which makes for an ideal air purifier to have if you don't have much space in your room for it.
It's fitted with a filter replacement indicator as well, so you don't have to worry about forgetting to change the filter, which should be changed every 2 years.
| | |
| --- | --- |
| Technology | Activated carbon and HEPA filters |
| Price | $699 |
| Size | 359 x 240 x 558mm |
| Noise level | 20.5dB (sleep mode) |
The Philips Air Purifier – AC2887/30 features VitaShield system, which can remove up to 99.97% of ultra-fine particles as small as 0.02 microns. In addition, its AeraSense sensor can detect fine particles smaller than PM2.5, notifying you on the air quality of the room.
It's also one of the few air purifiers in Singapore that can cover a large area. For instance, this Philips air purifier can cover up to 4 rooms.
Another good thing about this air purifier is that you can easily replace the activated carbon and HEPA filters. You'll also be alerted when it's time to replace them.
| | |
| --- | --- |
| Technology | Activated carbon and HEPA filters |
| Price | $748 (usual price $799) |
| Size | 480 x 310 x 440mm |
| Noise level | Not stated, but has noise-reduction technology |
Similar to other air purifiers in Singapore with activated carbon and HEPA filters, the Honeywell Air Purifier can remove airborne contaminants and unpleasant smell.
But what makes it unique is that it comes with an additional CPZ (carbon, potassium, and zeolite) filter which can remove smoke and volatile organic compounds (VOCs) like glue. This allows the Honeywell air purifier to remove unpleasant odours more effectively.
If you're thinking of putting an air purifier in a big room, you can consider getting this air purifier. It's sufficient to cover a living room as big as around 325 to 400 sqft.
Plus, it comes with a 5-year warranty on all electrical parts, allowing you to get it repaired for free in case it malfunctions.
Technology
HEPA filter
Price
$779 (usual price $999)
Size
366 x 251 x 698mm
Noise level
Not stated, but reviews state that
it's quiet.
The Philips Air Cleaner uses a HEPA filter that ramps up its own performance whenever it detects that there are too many pollutants in the air. A monitor on the top of the purifier displays the PM2.5 level of the air, showing you the air quality of your room.
You can also control your purifier via an app on your phone, helping you ensure there's clean air in your room before you reach home.
Furthermore, this purifier has a total of 8 different modes to choose from. 3 of them are automatic purification settings, which are: General mode, Allergen mode, and Bacteria and Virus mode.
The other 5 modes control the power of the fan, from 'Sleep' to 'Turbo Speed' mode.
| | |
| --- | --- |
| Technology | HEPA filter |
| Price | $799 |
| Size | 533 x 432 x 209 mm |
| Noise level | 32-56 db (A) |
Classic 205 has a unique and powerful air filtration technology feature that removes airborne particles to its smallest size of 0.01 microns. This air purifier also offers excellent performance when it comes to functionality. It's wifi-ready with a digital display that lets you see and control the air you breathe. This air control feature enables you to remove allergens and air pollutants for fresh, safe, and cleaner air.
If you're looking for a smart air purifier, Blueair Air Purifier Classic 205 is a good start!
Conclusion
Now that you've seen some of the crowd-favourites, you might have picked up a pattern. HEPA filters make for the most efficient air purifiers in Singapore, with activated carbon filters coming in a close second. Ionisers are useful when paired with a fan to 'sweep up' the affected particles, and potentially create a positive vibe in your home.
We didn't include any UV air purifiers because they're not really air purifiers as much as they are virus sterilisers, and ozone purifiers are detrimental to your health.
Related articles:
Here are other articles that you might want to check out as well: