A statement armchair can give variety to your living space. Whether it's a complete makeover or a quick refresh, you can pair your armchair in Singapore with a cushion, and you are good to go.
Armchairs are versatile pieces that can also be placed even at awkward corners or entryways. With an armchair, you can sit back, relax, and binge-watch your favourite shows in utmost comfort!
Things to consider before buying an armchair in Singapore
Different armchairs are designed with different user needs and settings in mind. So before looking for the best armchair in Singapore, read on for practical tips that you should take into consideration.
1) Backrest height
A low-back armchair works best in open, minimalist layouts and is ideal for slouching or lying back.
Complete your armchair with some throw pillows and you can easily kick back and relax.
On the other hand, armchairs with high backrest put you in an upright sitting position and will give more support for your back, neck, shoulders, and head.
2) Material and colour
Fabrics tend to offer a softer feel and are available in many hues and designs, though quality hides can also feel soft and luxurious.
When choosing an armchair in Singapore, think about how all the pieces in your living space will work together.
In most cases, mixing different colours and textures in a room will add variety. For instance, to get an eye-catching and inviting look, pick an armchair in a material that's different from your sofa.
Pros
Cons
Leather
· Durable
· Luxurious appearance
· Limited colour options
· Expensive
Faux leather
· Can be easily cleaned
· More affordable
· Not breathable
· Easily torn or punctured
Fabric
· More colour options
· More cooling in hot weather
· Easily stained
· Absorbs odours
3) Comfort and quality
The most crucial thing to consider when choosing an armchair is your own comfort.
Select an armchair that supports your back adequately. The seat should feel soft and comfortable while offering firm support.
The structure of the armchair should also be thoroughly checked as a sturdy armchair will serve you well for years to come.
10 best armchairs in Singapore to buy
Cheap armchair in Singapore
Price: $189.90
Product details
Metal tube frame and steel legs
High-quality micro-suede upholstery
Elegantly shaped in stylish curves and upholstered in comfortable fabric, the Cale Designer Armchair is perfect for both formal and casual settings.
Available in midnight blue, this armchair can add a pop of colour into any room with a neutral look.
But if you find that it doesn't suit your room, don't worry, you can still return it within 100 days of purchase, as long as it's still in the original condition.
2. HipVan Damien Armchair
Price: $199
Product details
Dimensions: 78 x 88 x 82.5 cm
100% polyester upholstery
Impeccably tailored in a smart, dark or mid-grey fabric, this armchair can add a contemporary look to your room.
In addition, it comes with a medium-firm cushion to provide maximum comfort and support as you sit back and unwind.
Cleaning this armchair is a breeze too, as the cushion can be removed for dry-cleaning.
3. Taj Teak Rocking Chair
Price: $259
Product details
Solid teak wood
Dimensions: 107 x 56 x 112 cm
The Taj Teak Rocking Chair is a beautiful ornament for every home.
Featuring a gently contoured high back, this basic rocking chair offers a touch of style and comfort in your home, allowing you to relax and wind down after a long day.
Have a tendency to spill drinks on your chair? Don't worry about leaving stains on this chair, since it can be cleaned easily with just a wipe. As compared to other armchairs on this list, it's probably the easiest one to clean too!
4. BINGSTA High-back armchair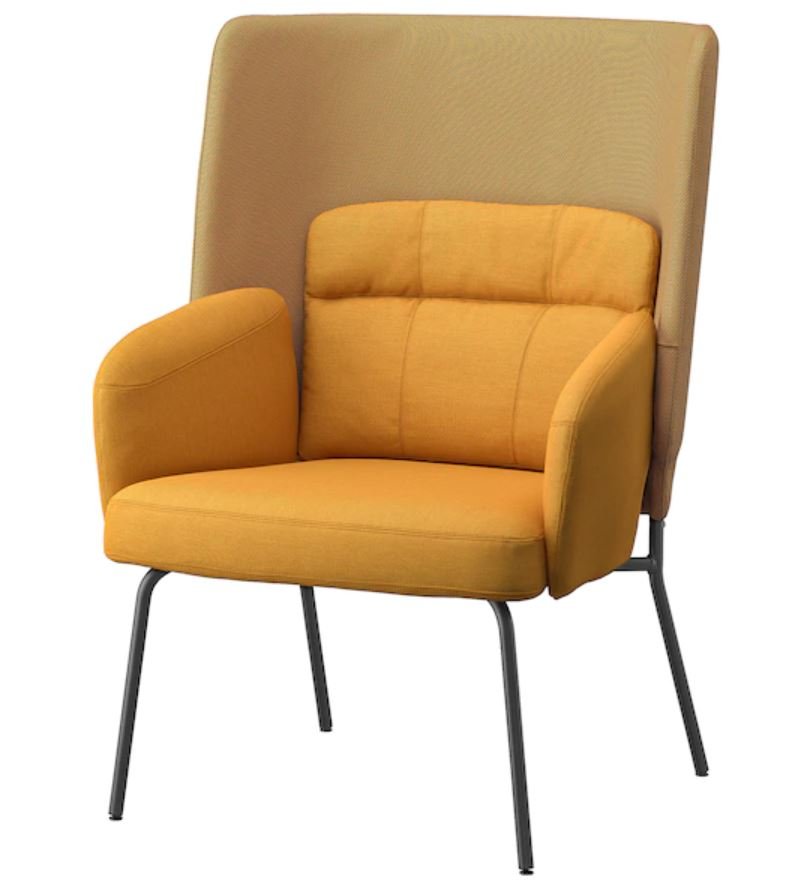 Price: $299
Product details
High back panel
Polyester fabric
Available in dark grey and yellow, the BINGSTA high-back armchair will make for a chic accent to any modern living room interior. Its dual tone adds a touch of vibrancy to the rest of your home décor.
The BINGSTA also creates a sense of privacy with its high backrest, allowing you to lounge snugly and comfortably on it.
5. Cadencia Armchair – Charcoal (Fabric)
Price: $399
Product details
4/5 medium firm seating firmness
Dimensions: 85 x 85 x 72 cm
Designed with diagonal button tufting, this mid-century style armchair from HipVan adds a distinctive look to any home interior in Singapore.
It's made with high density foam and webbing suspension to provide enough support for lounging.
Want extra comfort for your legs? There's also a matching ottoman that you can get!
6. Elias Chesterfield Armchair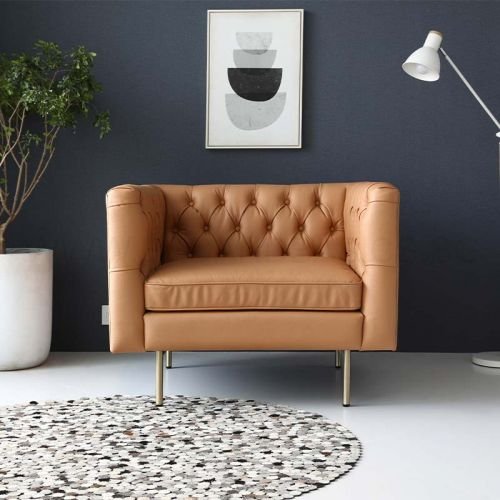 Price: $399
Product details
6/10 medium firm seating firmness
Comes in velvet and high technology fabric
Zinc alloy legs
Want to go for a British look for your room? You may want to get this Chesterfield armchair!
Instead of the traditional rolled arms, though, this armchair comes with a modern twist in the form of a clean-line silhouette and square arms.
It comes in two types of upholstery: high technology fabric and velvet fabric. If you want something that feels like leather and is water-repellent, go for the high technology fabric. But if you want an armchair that's softer, the velvet fabric would be a better choice.
7. Wellington Armchair – Chestnut (Faux Leather)
Price: $379
Product details
Dimensions: 86.5 x 89 x 87 cm
PU leather upholstery
The Wellington Armchair offers extreme comfort while giving your living room an effortlessly chic look.
It pairs well with all kinds of home interior, and especially well with an industrial home interior – from metal pipes to rustic wooden pieces and brick detailing.
Completed with faux leather upholstery, a fully padded removable seat cushion, and curved armrests, this is a beautiful piece to welcome your guests with.
Price: $429
Product details
6/10 medium firm seating firmness
Non-removable backrest
The Strato Wingback Armchair is another armchair that puts a new spin on a classic look with its winged back.
Upholstered in a soft touch fabric and made with high-density urethane foam, it makes for a cosy armchair for you to snuggle in and read a book.
9. Capella Armchair
Price: $499
Product details
Dimensions: 87 x 84 x 84 cm
100% polyester upholstery
The Capella Armchair is suitable for any kind of room, whether it's for the lounge, living room, or home office.
Its compact size makes it a great armchair for small living spaces too, adding a touch of coziness to any home interior.
With its padded backrest filled with foam and pocketed springs, you can be sure that you'll get the right comfort with it.
10. IMG Nordic 60 Recliner Armchair with Ottoman
Reclining armchair
Price: $2,299
Product details
Dimensions: 104 x 73 x 79 cm
Full leather upholstery
After a long day, there's nothing more satisfying than unwinding and stretching out on your favourite armchair.
The IMG Nordic 60 Recliner Armchair is soft and comfortable with ample cushioning, while retaining a modern design with sleek contours. It's also possibly one of the best armchairs in Singapore.
This recliner is upholstered in full leather, which provides you with impeccable comfort and ergonomics. For extra comfort, pop your feet onto its matching ottoman on cosy movie nights!
Best places to buy an armchair in Singapore
Start your search for the best armchair in Singapore at Bed and Basics.
Bed and Basics endeavours to enrich every household with a wide range of designer furniture and home furnishing products at affordable prices.
From sofas and TV consoles to dining sets and rugs, shop online at Bed and Basics to brighten up and enliven your living space!
Castlery designs and produces quality furniture for the modern home.
Whether you're going for a mid-century modern or contemporary style, select from a fusion of unique, inspiring looks at Castlery.
From quality materials and expert hands to precision tools and tests, you can be sure that your product will last for many years to come.
HipVan is a locally-founded company offering a wide variety of wallet-friendly furniture.
With a belief that everyone deserves to live in an inspiring home, HipVan aims to make designer furniture and home furnishings more affordable to everyone.
Shop online for stylish designs and quality products that would blend wonderfully in any modern home!
Apart from Swedish meatballs and Billy bookcases, IKEA is now well-loved the world over for its affordable Scandinavian furniture.
IKEA was established six decades ago when founder Ingvar Kamprad believed that anyone should be able to afford stylish, modernist furniture.
Check out other Scandi-minimalist home décor and accessories at IKEA while shopping for your perfect armchair!
Related articles:
Other articles: