Not only are bathtubs great for lounging in after a long day at work, they're also an impressive aesthetic touch to your home. Owning a nice and luxurious bathtub can make home feel like a fancy spa or hotel! If you're looking for a bathtub in Singapore, you'll need to know which brands to narrow down to first.
In this article, we look at the 8 best bathtub brands you can look at, and cover which are the best places to buy a bathtub in Singapore.
But before we dive into all that, you need to understand the different types of bathtubs available.
What are the different types of bathtubs in Singapore?
1. Alcove
This kind of bathtub is possibly the most common type found in Singapore households.
Alcove bathtubs are usually built against a wall on three sides, allowing for more space maximisation in the bathroom. They are also much easier to clean since all their surfaces are well-exposed.
2. Drop-in/Platform
Many people may mistake a drop-in/platform bathtub for an alcove bathtub since they can look rather similar.
Compared to alcove bathtubs, drop-in/platform bathtubs actually require a larger area as a deck has to be built before the tub can be put in.
Aesthetically, drop-in/platform bathtubs can add more zest to your home since you get to decide on the design of the platform.
3. Stand-alone
If you've ever entered the junior suite at Marina Bay Sands, you would have seen (or even got to luxuriate in) a stand-alone bathtub.
These bathtubs stand on their own and are not attached to any walls or any surfaces. Such bathtubs require a large space since they have to be an island to function and look nice. Also, plumbing may have to be left exposed.
4. Corner
Corner bathtubs aren't very common in Singapore. While they're lovely to have, they can be really expensive.
Suitable for larger bathrooms, corner bathtubs are more for relaxing than actual bathing. Because of this, many corner bathtubs come with jacuzzi-like features like bubble and whirlpool functions.
5. Spa tub
Also known as a hot tub in some other parts of the world, spa tubs are basically like a jacuzzi. For those who enjoy powerful water massages and other forms of soothing hydrotherapy, a spa tub might be right for you.
However, such bathtubs aren't very common in Singapore as they require a large area. On top of that, they are pretty expensive.
Let's compare the pros and cons of the 5 different bathtub types we've looked at.
Alcove bathtub
Stand-alone bathtub
Drop-in bathtub
Corner bathtub
Spa tub
Pros
More cost-effective
More efficient use of space
Suitable for smaller bathrooms
Luxurious look
Easier to install
More flexible placement
Space available at sides of bathtub to place items
Creates a more polished look to your bathroom

More spacious
Can accommodate more users

Provides a sanctuary for relaxation
Can make your home more attractive to buyers if well-maintained
Cons
Needs to be surrounded on 3 sides by walls
Can be positioned only in one direction
Takes up more space
Plumbing may be exposed
Hard to install on your own
Requires a prepared deck
More costly
More water required
More maintenance required
More water required
Price of a bathtub in Singapore
A bathtub in Singapore can cost you from $300 for a more basic built-in bathtub, to over $5,000 for a high-end stand-alone bathtub. And if you intend to soak in it regularly, you can expect a higher water bill! This is especially so for bigger tubs like corner bathtubs and spa tubs.
8 best bathtub brands in Singapore
If you're keen on getting a bathtub, we've picked out 8 of the best bathtub brands in Singapore that you can consider!
Akdy's range of bathtubs are mainly stand-alone ones. They carry a variety of modern and beautiful bathtub designs to suit all kinds of bathrooms. With an Akdy bathtub, you can expect to have a piece of art in your home. However, their bathtubs are on the higher-end of the price scale.
If you're looking at a bathtub brand that offers different types of bathtubs, American Standard is the brand to look at.
Whether it's a drop-in, stand-alone, or alcove bathtub, you can be sure to find one that's to your liking at American Standard. All of their bathtubs are offered in a wide range of sizes, shapes, depths, and designs.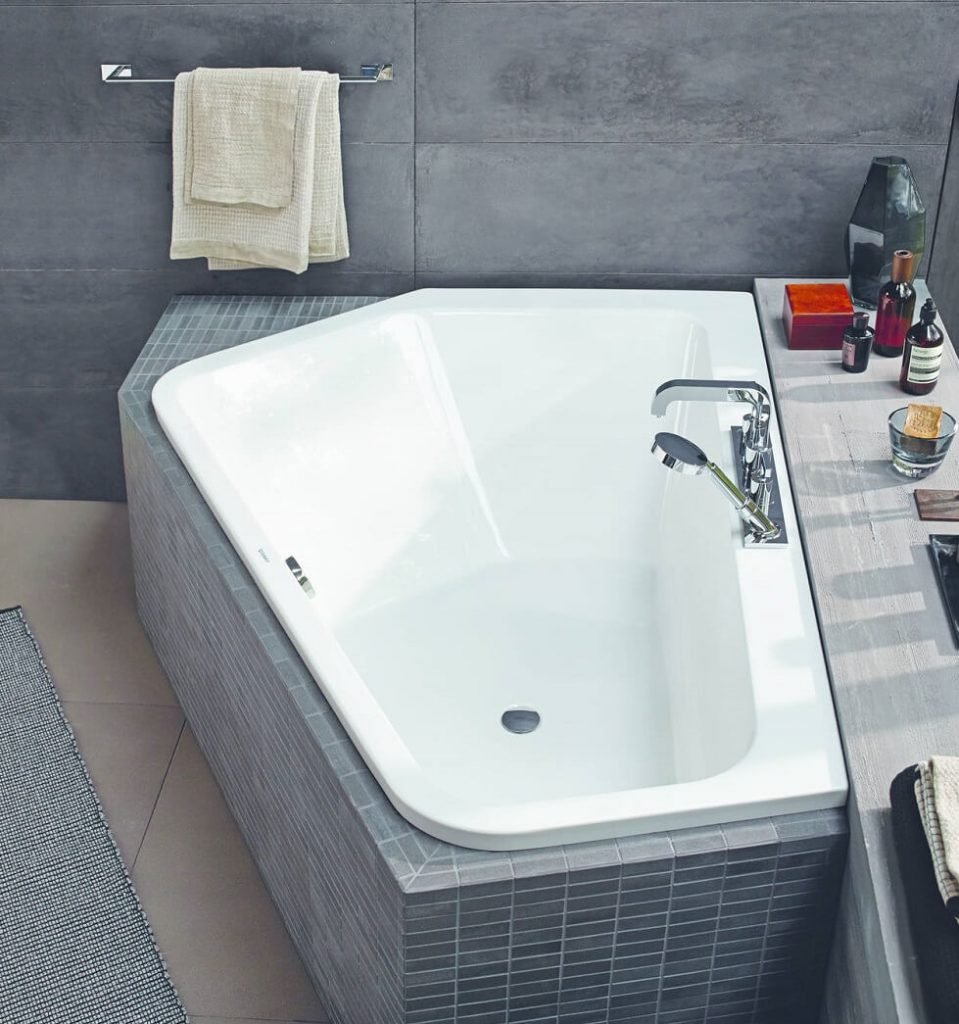 It doesn't matter the type of bathtub you require or the shape of the space you can fit a tub in. If you're looking at the Duravit brand, you'll surely find the right one.
From stand-alone and corner ones to the more common alcove tubs, there's something for everyone here.
Duravit bathtubs are made of acrylic, a material that is pleasant to the touch and a good match for most bathroom aesthetics.
If you're a fan of whirlpool tubs, a Hydrabath bathtub will be your best bet. As a leader in whirlpool technology, Hydrabaths has a good range of different types of bathtubs for every preference.
Should you prefer a more personalised bathtub in Singapore, you can also get a customised one that's perfect for your bathroom.
Established in 1985, Inovo prides itself on being a leader in German innovation, design, and technology for home furnishing.
Specialising in all forms of bathroom wares, everything Inovo carries is made to be aesthetically pleasing to the senses.
Inovo offers stand-alone and Jacuzzi type bathtubs, and all of their products come with a 10-year local warranty!
Founded in 1979, Knief is a German company recognised as the market leader for acrylic stand-alone bathtubs.
If you have your mindset on a beautiful stand-alone bathtub in Singapore, then you should consider checking out Knief's bathtub collection.
They carry a variety of sizes you can choose from. So even if you own a small space and want to have a stand-alone bathtub, it is now possible with Knief's bathtub collection!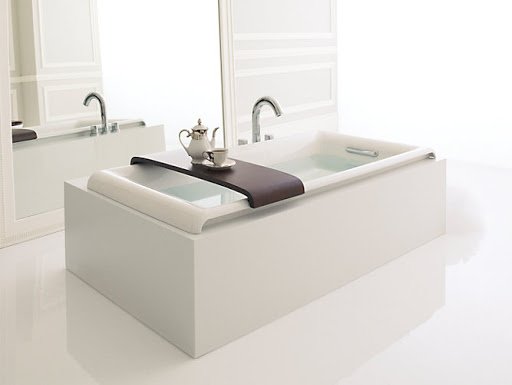 Established in 1873, Kohler is an American company that started out as a bathtub manufacturer.
Kohler's range of bathtubs are really impressive, with all sorts ranging from the common alcove bathtubs to stand-alone ones.
While their designs are basic, you should still be able to find the size and type that will best fit your needs.
You've probably seen a Toto bathroom product at least once. Based in Japan, Toto seeks to create a more enriched and comfortable lifestyle for its customers through its bathroom products.
With Toto's bathtubs, you can choose from materials such as acrylic, pearl acrylic, and enameled cast iron.
Best places to buy a bathtub in Singapore
It's always best to see a bathtub physically before making a purchase. After all, bathtubs aren't cheap and you'll probably be using it every day.
Here, we look at some places you can check out to get your dream bathtub in Singapore!
As with any large piece of furniture, make sure you take the necessary measurements before heading out to purchase a bathtub. You don't want to end up with one that's either too small or too large to fit in your bathroom!
Singapore bathtubs is a one-stop shop for bathtubs, offering lots of bathtub brands and types across a range of designs.
If you don't know where to start, there's a short questionnaire you can answer for the shop to better understand your constraints and needs. A few bathtub models will then be shortlisted for you.
Apart from the usual bathtub designs, the company also sells portable bathtubs, inflatable bathtubs, and even foldable bathtubs!
A renowned name in Singapore for bathroom wares, Sim Siang Choon has a good number of various types of bathtubs to choose from.
Whether you have a smaller bathroom or a larger one that can fit a stand-alone bathtub or even a spa tub, this place has it all. The designs they carry are rather basic and will fit in naturally to the aesthetics of your home.
Bacera sells built-in, stand-alone bathtubs, and cast stone bathtubs (those you can find in 5-star hotels like Hilton and Banyan Tree). While their designs and colours may be more run-of-the-mill, they will fit in great with any home décor you may have.
Hoe Kee sells only 2 types of bathtubs — built-in and stand-alone ones. However, they do offer different sizes and shapes to suit the different requirements of various bathrooms and buyer preferences.
Related articles:
Other articles you may want to check out: