Today, we're able to keep track of the smallest details of our physiology, and use that information to live a healthier life. One way to keep track of our health is to monitor our blood pressure, which can be easily measured using a good blood pressure monitor.
Blood pressure monitors have come a long way, and have become more accurate and easy to use in recent years. Today, we'll take a look at why it's good to have a blood pressure monitor at home, and which are the best ones to get in Singapore.
Benefits of owning a blood pressure monitor
Allows for early detection of illness
Sudden changes to your blood pressure can be a sign of illness. If you regularly check your blood pressure, you can easily notice sudden changes and seek medical advice as soon as possible.
Track treatment results
If you're diagnosed with a condition like high blood pressure, you can use a blood pressure monitor to track whether the treatment is working. This is important, because if healthcare professionals can find out early that you're not responding to a particular treatment, they can immediately switch you to a different one.
Reduce healthcare costs
By owning a blood pressure monitor, you get to check your own blood pressure without having to go to a clinic or medical centre. The regular monitoring of blood pressure changes could also save you money in the long run, since it encourages preventative care.
10 Best Blood Pressure Monitors in Singapore
Let's now look at 10 of the best blood pressure monitors in Singapore. Here's a chart showing the price of each blood pressure monitor.
| | |
| --- | --- |
| Blood Pressure Monitor | Price |
| OMRON Automatic Blood Pressure Monitor JPN600 | $150 |
| Rossmax CF155f | $93 |
| MedCheck Smart Blood Pressure Monitor | $90 |
| Braun ExactFit™ 3 | $85 |
| OSIM uCheck Smart Blood Pressure Monitor | $300 |
| Beurer BM 51 easyClip | $135 |
| Livingstone Digital Blood Pressure Monitor | $130 |
| NHG Blood Pressure Monitor A200 AFIB | $210 |
| Yeap Medical Blood Pressure Monitor Machine 3AQ1 | $55 |
| Pharmex Healthcare Blood Pressure Monitor 3AR1-3PA | $140 |
Price: $150
Key highlights:
Cuff wrapping guide: OMRON's JPN600 comes with an LED cuff guide that guides you with putting the cuff on properly, ensuring accurate measurements.
Irregular heartbeat detector: This machine also has an irregular heartbeat detector, allowing you to detect any issues with your heart rate that could disrupt your blood pressure.
Data storage: Despite its small size, this machine is able to store 90 blood pressure measurements for your reference. This includes the date and time for each measurement.
Price: $93
Key highlights:
Hypertension risk indicator: If you aren't sure whether your blood pressure readings are good or bad, the Rossmax can help through its hypertension risk indicator. This indicator helps determine whether you should seek medical attention to have your blood pressure managed.
Automatic operation: No more unwieldy pumps or complicated bits and pieces. You simply need to place the cuff on your arm correctly and press a button, and the measurements will shortly show up on the screen.
Real fuzzy technology: With this feature, you no longer need a pre-set inflation level for the cuff before measuring your blood pressure. This improves comfort and the accuracy of readings.
Price: $90
Key highlights:
Mobile phone integration: You can easily keep track of blood pressure readings through a phone app. What's more, you can receive a personalized diet plan and fitness advice to help regulate your blood pressure. You can even have the readings sent to any phone via SMS as soon as they are taken.
2-year warranty: MedCheck offers 2-years warranty for this device.
One-button operation: No more fiddling around with complicated components to take your blood pressure. One push of a button and the rest takes care of itself.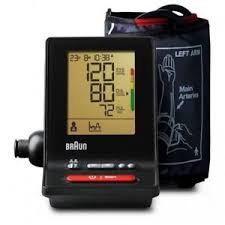 Price: $85
Key highlights:
Two cuff sizes: A blood pressure monitor cuff should be of the right size in order to provide accurate readings. Braun understands this, so the ExactFit 3 comes with two cuff sizes.
Memory storage for 2 x 40 readings: The ExactFit monitor can store readings for 2 profiles, with 40 readings for each. This allows more than one user to keep track of their blood pressure readings easily.
Extra-large backlit display: Thanks to its large display screen and accompanying backlight, you can check your blood pressure even in a dimly lit environment without having to squint at the numbers.
Price: $300
Key highlights:
App support: You can easily keep track of and record blood pressure readings by pairing the device with a phone app. You can also keep track of other aspects such as your heart rate.
Supports multiple users: The device can support multiple users, so you can keep track of readings for multiple family members and stay healthy together.
One-touch button operation: Reading your blood pressure with this monitor can be done with just one press of a button.
Price: $135
Key highlights:
easyClip cuff: Blood pressure monitor cuffs can be tricky to work with. Beurer's BM 51 makes things a lot easier with its easyClip cuff, which allows you to clip the cuff on with just one hand.
Large memory storage: The monitor is able to store readings for two user profiles, at 100 readings each.
Risk indicators: With its built-in indicatorswith is able to inform you if you're at risk for hypertenn.l
Price: $130
Key highlights:
Automatic pulse reading: Blood pressure aside, Livingstone's blood pressure monitor is also able to take your heart rate.
Smart inflation system: The cuff automatically inflates and deflates before and after your blood pressure readings are taken, minimising overall discomfort.
Price: $210
Key highlights:
Atrial fibrillation detection: This blood pressure monitor is one of the few ones in the market with atrial fibrillation detection, helping with the early detection and treatment of stroke.
Time-stamped storage: The device is capable of storing 200 time-stamped readings.
PC link function: You can easily transfer data from the device to a computer. That way, you can analyse how your blood pressure readings have changed over time, or even send them to your doctor.
Price: $55
Key highlights:
AFIB Stroke Detection: Hypertension and atrial fibrillation are one of the biggest causes of stroke, so early detection is important. This device is capable of detecting both.
3 measures with one click: With one click, the machine can take 3 blood pressure measurements and record the average. All this happens in less than 30 seconds, providing accurate measurements while minimising discomfort.
5-year warranty: Every device by Yeap Medical comes with a 5-year warranty.
Price: $140
Key highlights:
Fan-shaped cuff: Having the best cuff fit not only speeds up the blood pressure reading process, it also improves accuracy. This device has a fan-shaped cuff that can fit arm circumferences from 22 cm to 42 cm.
PAD technology: This machine makes use of PAD technology to monitor your pulse as well as detect heart arrhythmia.
One-press activation: This model forgoes the use of mechanically complicated components. Readings can be taken automatically with one button press.
While you're here, you might like to take a look at some of these articles.
Related articles:
Other articles: