We have all heard that "breakfast is the most important meal of the day". As you scroll through social media for your next big breakfast (or fancy brunch) idea, you may realise that they have one thing in common.
Pampering those avocados and eggs, or kaya and butter, are luxurious slices of golden-crusted and lightly-toasted bread. You deserve a good breakfast every morning, and that starts with well-toasted bread and your favourite spread!
Choosing the right bread toaster for you
1. 2-slice toasters vs 4-slice toasters
Besides the number of slices you can toast per press, there are some factors that you should consider before deciding on which you want to be your breakfast assistant. Firstly, 2-slice and 4-slice toasters have differing price points. Evidently, a 4-slice toaster will be more costly, so do plan your budget wisely before making a decision. Besides the monetary cost, consider the efficiency of the toaster and its energy-saving aspects, as well as its size for your kitchen top and its suitability to your daily needs.
2. Long slot toasters
As the name suggests, long slot toasters typically reach more than 10 inches in length. Why do we need such a long toaster, you may ask? If you are a big fan of artisanal bread, or are a homemade baker yourself, these toasters allow for your breads to snuggle in perfectly. A long shot toaster does all the jobs of a regular toaster – perhaps slightly better with more versatility – simply because it can fit any type, shape and size of bread your heart desires.
3. Plastic toasters vs metal toasters
In general, plastic toasters tend to be less expensive than metal toasters. The quality of toast does not vary significantly between the two – in fact, it may not be noticeable at all! Yet metal toasters may be more energy efficient in the long run, and there is always the element of aesthetics for your kitchen to consider. As the saying goes, "look good, feel good"!
10 best bread toasters in Singapore
| | |
| --- | --- |
| Bread toasters | Prices |
| PowerPac Pop-up Bread Toaster PPT04 | $39.00 |
| Odette 2 Slice Bread Toaster T366AC Pastel Color 2 Slice Toaster | $39.00 |
| Philips Toaster Pop Up HD2582 | $49.00 |
| Electrolux Pop-up Toaster ETS3505 | $50.00 |
| Cornell 2 Slice Pop Up Bread Toaster | $59.90 |
| Tefal Toast N' Egg Toaster TT5500 | $75.90 |
| Delonghi Argento Flora Toaster CT021 | $99.00 |
| Breville the Bit More Plus BTA-435 | $118.00 |
| Kenwood Scene TTM470 4 Slices/ 2 Slot Long Toaster | S$129.00 |
| Smeg 50's 2 SLICE TOASTER | $268.00 |
Price: $39.00
Key Highlights:
4-slice toaster
Auto pop-up
7 levels of browning control
Dimensions: 36.0 x 11.0 x 16.0 cm
The PPT04 toaster allows you to toast up to four slices per cycle! With 7 levels of browning control, it gives you a good variation of the amount of crisp you want in your slices of bread. At its price point, it is a good product worthy of your money. It also comes with 24 months of local manufacturer warranty. PowerPac is a Singapore trusted brand for 21 years, so you are bound to receive a trustworthy product!
Where to buy:
Price: $39.00
Key Highlights:
2-slice toaster
6 levels of browning control
3 colours available
Dimensions: 27.7 x 16.8 x 19.4 cm
This pretty and petite toaster comes in three colours: mint, pink and black. It has 6 levels of browning and a high lift, so that you can easily take out your slices of bread! With a slide-out crumb tray and an anti-dust toaster cover, this ensures that cleaning is easy and your toaster is kept in top condition even when not in use.
Where to buy:
Price: $49.00
Key Highlights:
2-slice toaster
Integrated bun-cooling rack
Functions: 8 levels of adjustable browning, Defrost
Dimensions: 21.4 x 18.4 x 30.4 cm
This compact toaster has 8 different levels of toasting to ensure that you will never burn your toast! It has an integrated bun warming rack where you can place your buns and croissants so the radiating heat can make them warm. Besides its practicality, it also has an extra auto-shut off function and a removable crumb tray for easy cleaning. This toaster has got you covered from start to finish!
Where to buy: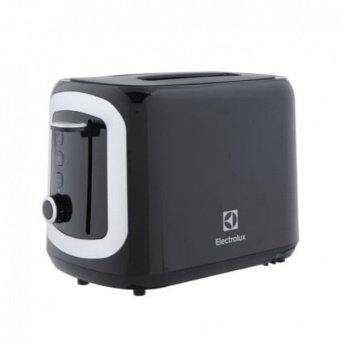 Price: $50.00
Key Highlights:
2-slice toaster
7 levels of browning control
Dimensions: 36.5 x 22.0 x 25.5 cm
The Electrolux Pop-up toaster paves its way as a low-cost and easy-to-use toaster in the market. With 7 levels of heat to toast your breads, you can adjust to however crisp you want your bread to be! Weighing at only 1.93kg, this allows you to bring and place it wherever you want in your kitchen. If you purchase it from Parisilk, it also comes with a warranty.
Where to buy:
Price: $59.90
Key Highlights:
2-slice toaster
Adjustable toasting control
Dimensions: 26.2 x 11.3 x 15.4 cm
This small yet powerful toaster is simple to use and serves as a good toaster in any household. With its adjustable browning levels using the control on its side, an auto shut-off safety function, user-friendly hinged crumb tray and light weight, it is a simple yet sufficient tool for you to cook up a good breakfast!
Where to buy:
Price: $75.90
Key Highlights:
2-slice toaster + egg toaster
Triple function: Defrost, Reheat, Toast
Dimensions: 40.1 x 23.0 x 21.0 cm
As one of the world's leading brands for home appliances, Tefal offers a good range of bread toasters in Singapore, including the TT5500, weighing in at 2.5kg. This toaster has adjustable heat for 7 different browning levels and it is a combination of a toaster and egg cooker in one. Talk about a good eggs-on-toast!
Where to buy:
Price: $99.00
Key Highlights:
2-slice toaster
6 levels of progressive browning control
Functions: Toast, Defrost, Reheat
3 colours available
Dimensions: 32.0 x 18.5 x 20.5 cm
Weighing at only 1.8kg, this Delonghi Toaster is part of the Breakfast Collection of home appliances. It has wide slots that allow for varying sizes of bread, extra lift positions for easy removal of those smaller slices and a crumb tray that helps you clean up easily! It also comes in three different colours – Agave Blue, Jasmine Beige and Peppermint Green – to suit your kitchen interior! With an opaque and matte-textured finish, it will soon be looking like your sturdy and reliable partner in the kitchen!
Where to buy:
Price: $118.00
Key Highlights:
2-slice toaster
Special "A Bit More" function
6 levels of toasting
Dimensions: 19.3 x 17.4 x 29.2 cm
This Breville toaster has an in-built "A Bit More" button, which adds an extra 30 seconds more to the toasting cycle if you desire. With another function "Lift and Look", without disrupting the toasting cycle, you can lift the lever to check the progress at any time to prevent burning! This toaster also has two long, wide and deep toasting slots, which is convenient and great for toasting larger slices of bread!
Where to buy:
Price: $129.00
Key Highlights:
4-slice toaster
Long slot toaster
Adjustable browning control
Dimensions: 43.5 x 17.0 x 19.7 cm
Kenwood is one of the most trustworthy brands in the world providing home electrical appliances. This toaster is one of such products. It has an automatic bread centering system, a removable crumb tray, a removable warming rack and a high-rise bread lifting function, offering you the best ways to toast and keep your bread warm, and clean up thereafter! The stainless steel finish will be a good match for your sleek kitchen!
Where to buy:
Price: $268.00
Key Highlights:
2-slice toaster
Triple functions: Reheat, Defrost, Bagel
6 levels of browning control
6 retro colours available
Dimensions: 39.4 x 20.8 x 21.5 cm
The Smeg 50's toaster has reminiscence of 50s retro colours. Its curved and compact structure is nostalgic with a powder-coated steel body. With a self-centering rack and an extra wide slot, it can help brown your thick slices of toast to 6 different levels. It also has 3 pre-set programmes that you can explore into!
Where to buy:
Best places to buy a bread toaster in Singapore
Electrolux
Electrolux is a home appliance manufacturer headquartered in Sweden. It sells products ranging from kitchen, laundry and vacuum appliances, as well as accessories such as cooker hoods, kettles and water filtrations. There are more than 60 home appliance chain stores carrying its products, including Courts, Best Denki and Harvey Norman. You can easily get a new bread toaster in your hands!
Harvey Norman
Harvey Norman is a multinational company, selling household products ranging from bedding and furniture, to computers, communications and consumer electrical products. With 12 stores islandwide and a 24/7 online store, it is also widely accessible for you to purchase a bread toaster at your convenience!
Parisilk
This Singapore-based company can offer you a personalised shopping experience for your needs! It provides you with high-quality customer service with a wide range of products. There are a few branches located around Singapore, and an online store that you can order from any day at any time. One of its best features is that its customer service is available to you 24 hours a day!
Related articles:
Other articles you may want to check out: