In Singapore, many of us have bread as part of our breakfast. While normal sliced bread is good enough to eat on its own, it's even better when toasted! Nothing beats a fresh and warm slice of toasted bread complete with your favourite spread, whether it's butter or cheese. In this article, we look at the top picks for a bread toaster in Singapore!
The different types of bread toasters in Singapore
1. 2-slice toasters vs 4-slice bread toasters
2-slice and 4-slice toasters have different price points. Of course, a 4-slice toaster will be more costly. If you have a small household, a 2-slice toaster should suffice. Also, remember to consider energy-saving aspects and the size for your kitchen top when choosing a bread toaster.
2. Long slot toasters
As the name suggests, the slots in long slot toasters typically reach more than 10 inches in length. If you're a big fan of artisanal bread or bake bread yourself, these toasters allow your bread to snuggle in perfectly. A long shot toaster does all the jobs of a regular toaster. However, it provides better versatility because it can usually fit in any type, shape, and size of bread.
3. Plastic toasters vs metal toasters
In general, plastic toasters tend to be less expensive than metal toasters. However, the quality of toast does not vary significantly between the two. In fact, it may not even be noticeable. With that said, metal toasters may be more energy efficient in the long run.
10 best picks for a bread toaster in Singapore
1. PowerPac Pop-up Bread Toaster PPT04
Price: $25.90
Key Highlights:
4-slice toaster
Auto pop-up
7 levels of browning control
Dimensions: 36.0 x 11.0 x 16.0 cm
This PowerPac toaster allows you to toast up to 4 slices each time! With 7 levels of browning control, you can get a good variation of the amount of crisp you want for your bread. For its price point, the product gives some good value. It also comes with a 24-months local manufacturer warranty. With PowerPac as a Singapore trusted brand for 21 years, you're bound to receive a quality product!
2. Odette 2 Slice Bread Toaster T366AC Pastel Color 2 Slice Toaster
Price: $29.90
Key Highlights:
2-slice toaster
6 levels of browning control
3 colours available
Dimensions: 27.7 x 16.8 x 19.4 cm
This pretty and petite toaster comes in three colours: mint, pink and black. It has 6 levels of browning and a high lift,  so you can easily take out your slices of bread! With a slide-out crumb tray and an anti-dust toaster cover, cleaning is easy and your toaster is kept in good condition even when not in use.
3. Philips Bread Toaster Pop Up HD2582
Price: $41.88
Key Highlights:
2-slice toaster
Integrated bun-cooling rack
Functions: 8 levels of adjustable browning, Defrost
Dimensions: 21.4 x 18.4 x 30.4 cm
This compact toaster has 8 different settings of toasting! It also has an integrated bun warming rack where you can place your buns and croissants so the radiating heat can keep them warm.
What's more, the toaster has an automatic shut off function and a removable crumb tray for easy cleaning. This toaster has got you covered from start to finish!
4. Electrolux Pop-up Bread Toaster ETS3505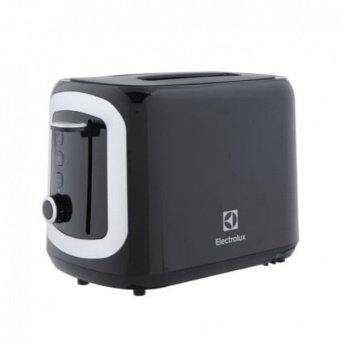 Price: $59
Key Highlights:
2-slice toaster
7 levels of browning control
Dimensions: 36.5 x 22.0 x 25.5 cm
This Electrolux toaster is a low-cost and easy-to-use toaster. With 7 levels of browning control for your bread, you'll be able to adjust the crispiness to your liking! As a bonus, the toaster looks pretty sleek and is sure to look good in any modern kitchen. The toaster comes with a warranty when you purchase it from Parisilk.
If you're looking for bread toaster in Singapore that's functional, stylish, and affordable, this product is something you should consider!
5. Cornell 2-Slice Pop-Up Bread Toaster
Price: $24.90
Key Highlights:
2-slice toaster
Adjustable toasting control
Dimensions: 26.2 x 11.3 x 15.4cm
This small yet powerful toaster is simple to use and will serve as a good toaster in any household. The toaster has adjustable browning levels using the control on its side, an auto shut-off safety function, and a user-friendly hinged crumb tray.
6. Tefal Toast N' Egg Toaster TT5500
Price: $69.90
Key Highlights:
2-slice toaster + egg cooker
Triple function: Defrost, reheat, toast
Dimensions: 40.1 x 23.0 x 21.0cm
As one of the world's leading brands for home appliances, Tefal offers a good range of bread toasters in Singapore, such as this TT5500 model. This toaster has adjustable heat for 7 different browning levels, and can even cook eggs. Talk about a good eggs-on-toast!
7. Delonghi Argento Flora Toaster CT021
Price: $110
Key Highlights:
2-slice toaster
6 levels of progressive browning control
Functions: Toast, Defrost, Reheat
3 colours available
Dimensions: 32.0 x 18.5 x 20.5 cm
Weighing at only 1.8kg, this Delonghi Toaster has wide slots that allow for varying sizes of bread. It also has extra lift positions for easy removal of smaller bread slices and a crumb tray that lets you clean up easily!
The bread toaster comes in 3 different colours – Agave Blue, Jasmine Beige, and Peppermint Green! This stylish toaster is sure to add a chic and retro touch to any kitchen! If you're looking for a retro bread toaster in Singapore with many functions, this product definitely needs to be on your list!
8. Breville the Bit More Plus BTA-435
Price: $110
Key Highlights:
2-slice toaster
Special "A Bit More" function
6 levels of toasting
Dimensions: 19.3 x 17.4 x 29.2 cm
This Breville toaster has an in-built "A Bit More" button, which adds an extra 30 seconds more to the toasting cycle if you desire. Also, with it "Lift and Look" function, you can lift the lever to check on your toast to prevent burning! All without disrupting the toasting cycle.
This toaster also has 2 wide and deep toasting slots, great for toasting larger slices of bread!
9. Kenwood Scene TTM470 4 Slices / 2 Slot Long Toaster
Price: $88
Key Highlights:
4-slice toaster
Long slot toaster
Adjustable browning control
Dimensions: 43.5 x 17.0 x 19.7 cm
Kenwood is one of the most trustworthy brands in the world providing home electrical appliances. This toaster has an automatic bread-centering system, a removable crumb tray, a removable warming rack, and a high-rise bread lifting function. Furthermore, it's sleek stainless steel finish will add a stylish look to your kitchen!
10. Smeg 50's 2 SLICE TOASTER
Price: $212.99
Key Highlights:
2-slice toaster
Triple function: Reheat, Defrost, Bagel
6 levels of browning control
6 retro colours available
Dimensions: 39.4 x 20.8 x 21.5 cm
This curved and compact Smeg 50's toaster oozes nothing but a nostalgic retro vibe. Able to brown thick slices of toast to 6 different levels, the toaster has a self-centering rack and an extra-wide slot. It also comes with 3 pre-set programmes.
Best places to buy a bread toaster in Singapore
Harvey Norman is a multinational company selling household products ranging from bedding and furniture to computer products. With 12 stores islandwide and a 24/7 online store, you'll easily be ablt to find a bread toaster in Singapore that's right for you!
This local company provides high-quality customer service and offers a wide range of home electronic products. There are a few branches located around Singapore and an online store.
Related articles:
Other articles you may want to check out: