With work-from-home becoming a common practice in many businesses, computer desks now play a more significant role in setting up a comfortable and productive workstation. If you're getting back pains and aches after long hours of sitting at your dining table or in your bed with your laptop, it may be time to get a computer desk. In this article, we'll show you what features to look for in a good computer desk in Singapore, our picks, and where you can buy them.
Buying a computer desk in Singapore: what to consider
1. Size
The size of the desk is a key consideration when it comes to choosing the right computer desk for you. You don't want to install one that takes up considerable space in your house or one that has very little tabletop space for you to work efficiently.
While you measure the space intended for your computer desk, you should also take note of the sizes of items that will be on it — such as your laptop, monitor, keyboard, printer etc.
This will help you determine how much space you need on the tabletop and help you choose a decent-sized computer desk in Singapore to boost your productivity.
2. Shape
While the conventional computer desk in Singapore is rectangular with four legs, there are many other variations too — such as corner desks, workstation desks, and hutch desks.
It's worth the time to look at the type of desk that will best suit your home and work style. For example, if you want a computer desk at the corner of your room, a corner L-shaped desk may be a good fit.
3. Material
Computer desks these days are made from a myriad of materials ranging from plastic to wood, and some even come with glass tops.
While the material can bring different moods into your room, they also differ in their weight, sturdiness, and durability.
4. Ergonomics
This refers to the elements of the computer desks that will make it comfortable and effective for you when using it. In a computer desk, this can mean things like a pull-out keyboard tray, height adjustments, and elevated shelves.
If you have kids at home, rounded edges are also important to ensure their safety!
9 best computer desks in Singapore (2020)
Price: $33.50 – $65.90
Product details
3 sizes available:

70cm x 40cm x 73cm (L x W x H)
80cm x 50cm x 73cm
100cm x 60cm x 73cm

Colours (tabletop): White, Black, Pine Wood
Material: MDF wood
This Nordic style modern desk is perfect for minimalists! Suitable for both study and work purposes, this table is easy-to-assemble, durable, and affordable.
It features an ergonomic design, using a curved edge to ensure comfort for long working hours. Its round corners also ensure that the table is safe for children. If you're looking for a stylish and child-safe computer desk in Singapore, you can consider this product!
2. Double shelving computer study desk
Price: $39.90 – S$99.79
Product details
Dimensions: 120cm x 48cm x 136cm (L x W x H)
Colours: Black and medium brown, white and light brown
Materials: Steel, particle board
Looking for a computer desk in Singapore that can double up as a bookshelf to store your books, files, and notes? This double shelving computer study table might be the one for you!
Not only does it have sufficient space on the tabletop, you can also get this table along with a side shelf, bottom shelf, or double shelving to store more things.

Its sleek, modern steel frame, and premium particle board provide strong support for heavy books and computers. It also comes with a "lift" mechanic system, so you don't have to worry about it scratching your tile floors.
3. Foldable table/computer laptop study desk
Price: $102.66
Product details
2 models available:

80cm x 40cm x 80cm; 100cm x 40cm x 80cm
80cm x 45cm x 74cm

Colours available: Dark pine, white pine, black, white
Materials: Steel and MDF wood
This foldable table and computer laptop study desk comes in two different models and up to four different colours.
There's no need to do any complicated installation. Simply prop it up and it's ready to use. When not in use, you can fold and place it in the corner. This makes it perfect for small living spaces with space constraints!
The computer desk is also portable, so you can conveniently carry it out for a picnic or BBQ with your friends and family.
4. IKEA FJÄLLBO laptop table
Price: $79
Product details
Dimensions: 100cm x 36cm x 75cm (L x W x H)
Colour: Black and variations of wood
Materials: Steel, pinewood, birch wood
Made of metal and solid wood, this rustic IKEA table can fit into any home interior. It comes with castors so you can easily move the table around the house and work where you like. Have uneven floors? Fret not, as the FJÄLLBO laptop table has adjustable feet to maintain stability.
It also comes with self-adhesive cable clips to help you keep the cords organised and out of sight. Looking for a practical and sleek computer desk in Singapore? this IKEA desk is something you can consider!
5. Parsons computer work desk 
Price: $158
Product details
Colours: Grey-brown and black
Materials: MDF material and metal
Propped against the wall, this Parson Computer Work Desk can be your workstation that houses all your essential supplies.
With two overhead shelves and drawers below the desk, you can ensure that what you need will be within your reach. This Parson computer work desk comes in two colours — grey-brown and black, both complementary to any home interior!
6. Holin multi-function gaming desk
Price: $235.50
Product details
Dimensions: 130cm x 65cm x 76cm (L x W x H)
Colour: Black and red
Materials: Carbon steel and ABS plastic with powder coating finish
This Hollin Multi-function gaming desk is eccentric in its style. Available in black and red, it'll add a splash of colour in your home!
Its carbon-fibre textured table top allows for easy cleaning. Its unique hexagonal, Y-legs design makes its structure strong and durable. The table also comes with headphone hooks and an electrical socket storage box, letting you organise and store your wires and accessories easily.
If you're looking for unique computer desk in Singapore, this affordable desk is worth considering!
7. FortyTwo Mele computer desk
Price: $219
Product details
Dimensions: 110cm x 55cm x 100cm (L x W x H)
Colours: Dark walnut
Materials: Foil, MDF wood, rubber, steel
This Mele Computer Table is an excellent table for anyone working from home.
It combines the standard design of a conventional table with additional details like a pull-out keyboard tray, CPU tray, raised printer platform on its right side, and even side drawers for stationery and files.
With all these components, you can neatly arrange your items on (and in) the table with little clutter. Start your day clean and fresh — and that starts with your workstation!
8. Omnidesk Zero
Price: $329
Product details
3 sizes available:

122cm x 70cm x 70-118cm (L x W x H)
152cm x 70cm x 70-118cm
183cm x 70cm x 70-118cm

Colours: Black, white, pink (MDF wood); light, shadow (bamboo)
Materials: Powder coated MDF Wood or Bamboo (tops), Steel
If you're looking for a smart computer desk in Singapore, the Omnidesk Zero is one to look out for. A pride product of the Omnidesk company, one of the best features is that with a quick tap of a button, you can adjust its height and switch between standing and sitting positions.
This table allows you to keep up to four height presets for your family members, so everyone in the household can share and use it comfortably!
9. FortyTwo Rommey Computer Table III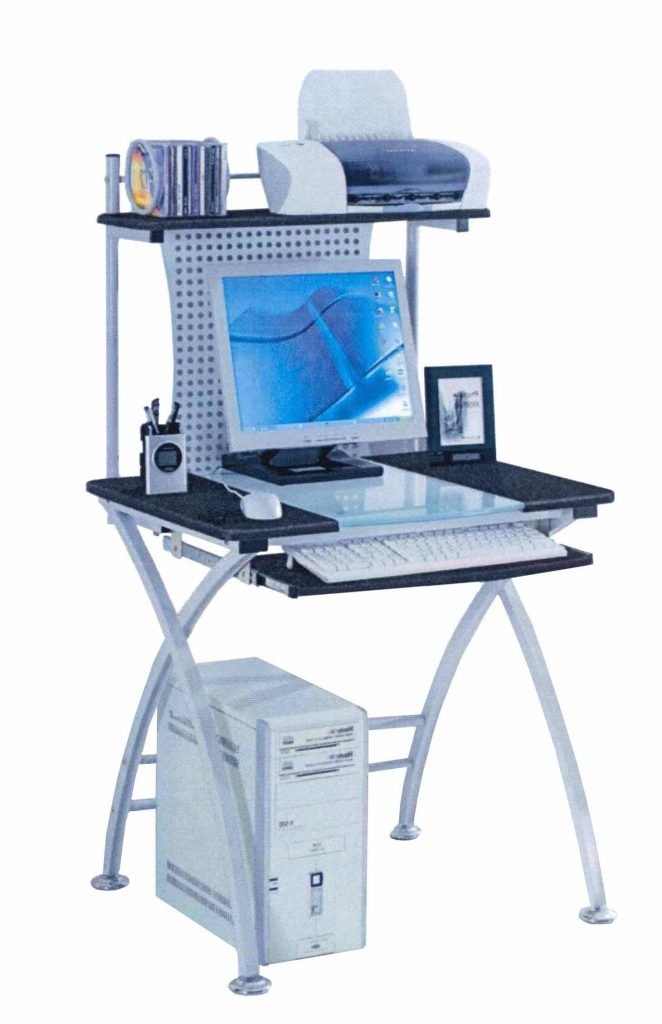 Price: $229
Product details
Dimensions: 75cm x 63cm x 128cm (L x W x H)
Colour: Silver
Material: Steel, MDF, and glass
Currently retailing at $229 (U.P. $450), this compact table has an overhanging shelf that allows you to place your printer and files on the top.
Made from a powder-coated steel frame with an MDF tray and support stand, this table is sturdy and easy to clean. With its solid structure and compact form, it's a computer desk that's suited for any household in Singapore!
Best places to buy a computer desk in Singapore (2020)
IKEA offers a range of budget-friendly products with good quality and a period of warranty.
Their easy-to-assemble computer desks come in a wide variety of designs and have a 10-year guarantee. Whether you're looking for a simple and sleek modern computer desk, or one that has various shelves and storage space, IKEA has an option for you.
While you search for an ideal computer desk in Singapore, you can also take some time to walk through their display showrooms to gather some inspiration for your next home makeover.
As one of the biggest home furnishing websites in Singapore, Fortytwo is an online retailer with varied products ranging from furniture to home decor and lifestyle items.

From simple to whacky designs with a year's warranty for most computer desks, Fortytwo has good deals for you. It operates completely online (which means that they do not have a showroom) and provides home delivery services. This translates to lower prices for their products.
Committed to the vision of "freedom of choice" and "fairness of price", FurnitureSG is where you can find one of the best choices for your computer desk in Singapore.
With promotions and sales throughout the year, you can expect the lowest prices for any of their furniture. This includes TV cabinets, kitchen cabinets, dining sets, wardrobes, office tables, reclining sofas, bed frames, and even mattresses!
FurnitureSG also provides delivery services after office hours without extra charges and the exchange of items.
While you're here, check out some of these articles!
Related articles:
Other articles: