Compared to using the traditional broom and dust pan, a vacuum cleaner is a much more convenient option. And for those of you who vacuum more than once a week, getting a cordless vacuum cleaner in Singapore will serve you so much better.
Moving around the house without a cord tangling around your feet might convince you to never return to using a corded vacuum cleaner again!
The different types of cordless vacuum cleaners
Before you buy a cordless vacuum cleaner in Singapore, it's good to know about the various kinds available in the market.
1. Stick
This type of cordless vacuum cleaner is lightweight and very easy to use. This is good to own if you don't wish to lug a big heavy vacuum cleaner around the house for a thorough clean.
Such vacuum cleaners may not be as powerful, and are mainly used to simply clean up crumbs and fluff.
2. Cylinder
Possibly the most commonly seen type of vacuum cleaner in most households, cylinder cordless vacuum cleaners are easy to move around and manoeuvre.
They're also known to be efficient in removing slightly tougher particles like pet hair, and can access harder-to-reach places.
3. Upright
This is the type of vacuum cleaner you go to when you need a thorough clean of your space. It may be heavier than other types of vacuum cleaners, but you can be assured your space will be so much cleaner after using it.
A cordless upright vacuum cleaner is a fuss-free and highly convenient way of getting all the nasty dirty stuff out of any area you want.
What to look out for when looking for the best cordless vacuum cleaner in Singapore
There are a variety of characteristics to look out for before putting your money down for the best cordless vacuum cleaner in Singapore.
1. HEPA filter
If you and/or your family members are sensitive to dust, you should consider a vacuum cleaner with a HEPA filter.
A HEPA filter ensures that all the dust, dirt, and mites are trapped securely so you don't have to worry about them being released into the air after you turn off your vacuum cleaner.
2. Noise level
Some vacuum cleaners are very loud, much like the industrial ones you see outside. Some however, are more silent.
If you tend to vacuum at odd hours, a quieter vacuum cleaner will be more suitable to reduce disturbance.
3. Type of flooring
Choosing the right type of vacuum cleaner that's suitable for your floor is important. After all, you don't want to end up scratching the floor while cleaning it.
If your flooring is made of a material like marble, using a vacuum cleaner that is not too rough will ensure you don't get scratches.
9 best cordless vacuum cleaners in Singapore
If a cordless vacuum cleaner is what you've set your mind on buying, here are 9 of the best cordless vacuum cleaners in Singapore that you can consider.
1) Airbot Supersonics 2.0 (Red) 19KPA 45 Min New Cyclone Filtration Carpet Boost Cordless Vacuum Cleaner
Price: $95.90
Product details
Weight: 2.2kg
360-degree freedom to reach every corner
One push to empty all dust within 2 seconds
Two-in-one storage charge combo base
45-minute battery life
High and low spin mode for deep clean and quick clean
Soft brush for all flooring types
Having a cordless vacuum cleaner that's highly versatile can be a godsend. Imagine being able to not only clean your home, but also your furniture like your bed and sofa. This cordless vacuum cleaner lets you do so. It comes with a bed mites brush for you to easily vacuum your mattress and sofa cover.
Furthermore, this cordless vacuum cleaner boasts the ability to do either a light clean or a deep clean. Plus you only need one push to remove all the dust and hair that has been collected.
If you're looking for a cordless vacuum in Singapore that's affordable, easy to use, and simple to clean, this Airbot cordless vacuum cleaner should be on your list!
2. Dibea D18 Cordless Vacuum Cleaner Handheld Stick LED Light
Price: $128
Product details
Weight: 2.2kg
Ergonomic design handle
Dual-speed control
45-minute battery life
Two-in-one soft brush function for use on both hard ground and carpets
Large capacity dust bucket
Power indicator to clearly see energy data
Wide floor brush for more thorough and effective cleaning
Always struggling to clean those hard-to-reach areas with your vacuum? This vacuum cleaner can manoeuvre around difficult nooks and crannies.
You also don't have to worry about scratches on your floor as its fluffy roller brush design is gentle on surfaces.
Plus, with its large capacity dust bucket, you can use this vacuum cleaner over a large area several times before you need to clean it out.
3. Tefal TY6543 Airforce Light Vacuum Handstick Red
Price: $115
Product details
Weight: 2.3kg
Cyclonic Technology to capture the smallest dust particles
LED indicating where perfect cleanliness has been achieved
Lightweight for easy handling and usage
Usage time of up to 30 minutes per charge
This vacuum cleaner boasts many desirable traits. If you're looking for a vacuum that can help you maintain a cleaner space, this vacuum is one to look out for.
Its relatively lightweight and elegant design offers up to 30 minutes of vacuuming time per charge. Furthermore, you can adjust the vacuum suction power depending on the flooring.
The vacuum cleaner also comes with a washable filter.
4. Ohm Cyclone Vacuum 1018-d
Price: $288
Product details
45-minute battery life
Polycarbonate canister
Stainless steel filter
Easy carry and keep
This Ohm cordless vacuum cleaner is easy to handle and use, and has a really strong suction to keep your space spotless. And you don't have to worry about it cramping your style with its sleek design!
5. Panasonic 2-in-1 Cordless Bagless Vacuum Cleaner MC-BU100SZ47
Price: $299
Product details
Weight: 2.7kg
Edge-to-edge cleaning
Multi-surface cleaner
Bagless for eco-friendliness
Up to 30 minutes of cleaning power
Because of its no-fuss and lightweight design, this vacuum cleaner can be used for last minute clean-ups on any type of surface easily.
What's more, the vacuum cleaner comes with two attachments for improved cleaning power. The snap-on dusting brush removes dust and dirt fast from upholstery, furniture, blinds, frames, shelves, corners, and more. The special crevice tool allows you to clean between appliances, below cushions, and other narrow spaces.
6. Karcher VC4i Cordless Handheld Vacuum Cleaner
Price: $338
Product details
Weight: 1.8kg
Up to 60 minutes of running time
Double handle for comfort
Can be used as an upright or hand-held vacuum cleaner
Cyclone technology for a deeper clean
Wide range of accessories to clean hard-to-reach areas
Highly versatile
At 1.8kg, this Karcher product is one of the lightest cordless vacuum cleaners on our list. With a 60-minute runtime per charge, it also has one of the longest operating times among other vacuum cleaners.
This vacuum cleaner can be switched between being a long-handled version to a more compact handheld one depending on your needs. There are also three power levels which you can toggle depending on your cleaning task.
In addition, the floor nozzle has a 180-degree joint to allow for easy manoeuvring around furniture and obstacles.
7. Xiaomi ROIDMI Cordless Handheld Vacuum Cleaner S2
Price: $399
Product details
Weight: 1.5kg
135AW strong suction power
Intelligent suction protection
Run time of up to 60 minutes
Magnetic wireless charging
App smart reminder
10% noise reduction
Quadruple filter system
At only 1.5kg, this Xiaomi product is the lightest cordless vacuum cleaner on our list, with a run time of up to 60 minutes!
What's special is that the vacuum cleaner recharges through magnetic wireless charging! All you need to do is to gently lean it against the charger. No more fumbling around trying to properly secure your vacuum cleaner against a charging port.
The vacuum cleaner comes with various cleaning brushes and heads, allowing you to easily clean various surfaces and corners. It even comes with a mop head!
If you're keen on aesthetically-pleasing appliances, this vacuum cleaner will not disappoint. Its design has won it several awards over the years.
And if all these still don't impress you, you can manage the device through the ROIDMI vacuum cleaner app to check information such as power, remaining cleaning time, and filter replacement alerts.
If you're looking for the best cordless vacuum cleaner in Singapore at a good price, this should be on your list!
8. Dyson V11 Absolute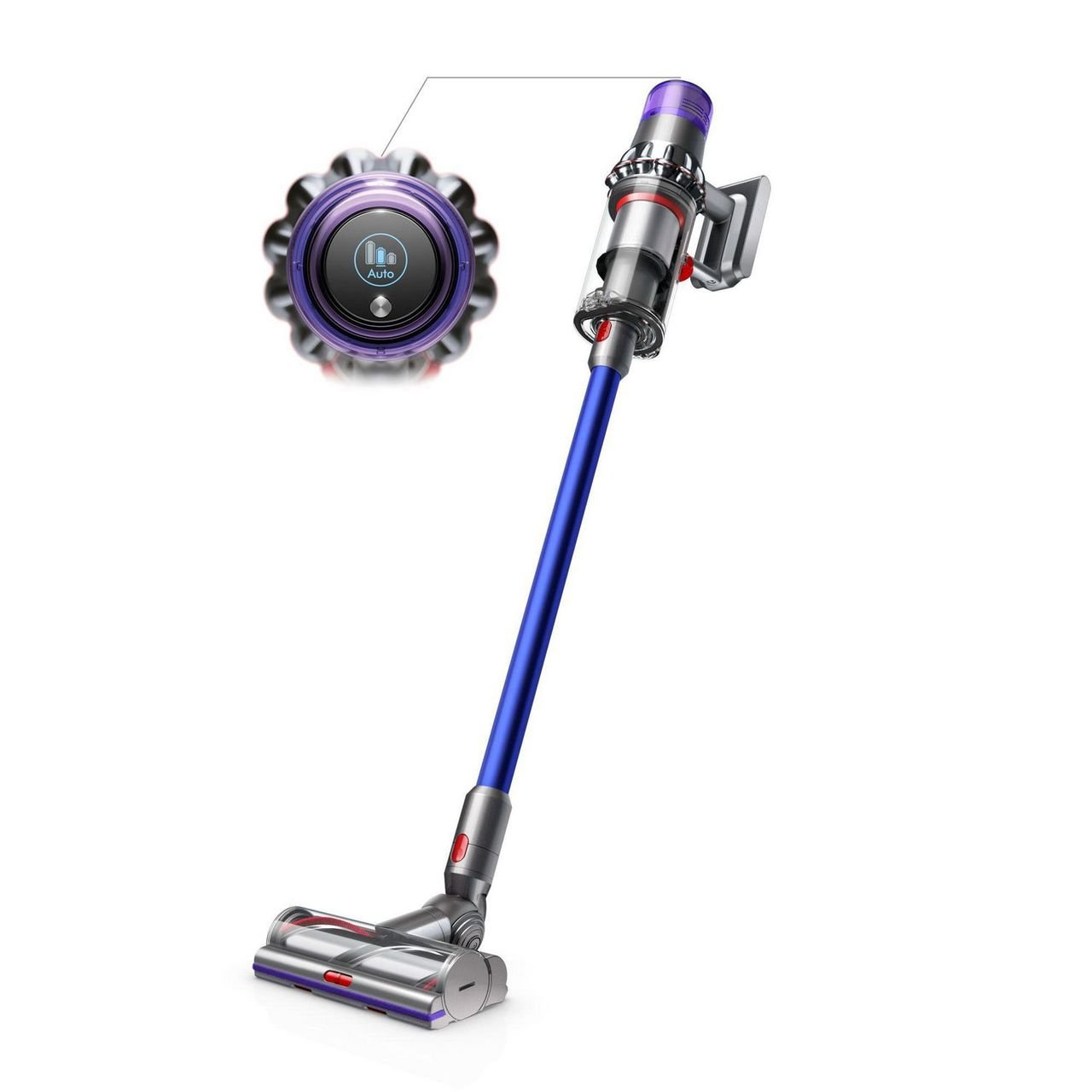 Price: $999
Product details
Weight: 2.97kg
Run time of up to 60 minutes
Automatically adapts power to different cleaning surfaces
Powerful cleaning
Intelligently reports performance in real time
Three cleaning modes for the right task
'Point and shoot' hygienic dust emptying
Besides being able to do a deep clean of your space, this Dyson product allows you to monitor information like available cleaning time and blockage reports through a small LCD screen.
You can also switch between three different modes: Auto mode, Eco mode, and Boost mode. The Boost mode provides more intensive cleaning, while the Eco mode allows for longer running time across different surfaces. Under the Auto mode, the vacuum cleaner automatically adjusts its suction power depending on the surface type.
And nothing beats not having to touch the dirt while emptying it into the trash, which is something you can definitely do with the "point and shoot" function of this Dyson vacuum cleaner.
9. Bosch BCS61BAT2 Serie | 6 Rechargeable Vacuum Cleaner 
Price: $999
Product details
Weight: 2.3kg
Runtime of up to 30 minutes
Auto shutdown and electrical current flow regulation when needed
Compact and lightweight for effortless handling and flexible cleaning
AllFloor Power Brush and compact DigitalSpin Motor for use on all types of flooring
Classy and sleek, you won't have to worry about this vacuum cleaner being an eyesore. But that's not all.
You can use this vacuum cleaner to clean literally any kind of surface, whether it's the ceiling or any type of flooring. With two batteries included with the vacuum, you'll be able to clean for a longer time.
Furthermore, the product is made in Germany, so you can be assured of the quality of the machinery.
Where to buy a cordless vacuum cleaner in Singapore
Seeing the actual product may help you to make your choice more confidently. If you feel more comfortable seeing and testing cordless vacuum cleaners before buying, you can visit these places.
Best known for their wide selection of electrical appliances, BEST Denki doesn't disappoint with their wide range of vacuum cleaners.
Ranging from corded to cordless, and in various types, you can select the best one for your needs. The good thing about their vacuum cleaners is that they're all renowned brands so you can be assured of their quality.
Another appliance and furniture giant in Singapore, COURTS does its reputation justice with an impressive selection of vacuum cleaners. Here at COURTS, you'll definitely be able to find a suitable cordless vacuum cleaner at a good price.
A cordless vacuum cleaner will allow you to move around easily through your space while cleaning. However, you should also get one that suits the frequency of your usage. It may be wise to invest in a sturdier model so you can continue using it in its best state for as long as possible.
Related articles:
Other articles: