Hunting for the best exercise bike in Singapore? There are plenty of exercise bikes to choose from, with each having its own unique features and levels of resistance.
Besides working out in the comfort of your home, an exercise bike allows you to perform interesting choreographies such as spinning to increase stamina and basic cycling to keep fit.
Benefits of exercise bikes
Before shopping for the best exercise bike in Singapore, let's learn more about the key benefits of cardio training on a stationary bike.
Cardiovascular health
Riding an exercise bike helps you maintain a healthy heart.
It helps to lower high blood pressure, and improves the flow of blood and oxygen throughout your body.
Since you can go as fast or as slow as you want, you can choose to start with a gentler form of cardio activity on the bike.
Muscle strengthening and toning
Regular uses of exercise bikes help build strength in your legs and lower body, especially if you choose a higher resistance.
Pedalling helps to strengthen your calves, hamstrings, and quadriceps while working the muscles in your core, back, and glutes.
Weight loss
Exercise bikes can help to speed up your weight loss as you'll get to burn more than 600 calories an hour.
This is why cycling is an ideal indoor activity for burning calories quickly.
Do note that the number of calories you burn will depend on factors such as your weight and cycling speed.
8 best exercise bikes in Singapore
Ready to start cycling at home? Whether it's to keep fit or lose weight, here are our top picks for exercise bikes in Singapore that you can get.
1. Decathlon Essential Exercise Bike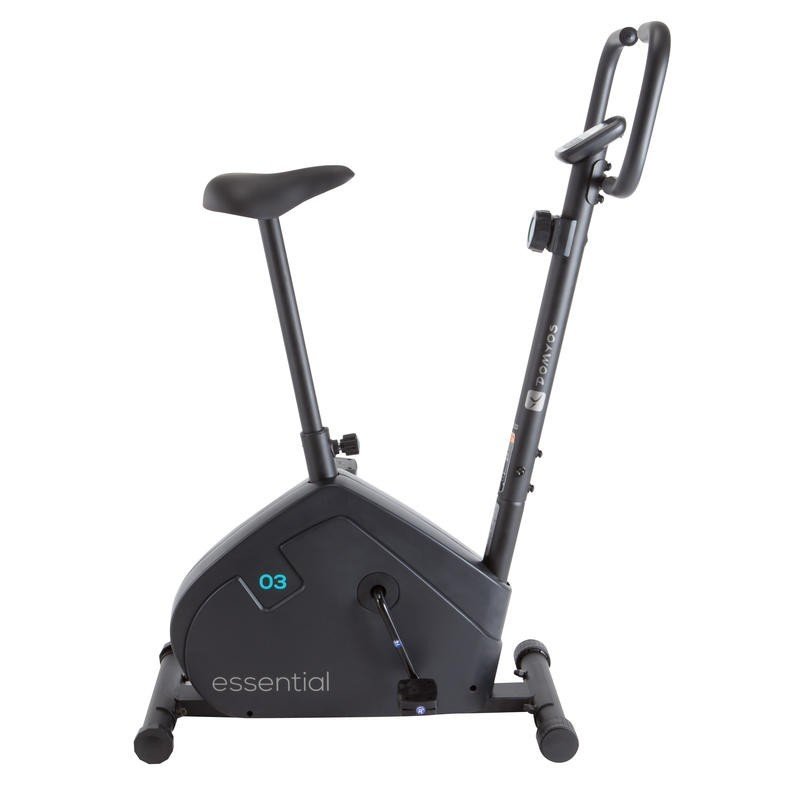 Price: $150
Product details
Eight levels of manual resistance
3kg flywheel
Get in shape with the Decathlon Essential Exercise Bike!
Besides exercising your legs, this bike pushes you to engage your abdominal muscles, as well as biceps and triceps for a total body workout.
This Decathlon Essential Exercise Bike is also perfect for first-timers. Affordable, easily assembled, and small enough for most living rooms, this is one exercise bike to consider getting in Singapore.
Build up your thigh muscles, tone your entire body, and start burning calories with this exercise bike!
2. X3 Exercise Bike
Price: $199
Product details
Resistance bands for arms workout
Dimensions when unfolded: 116cm (L) x 52cm (W) x 96cm (H)
Get set for a high-intensity workout with this X3 Exercise Bike.
This exercise bike comes equipped with resistance bands to complete your body workout. The resistance bands help tone your arms and get your muscles fired up while you strengthen your legs and burn calories.
Plus, the X3 Exercise Bike can be folded away for easy storage. This makes it a good exercise bike to have especially when you have limited space at home.
3. Spin Bike Puma
Price: $249
Product details
8kg flywheel
LCD monitor that displays distance, speed, time, and calories
If you're looking to build cardio and endurance using programmable workouts, you should go for a regular upright bike.
But if you're a serious cyclist or professional biker and prefer a bike that simulates the feel of an actual road bike, then a spin bike is for you.
Flywheels are typically heavier on spin bikes. This Spin Bike Puma is fitted with an 8kg flywheel. This means that you get to burn more energy with each rep you perform on the spin bike as compared to a regular bike.
You can also add variety while spinning such as standing up, which draws every single muscle group into the workout. This helps to add more intensity to your workout.
4. OTO Row Bike
Price: $388
Product details
Dual exercise — rowing and cycling
Adjustable strength for rowing
Are you struggling to do a full-body workout? Look no further than this exercise bike from OTO.
The OTO Row Bike accommodates all fitness levels and keeps your strength, cardio, and balance in check.
Combining the mechanisms of the exercise bike and the rowing machine, this two-in-one Row Bike can help you strengthen your muscles and build endurance.
With each hard-hitting session on the OTO Row Bike, both your upper and lower body muscles are put to work, firing up your core and building explosive power.
5. Reebok A4.0 Upright Bike
Price: $499
Product details
6kg flywheel
5.5" LCD screen with live training data
This exercise bike delivers a smooth and consistent ride for users of all fitness levels, making it an ideal option for home users who wish to work up a sweat a few times a week.
Choose from eight levels of resistance for your high-intensity interval training with this Reebok A4.0 Upright Bike. If you have trouble maintaining your speed, you can choose to lower the resistance rather than slowing down.
Plus, the Reebok A4.0 Upright Bike features a dual-adjustable comfort padded saddle for additional support. If you're an advanced user, you can also use it to train for intensive sprints and endurance.
6. AIBI Gym 2-Way Air Bike AB-B339HP
Price: $599
Product details
Synchronised pedalling and rowing system
Moving handles can be converted to stationary handles
Strengthen your endurance and improve your heart health with the AIBI Gym 2-Way AB-B339HP Air Bike.
With this exercise bike, no muscle is left unworked as your arms are also engaged for improved conditioning and increased calorie burned per minute.
If you prefer to sit up straight and cycle, you can convert the moving handles to stationary handles and adjust the seat height for a more comfortable workout.
Get pedalling if you're in the mood for cycling, or row on this machine to take your cardio to new heights.
7. AIBI Gym Recumbent Bike AB-B165R
Recumbent exercise bike
Price: $1,155
Product details
24 levels of resistance
5.5″ LCD (128mm x 58.5mm) display
Saddle up on the AIBI Gym Recumbent Bike AB-B165R for fat-burning and muscle-toning goodness.
The difference between a recumbent and an upright bike is that the former features a reclined seat that helps reduce body fatigue and eliminate muscle soreness.
Since this exercise bike is easier on the lower back, this makes it an ideal choice for those who need lumbar support or are in rehabilitation.
Sit comfortably, tone your muscles, and enjoy a safe and low-impact total body workout with this exercise bike!
Best places to buy an exercise bike in Singapore
As a long-established supplier of innovative fitness products, AIBI advocates a healthy and active lifestyle.
At AIBI, you can choose from a range of high-quality exercise bikes that are perfect for cardio exercises in both home gyms and professional settings.
Decathlon is a world leader in sportswear and equipment with its own team of researchers delivering sports solutions with your needs in mind. With four large experience stores islandwide, you can expect to find the best exercise bike in Singapore at Decathlon.
This includes the Decathlon Essential Exercise Bike, which is also one of the sports equipment that's designed by its design team.
I-RUNNING.SG offers everything from elderly-friendly mini cycles to standard upright exercise bikes.
The company believes in supporting customers in exercising regularly, keeping fit, and staying healthy with its range of quality gym and fitness equipment.
Whether you're looking for a recumbent, upright, or spin bike, Sole Fitness aspires to help all their customers establish their ideal fitness space and meet their fitness goals.
Select from a comprehensive range of bikes with various features and functionalities at Sole Fitness.
Related articles:
Other articles: