We previously wrote an article about 10 office chairs in Singapore below $200.
This article will contain very similar information, so you can sit tight and look forward to the ride: and if you're going to be sitting down, you might as well get comfortable.
Why should I get a gaming chair in Singapore?
Along with instant water heaters, self-shuffling mahjong tables, and smart door locks, gaming chairs are considered to be the crème de la crème of modern household furniture. Those who take a close look at gaming chairs will find that they bear a distinct resemblance to race-car seats. That's because it's the only way to put the 'sports' in 'e-sports'.
But let's put the definition of sports aside for now, and focus on the gaming chairs.
Traditional office chairs provide support for your back. Some options provide a headrest as well, but that's about as good as you're going to get. In comparison, gaming chairs have a higher backrest that pushes your shoulders and back forward, forcing your body upright.
They're also far more adjustable. Almost every element on a gaming chair can be adjusted in some way or form; the back of the chair, the tilt, lumbar support, armrests, headrests, everything. You can even remove some parts completely, such as the footstools or armrests.
Gaming chairs are considered to be superior to office chairs if you're the type to sit at your desk the entire day. If during the span of a normal working day, you don't go for meetings, stand up to stretch, or go out for lunch, this chair is made for you.
If you spend upwards of 6 hours a day playing video games on your computer, you can get a gaming chair too, I guess.
Criteria for Picking a Good Gaming Chair in Singapore
Price
The chairs in this article range from $125 to $499, so you can expect most gaming chairs to revolve around this price.
Degree of adjustability
Ideally, a gaming chair should have the following 5 functions:
Adjustable headrests
Adjustable armrests
Reclining backrest
Adjustable footrests
Tilt mechanism
14 Best Gaming Chairs in Singapore
Price: $125
Degree of adjustability
Adjustable headrests
Adjustable armrests
Reclining backrest
Tilt mechanism
Key highlights
The Type A 4D gaming chair is like white bread. It does what it says it does and is highly reliable for its price – but it looks a little underwhelming. Take a look at the picture above, which was taken by a buyer.
Usually, a crease in the 'leather', or in this case, PU (polyurethane) leather, signifies that there's still space left in between the stuffing and the cover. A really high-quality chair wouldn't leave that much room for creasing.
Yes, the cover still needs to leave a bit of space present, so that the cover doesn't split. However, in this buyer's case, the whole chair just looks… malnourished.
Type A 4D Gaming Chair in Singapore is a decent chair for its price – you can hardly get a good office chair for $129, let alone a gaming one. Then again, it could be that most gaming chairs look the same way pre-photoshop, and I'm just being a picky little prick.
On the plus side, if you do get this chair, you get both delivery and installation for free.
Where else to buy
Price: $139
Degree of adjustability
Adjustable headrests
Adjustable armrests
Reclining backrest
Adjustable footrests
Tilt mechanism
Key highlights
The JIJI Polaris gaming chair comes in four colours: gold, white, red, and blue. You get free installation, and a 1-year warranty excluding wear and tear – so hold on to your invoice/delivery order.
There aren't any product pictures available, nor any sort of product review at all, so I'll be rating this chair based off its looks.
Image-wise, it looks great. The photography team has really done a good job with it. The cushions look fuller, the edges look plump, and the seat seems thick and solid.
Where else to buy
Price: $141
Key highlights
Right, we all know that this is not a gaming chair, but Kneeling chairs are a great way for you to improve your posture, instead of just mitigating the damage.
They force your core and back muscles to work, making you sit up straight and 'exercise' while doing nothing. Yes, you'll be sore and tired for the first few days, but imagine how jealous your other gamer friends will be when they lay their eyes upon your chiselled bod.
Actually, this is great for a lazy bugger who can't be arsed to do crunches. Unfortunately, a price tag of $141.52 is a little painful for my poor wallet.
Price: $142
Degree of adjustability
Adjustable headrests
Adjustable armrests
Reclining backrest
Tilt mechanism
Key highlights
Although it lacks an adjustable headrest, and there's no information about the armrests, the Mask Warrior Gaming Chair in Singapore looks like something out of Michael Bay's Transformers series. With a design that resembles a mechanised face, those sitting in this chair are sure to feel the power of the course of the ancient through their blood.
The Mask Warrior is a popular choice in World Cyber Games events, because it's affordable, futuristic, and looks cool from the back.
You can find the front of the chair further down, in a much smaller picture. It falls flat of the expectations created by the moniker 'Mask Warrior', but I cannot deny that it looks sleek.
It comes in four colours: white, black, red, and blue. I would suggest that you not get blue since it looks kind of childish, but what do I know? I'm not a gamer.
Where else to buy
Price: $164.80
Degree of adjustability
Adjustable armrests
Reclining backrest
Tilt mechanism
Key highlights
Normally, choosing products with only one review makes you hesitant, but this chair is so adorable that you can't leave it in.
The Myth Gaming Chair in Singapore has three different versions, but the pink one featured above (GC07) is the one I'm going to talk about. If you're interested in the rest, check out the product's page up there in the header.
The unique feature of this chair is that it can auto-lock its angle of tilt up to 155 degrees. That means that you can potentially lie back and sleep on it if you wanted to, but there's no guarantee that the chair wouldn't topple backwards.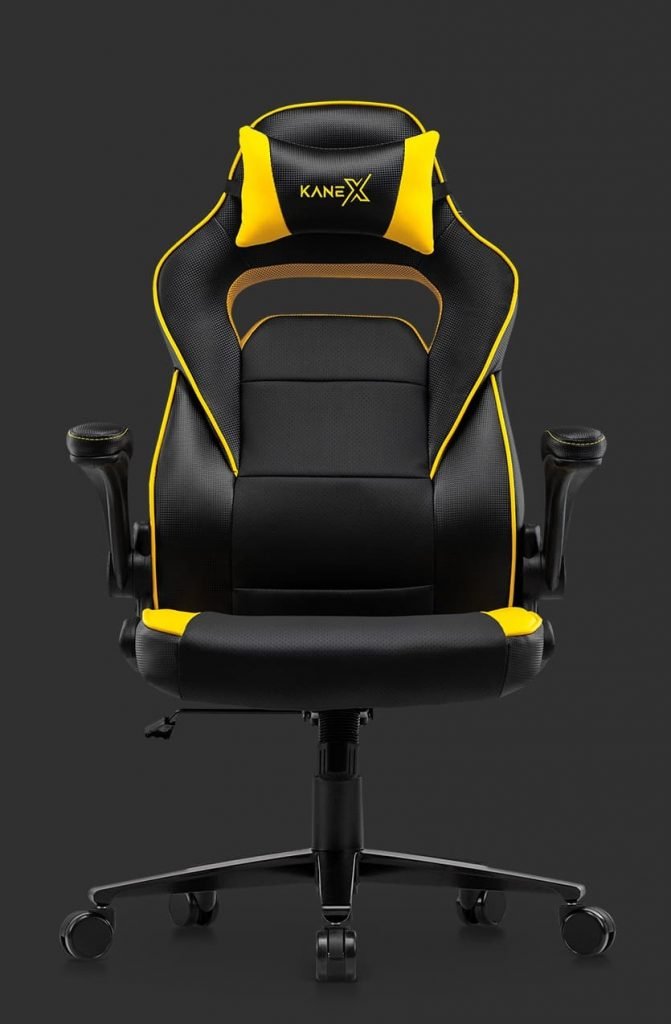 Price: $189
Degree of adjustability
Adjustable Cushy Neck Pillow
Tilt mechanism
Flip-up Padded Armrest
Key highlights
This gaming chair is best with its high comfort and dynamic style design. The backrest, armrests, and seat area come with thick cushioning, helping you to make an excellent experience of comfortable gaming or even while working.
If you're the one who's enjoying long hours of gaming, then this gaming chair in Singapore is perfect for you. Kanex Argus Gaming Chair helps you in maintaining a healthy posture with its ergonomic shape and adjustable features.
It also has the most straightforward possible assembly that can easily be assembled by most users. So you won't have a hard time when the item arrives at your home!
Where else to buy
Price: $239.00
Degree of adjustability
Adjustable armrests
Reclining backrest
Tilt mechanism
Key highlights
The Tesoro Zone Balance Gaming Chair is a modest affair. It isn't the nicest to look at, but there isn't really anything for you to a fault when it comes to function.
With full, plump pads lining the edges and seat of the chair, the Tesoro Zone Balance prioritises comfort over aesthetics and is suitable for the hardcore gamer who doesn't invite a lot of friends over. It reclines up to 180 degrees, so you can lie flat down on it and use it as a hospital bed after you fall ill from sigma.
It comes in three colours: red, black, and white, and you'll have to install it yourself. Reviews have stated that it took about 30 minutes to assemble, so it shouldn't be that tricky.
Price: $279
Degree of adjustability
Adjustable armrests
Reclining backrest
Tilt mechanism
Key highlights
This Assassin Series Gaming Chair (presumably named so due to the windows around the neck area, allowing an assassin to reach in and strangle you) comes in red, blue and black. It looks even less impressive than most of the other options here and costs more. So what makes this guy so special?
For starters, it mimics the design of a race-car seat, down to the materials used. Density foam padding is stuffed into the seats and backrest, ensuring that you're tushy is comfortable. You also get a lifetime warranty on the steel frames, which is how confident they are in their products.
The only 'complaint' that I could find on their reviews page was that the white chair was a little yellowish instead of white. The buyer then went on to say that he was very particular about his colours, but everything was fine apart from that.
If you're not that particular about your colours, this chair is a decent investment to make.
Price: $283 (U.P. $387)
Features
Wireless audio transmission through 2 speakers at the headrest
Subwoofer at chair's backrest
Compatible with Xbox, PlayStation, Gameboy, MP/CD/DVD, and home theatre systems
Deep padding for a comfortable fit
Armrests
Key highlights
If you're looking for a gaming chair in Singapore that's not just comfortable but also provides an immersive gaming experience, the X Rocker SE 2.1 gaming chair might just have been made for you.
This is a leather gaming chair that comes with 2 high-quality audio speakers at your headrest. As if that wasn't enough, there's a subwoofer installed at the backrest area so you can literally feel the bass frequencies on your body.
Even if you're not a gamer, you can connect the chair to your home theatre system to enjoy a more immersive viewing experience with your favourite movies.
In terms of comfort, this XRocker gaming chair comes with deep padding, like all other XRocker chairs. This ensures a good and comfortable fit for all users. The chair also comes with armrests. However, the armrests look rather ordinary and might not be much to shout about.
Where else to buy
Price: $299.90 (U.P. $399)
Features
High-quality PU leather
High-density cold cure cut foam
Stain and water-resistant
Heavy-duty electroplated carbon-black aluminium base
65mm quiet PU casters
Adjustable padded armrests
Comes with neck and lumbar pillows
Certified Class 4 gas hydraulics for height adjustment of 10cm
70 to 150-degree recline
Key highlights
Made of high-quality materials, the gaming chair's unique foam material allows for greater pressure absorption and better weight distribution.
The armrests are adjustable, and are designed to relieve pressure points and provide improved support. In addition, the chair comes with neck and lumbar cushions, so you can sit comfortably for longer periods without feeling body strain.
The chair also has a wingback design, which provides more body contact with the user so that the pressure on the upper back is dispersed better.
As "complicated" as this chair may seem, it can be assembled in under 30 minutes! The chair comes with a 3-year limited warranty.
Where else to buy:
Price: $369
Degree of adjustability
Adjustable recline angle up to 180°
Adjustable armrests
Rocking function
Adjustable height
Key highlights
The beautiful thing about the Arozzi Verona V2 gaming chair is that it works well whether you're a task-heavy user or a gamer putting in hours of wear to your chair.
Like most other gaming chairs, this gaming chair comes with a reclinable backrest and two removable pillows. One cushion on the headrest and the other is a lumbar support cushion that attaches to where the small of your back meets the back of the chair. It has adjustable elastic straps that let you slide it up and down and can be easily attached or remove them to suit your needs.
It also has a durable metal frame structure that ensures the stability and durability of the chair, making you safe while using it the whole day.
Price: $499
Degree of adjustability
Full-length Backrest Recline
Adjustable armrests
Adjustable height
Key highlights
This great-looking Omega series gaming chair from Secretlab is one of the most affordable options available on their list. With its prime 2.0 PU leather, it becomes four times more durable that made it exceed the flexing and abrasion resistance compared to other brands.
Experience exceptional comfort with Secretlab OMEGA gaming chair. With all of its features including a fully reclining backrest, armrests, and excellent lumbar support. These advantages help you to relax and enjoy every moment of your gaming sessions without harming your posture. You may even lie down completely strain-free while watching some videos.
Moreover, this gaming chair also offers a signature memory foam pillow that comes with a coating of cooling gel which aids your feeling of warmness in the long hours of usage. It's perfect for you to stay cool while enjoying additional support for as long as you want.
If you're not in a tight budget and wants to have a reliable high standard gaming chair in Singapore, Secretlab OMEGA is the best choice!
Price: $549
Features
Secretlab PRIME™ 2.0 PU Leather
Secretlab SoftWeave® fabric
NAPA leather
Secretlab cold-cure foam mix
Secretlab full-metal 4D armrests
Full-length backrest recline
Multi-tilt mechanism
Class 4 hydraulics
Aluminium wheel base
XL PU caster wheels
Key highlights
The Secrelab TITAN gaming chair is purported to be the bigger cousin of the Secretlab OMEGA, and comes with adjustable lumbar support. All you need to do is turn a knob at the side of the backrest to adjust it.
The product is also made of Secretlab PRIME™ 2.0 PU Leather, which is purportedly 4 times more durable than normal PU leather. So you probably don't have to worry too much about wear and tear with prolonged use.
What's more, the chair is made of a Secretlab cold-cure foam mix that not only provides a high level of comfort, but also an optimal firmness that's good for your posture.
The armrests themselves are already impressive, allowing for a very high level of customisation. They can be moved left or right, angled left or right, moved forward or backward, and adjusted up or down. This superior adjustability aims to provide the perfect support, reducing your risk of carpal tunnel syndrome.
Need to take a nap from gaming? The TITAN's backrest can recline fully so you can lie down completely. The chair's multi-tilt mechanism also allows you to tilt at any angle and lock it in position.
You get a 2-year warranty extension of this TITAN gaming chair if you share a picture of the gaming chair, for a total of a 5-year warranty. What's more, the gaming chair comes with a 3-year Peel Protection Guarantee for Singapore purchases.
Where else to buy
Price: $619
Features
3D adjustable arms
Wide angle reclining adjustments
Robust aluminum base
Full PU cover
3-inch caster wheels
Headrest and lumbar cushions
Key highlights
DXRacer prides themselves on producing chairs under very stringent quality standards, providing gamers and even office users a high level of comfort.
Looking for a gaming chair in Singapore with a larger backrest to support a larger area of your back? This DXRacer chair might just be it, as it has a higher backrest to support your whole spinal column, from your pelvis all the way to your neck. This is probably also why DXRacer claims that the chair will be great simply for relaxing.
Stability doesn't seem to be an issue, as the chair has a 5-point base equipped with a gas spring, allowing you to adjust to a suitable height for your desk.
This 26kg chair comes with a 2-year warranty for accessories, and a lifetime warranty for the frame.
And there you have it: a list of gaming chairs that you can find in Singapore. If you're looking for other ways to improve your posture, you might want to change the way you sleep – in which case, you can check out this article on the mattress types in Singapore. You can also look at this article on foldable mattresses in Singapore.
Related articles:
While you're here, you might a look at some of these other articles: