Are you moving to a new home and looking for the perfect stove for your kitchen? Contrary to popular belief, choosing a gas stove in Singapore is more than just going to the store and picking out something that fits your space. Depending on your cooking needs, there are lots more to consider:
Should you opt for a gas stove or an electric stove? How many burners are necessary? And more importantly, what features should you look out for?
Here, we'll be discussing some of the best gas stoves in Singapore and why having a gas stove beats having an electric stove!
Advantages of a gas stove over an electric stove
What's the difference between a gas stove and an electric stove? And does it really affect your cooking?
With gas stoves, you'll see that the "good traditional flame" can do wonders to your cooking, especially if you want to nail delicious local dishes! As electric stoves cook more slowly, they are not ideal for cooking recipes that require a large flame.
Over the years, technology for kitchen appliances have advanced speedily. Gas stoves in Singapore now have more safety features, are better designed and are less prone to fire accidents than before. Additionally, they also have better cooktop control, which allows you to control temperatures precisely.
Many gas stoves these days are also durable and cookware friendly. With these new and improved features, gas stoves make better appliances than electric stoves when it comes to cooking. They're built to last and designed to ensure you can achieve the best results with your cooking.
10 best gas stoves in Singapore
1. Coleman Portable Butane Stove with Carrying Case
Price: $138.31
Specifications
Insta-start ignition for matchless lighting; 7,650 total BTUs of cooking power
Fits up to a 10-inch pan
Lasts up to 1.25 hours on high on one 8.8 ounces butane gas cylinder (sold separately)
Adjustable burner gives precise temperature control, and a large base offers stability for easy stirring
The durable porcelain-coated grate is easy to clean, and the aluminum burner is rustproof for years of use
Carry case included
Designed for simple meals, this portable gas stove is perfect for outdoor trips. It has an instant-start ignition feature so you don't need to bring matches with you to light it up. Additionally, its adjustable burner allows you to control temperatures so your food won't overcook easily.
Where else to buy
2. 2500 CROWN Table-top Gas Cooker
Price: $139
Specifications
Stainless Steel Finishing
Four-Ring Double Burner with Automatic Ignition
Whole Copper Burner
Enamelled wok and pan support
Equipped with a fire safety device
690mm (Width) x 360mm (Depth) x 140mm (Height)
Tabletop gas cookers are great for family gatherings when you want to prepare a hot pot for your loved ones. This CROWN Tabletop gas cooker is perhaps the more high-end option with a stainless steel finishing and a double burner. It's pretty sizeable, has fire safety features and even has an enamelled wok and pan support. If you often have the family over for hotpot, this would definitely be a good investment.
Where else to buy
3. Aerogaz (PUB Gas) AZ-262F 30cm Tempered Glass Hob
Price: $239
Specifications
30cm tempered glass hob
2 burners
Cast iron pan support
Battery operated ignition
Flame failure device
Actual dimension: W300XD510mm
Cut out size: W266XD478mm
With a clean look and modern design, the Aerogaz stove is great for those who are looking for an appliance that's chic and simple. Featuring 2 burners of different sizes, this gas stove in Singapore gives you a little more flexibility than some of the fuss-free stoves we've featured. It also comes with cast iron pan support and a flame failure device — definitely a quality product that's designed to last.
Where else to buy
4. EF 78CM Stainless Steel Gas Hob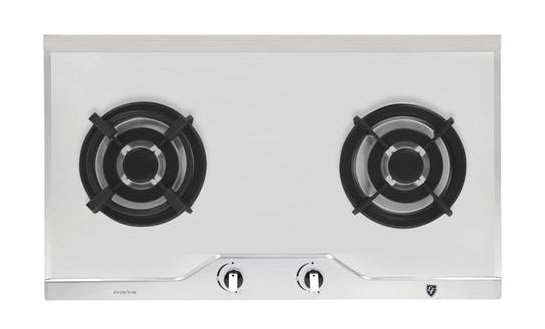 Price: $299
Specifications
2 Burners
LPG / PUB Gas
2 x 3.4kw
Cast iron pan support with safety devices
Battery Ignition
Material Stainless Steel
Flexible Cut Out Size
Product Dimension: W780 x D450 x H60 mm
Cut Out Dimension: W660-750mm x D360-430mm
This EF stove is simple and fuss free. It's for those of us who just want to cook simple meals without all the frills. Made of stainless steel, cleaning up is also hassle-free. All you need to do is give it a thorough wipe down and it looks as good as new!
Where else to buy
5. GAS ONE GS-2000 Dual Fuel Double Portable Propane Gas Twin Stove Burner
Price: $333 
Specifications
Dual fuel
Auto Ignition
Heat output – up to 16, 000 BTU
Heat Resistant Knob
Safety features
It's always a good idea to get a portable stove with a stainless steel body because this makes cleaning up so much easier. Like the CROWN table top gas cooker, this portable gas stove in Singapore has built-in safety features; it has a built-in cartridge ejection system and the gas flow cut off mechanism. That's pretty high-tech for a portable gas stove! If you're looking for a portable stove you want to use in the long run, you should definitely consider investing in this model.
Where to buy
6. TURBO INCANTO T762SSV 76cm 2 Burners
Price: $368
Specifications
4.75kW double ring wok burner affixed with an inner ring control device
Rapid burner affixed with an inner ring control device
Copper alloy burners with safety valve
Cast iron pot stand
Built-in battery operated ignition system
Alloy laser coating control knobs
Dimensions: W760 x D450 x H60mm
Cut-out: W650 x D350mm (R120mm)
Similar to the EF stainless steel stove, The Turbo Incanto stove is an easy-to-use stove for anyone who is looking for a quality, functional stove. Don't be fooled by the seemingly simple design of this stove though. Featuring cast iron pot stands, and alloy laser coated control knobs, this stove is built to last.
Where else to buy
7. ELBA EHS 948 S Built-in Gas Hob
Price: $679
Specifications
1 Triple Ring Burner, 1 Hot Plate,2 Semi-rapid Burners, 1 Auxilary Burner
Electric Ignition
Safety Devices for all Burners
Colour: Stainless Steel
Dimension : W860 x H30 x D500 mm
Built-in-Dimension : W840 x D480 mm
The ELBA EHS 948 S stove is also another option for those who are looking for a more dynamic option. It features 1 Triple Ring Burner, 1 Hot Plate,2 Semi-rapid Burners and 1 Auxiraly Burner, which is perfect for those who love to try cooking a range of different kinds of foods. Each burner has a safety device too!
Where else to buy
Price: $1,299
Specifications
5 burners
22K BTU true dual power burner
Blue LED illuminated knobs
Wi-Fi connectivity
Bluetooth connected
22 1/3″ W x 54 1/2″ H x 36″ D
Cast iron griddle
Looking for a quality, high-end stove? This Samsung Gas Cooktop could be just what your kitchen needs. It's not just any ordinary gas stove — it has Wi-Fi connectivity and Bluetooth connectivity. This means you can control your stove's temperature and settings even when you're not physically in the kitchen. Pretty neat, huh?
Where to buy
9. Bosch Serie | 8 Domino gas hob
Price: $1,349
Specifications
1 gas burner
Domino – Can be combined with other Bosch hobs
Front centre wok burner maximum power: up to 4.9 KW (depending on gas type)
Dimensions of the product (HxWxD mm) : 87 x 306 x 527
Required niche size for installation (HxWxD mm) : 87 x 270-270 x 490-500
Electrical connection rating: 0.8 W
Gas connection rating: 4,900 W
Length of mains cable: 150 cm
Hate cleaning gas hobs? We know how much of a chore that is. If you can identify with that, you'll be pleased to know that the Serie |8 Domino gas hob is designed to make cleaning simple and hassle free. Its smooth pan supports are dishwasher proof so you can just chug it into your dishwasher instead of spending time scrubbing and cleaning away!
Another great feature about this gas stove in Singapore is the wide range of control you have over temperatures. From gentle simmering to high heat, you can cook a wide range of recipes with this stove.
Where else to buy
10. EF Free Standing Cooker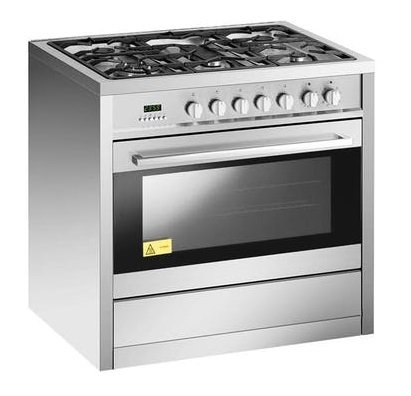 Price: $1,999
Specifications
1 triple ring burner – 3.5kW
1 fish burner – 2.5kW
2 semi-rapid burners – 1.75kW
1 auxiliary burner – 1.0kW
Oven capacity: 105L
8 functions
Electronic control digital clock with automatic cut-off timer
Cavity cooling system, double oven lights and double circulation fans
Easy clean removable inner glass door and double glazed glass door
Slide-out storage compartment
Includes 2 grilling racks and 1 baking tray
Do you use the oven often for your daily meal preps? Perhaps it would make more sense to get the EF Free Standing Cooker. With an oven capacity of 105L, you can bake large portions of food for the family. The free-standing cooker also comes with 5 burners, 2 of which are semi-rapid burners. If you're looking for an all-in-one cooker, this is a great option to consider.
Where else to buy
Best places to buy a gas stove in Singapore
When it comes to buying gas stoves in Singapore, there are many stores you can visit but not all of them can promise the best prices or the best range of products.
Here, we've listed some of the best places where you can get a quality gas stove in Singapore.
City Gas offers a wide range of gas stoves. Whether you're looking for a high-end gas stove or one that's simple and functional, you'll find just what you need. Featuring different models of gas stoves from 7 different brands, you'll get to take your pick.
With so many stores in Singapore, you would've definitely visited Courts at least once. There, you'll find a wide range of home appliances and gas stoves to choose from. The great thing about Courts is that you can shop for other necessities for your home too, while you're there.
If you're looking for affordable home appliances, you'll definitely need to check out Gain City. Quality gas stoves are generally more pricey. However, with regular discounts and promotions, you can save when you spend with Gain City.
Having been in the business since 1941, Hoe Kee is an established retailer in Singapore where you can find high-quality home appliances. Here, you'll find luxury kitchen appliances like kitchen sinks, faucets and gas stoves — great for those who want to create a space designed to meet their specific cooking needs.
SG Appliances is also another great store to browse for discounted gas stoves in Singapore. On the website, you'll see that almost every model featured is on discount. If you're looking for a no-frills and functional gas stove, you'll definitely have to check out their website.
In Singapore, you can find a wide variety of gas stoves. But not every model in the market is the right fit for your cooking needs. Besides comparing prices, you should also compare stoves based on their material, quality, size, as well as how high-tech their features are. Since gas stoves will likely last you a good number of years, you should invest in one that you can fully make use of!
Related articles:
Other articles you might want to check out: