On days when you wash your hair and want it to dry quickly, a good hair dryer comes in handy to get the job done. Hair dryers are so versatile, you can even use it on your pets and to dry furniture and clothing if need be. Before we go into our list to help you get the best hair dryer in Singapore, here's what to look out for when scouting for one.
What to consider when looking for the best hair dryer in Singapore
1. A cool shot button
The hot air from a hair dryer can be damaging for your hair. Getting a hair dryer with a cool shot button will help to not only cool your hair (making it easier to style faster), it'll also prevent frizz. 
Over time, the cooling function can make your hair feel softer and shinier too.
2. An attachment/concentrator
Cheap hair dryers generally only allow for blow drying on large sections of your hair. This may not be very efficient and can result in a longer drying time.
A hair dryer with an attachment or concentrator will work well in drying specific portions of your hair properly and evenly. This will ensure you don't end up with hair that's dry in certain areas and wet in others.
3. Power
A higher wattage hair dryer is more powerful, which means you'll be able to dry your hair more quickly. As such, your hair won't have to be exposed to heat for an unnecessarily long time.
Average hair dryers have a wattage ranging between 750 and 2,500, while hair dryers used in professional salons can be up to 3,500 watts.
9 best hair dryers in Singapore from $19.90
1. Sencor Hair Dryer – Ionic Technology – White
Price: $19.90
Key features
Folding handle for easy mobility
Ionisation function for shinier hair
Anti-bacterial surface treatment
Two speeds for efficient drying
With this affordable Sencor hair dryer, you can dry your hair faster, while enjoying healthy and shiny hair.
Compact and easy to bring around, it has an ionisation function that contributes to creating a nice shine. At the same time, you also get cleaner hair from its anti-bacterial treatment.
2. Tefal for Elite Model Look Nomad Rose Hair Dryer HV3302
Price: $25.90
Key features
Compact and convenient
High power for efficient, fast drying
Dual voltage for international use
Two speed/temperature settings to adapt airflow and temperature
Perfect for bringing around, this compact hair dryer makes sure you can have pretty hair anytime you desire.
The high power makes for rapid drying, which in turn gives you that crowning glory you've always wanted. Its two speed and temperature settings ensure that the airflow to your hair is adequate and effective during the drying process.
This hair dryer's dual voltage also makes it suitable for international use/
3. Cornell Hair Dryer 2000W Foldable Hair Dryer CHD-E2001W
Price: $27.34
Key features
Ionic function for shinier hair
CoolShot function
Two speed and three heat selections
Comes with diffuser
High power for efficient drying
It's always a good thing when a hair dryer comes with a few speed and temperature settings. This ensures you always get the right amount of heat and airflow throughout your drying process.
While the ionic function helps give you shiny hair, the CoolShot function also works like a charm. After all the heat has been applied to your hair to dry it, the CoolShot function will cool it down immediately to lock in the moisture and make your hair shine.
Given these features and the affordable price, this could well be the best hair dryer in Singapore.
4. Xiaomi Mijia 1800W Water Ion Quick Drying Anti Damage Hair Dryer
Price: $49
Key features
Deep hydration
Quick drying
Water ions for softer, shinier hair
The idea of dryness and frizziness can bother most people when it comes to blow drying hair. Imagine preparing for a date and coming out with hair like that.
With this hair dryer, your hair will not only be highly moisturised, it'll also be softer and shinier. All this is made possible with the quick drying and water ions present in the hair dryer.
5. Philips Moisture Protect Hair Dryer HP8281
Price: $118.95
Key features
Infrared MoistureProtect sensor
Powerful drying with six speeds
Ionic care for shiny hair
Cool shot button
A highlight of this product would be the infrared MoistureProtect sensor. The sensor detects your hair's temperature as you dry, automatically adjusting to the optimum temperature. That way, you can feel assured that your hair won't lose moisture from too much heat.
This Philips hair dryer also comes with six speed and heat settings, ensuring maximum control when drying your hair. At the same time, the ThermoProtect feature further prevents excessive heat to your hair.
These great functions aside, the hair dryer blows out charged negative ions for smooth and frizz-free hair.
If you're looking for the best hair dryer in Singapore, this should be on your list!
6. Braun Satin-Hair 7 HD 785 Senso Dryer
Price: $129
Key features
Temperature adapting for maximum heat control
5x longer lifetime
Fast concentrated airflow for quick drying
Optimal temperatures to keep hair colour lasting longer
Even heat distribution for efficient and fast drying
The temperature control and even heat distribution features of this hair dryer ensures that your hair doesn't receive excessive heart while you're drying it. It also helps keep coloured hair in tip-top condition.
The hair dryer also uses an AC motor with a lifespan that's five times longer than ordinary motors.
7. Revlon Pro Collection Salon One Step Hair Dryer and Volumiser
Price: $129.90 to $156
Key features
Designed with nylon pin & tufted bristles
Unique oval brush design for smoothening hair
Round edges for volume creation
Styling flexibility and ion generator for shiny hair
Want to try a different hairstyle every day? Now you can.
This hair dryer is equipped with various types of brushes, so you can decide if you want to have long straight tresses or sexy beach waves for that date you've been looking forward to.
The best thing is, even with your ever-changing styles, your hair won't get damaged. Instead, what you'll enjoy is a head full of healthy, glowing hair.
8. Panasonic EH-NA65-K605 nanoe™ Hair Dryer
Price: $139
Key features
Powerful airflow and quick dry nozzle for fast drying
Ultra-fine nano ions for smooth, shiny hair
Three speed and three temperature selection
Expect bouncy, healthy hair with this hair dryer's powerful airflow that allows for quick drying.
You can also look forward to smooth and shiny hair with the ultra-fine nano ions, which contain 1,000 times the moisture of negative ions!
If you're worried about excessive heat on your hair, this hair dryer comes with a Healthy mode. Under this mode, the hair dryer blows out air at 50°C for quick drying without damaging your hair.
9. Dyson Supersonic™ Hair Dryer Iron/Fuchsia HD03 (With New Attachments)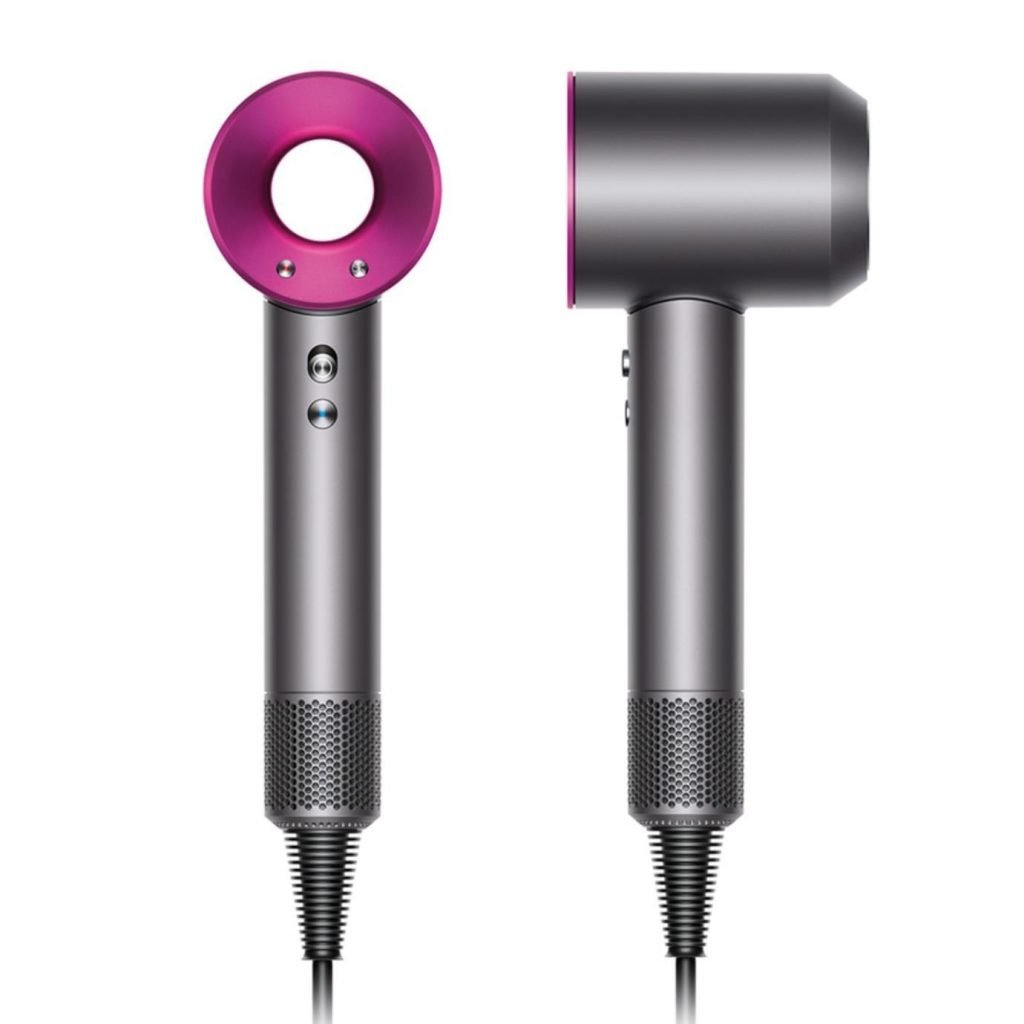 Price: $599
Key features
Fast drying
Comes with the Dyson Smoothing nozzle, styling concentrator, and diffuser
Protects hair's natural shine
Engineered for balance
The Dyson brand is synonymous with beauty and functionality. Even their hair dryers do not disappoint.
Besides looking great in your home, this hair dryer can dry your hair at tip-top speed while protecting its natural shine. The result is glossier tresses that are resistant and look awesome.
There's even a concentrator nozzle that allows you to dry and style portions of your hair. Expect straightness or curls to last throughout most of the day!
Where else to buy the best hair dryer in Singapore
If you're the type who prefers to see and handle the physical item first, you can check out a good variety of hair dryers at these locations.
When it comes to buying electrical appliances, the first place most Singaporeans will think of is Best Denki. A location known for their affordable and large range of all kinds of appliances, you can be sure to find what you need here.
For hair dryers, you can expect to be spoilt for choice. The brands they carry are top notch, which means that you don't have to worry about the quality of whichever you're buying. Price-wise, they have models to suit every budget.
Prefer one that can fit your bathroom or bedroom aesthetic? You can find such models here too!
Harvey Norman is a household name, whether it's furniture or electrical appliances. And given their variety, you'll most probably be able to find the best hair dryer in Singapore for you.
Whether you're looking for something cheap or one that sits on the higher end, there's a hair dryer for everyone. You can also pick from a list of good brand names and features that will suit your lifestyle and preferences.
Related articles:
Other articles: