While you can find live music at bars in any city, the live band in Singapore music scene is something special. Whether you're a local living in Singapore or a foreigner here for a visit, don't miss out on the live music scene. There are a vast number of talented bands playing in bars all over the country.
Seeing music live is one of the best ways of learning about new music. If you see a live band in Singapore a few weekends in a row, you will find plenty of new music to listen to. You might even find a new favorite band this way! Live music also creates a great atmosphere for meeting new people. If you are in Singapore, you want to make the best of it. Meet as many new people as possible, and explore the live music scene at any of the ten best live band in Singapore.
10 Best Bars with Live Band in Singapore
| | |
| --- | --- |
| Bars | Address |
| McGettigan's | 3A River Valley Rd, #01-01, Singapore 179020 |
| Wala Wala | 31 Lorong Mambong, Singapore 277689 |
| Rookery | 168 Robinson Road Capital Tower, #01-08 Capital Tower, Singapore 068912 |
| Crazy Elephant Bar | 3E River Valley Rd, #01-03/04, Clarke Quay, Singapore 179024 |
| Level Up | 3A River Valley Rd, #02-04, Singapore 179020 |
| Kult yard | 195 Pearl's Hill Terrace 01-54, Singapore 168976 |
| Hero's | 195 Pearl's Hill Terrace 01-54, Singapore 168976 |
| Cool Cats | 32 Beach Road The South Beach, South Beach Tower, Level 1 at The NCO Club, Singapore 189764 |
| Barber Shop by Timbre | 1 Old Parliament Lane, Singapore 179429 |
| Mr. Punch Public House | 26 Seah Street, Singapore 188382 |
The original McGettigan's opened in Ireland in the sixties. Since then, the bar has relocated to a few different countries and is now in Singapore. McGettigan's is a very atmospheric Irish pub with a large stage, open for lunch and dinner, as well as nightlife. As well as live sporting events on large screens, McGettigan's often has great live music. McGettigan's also offers a nice outdoor patio.
Some of the success of McGettigan's in Singapore comes from its weekly deals. McGettigan's has ladies nights, happy hours, and more unique promotions. You can get terrific deals on drinks at McGettigan's if you show up at the right times. McGettigans also offers a room for private parties.
Contact info
If you are looking for a bar where live music starts early, Wala Wala is a great choice. You can count on the music to start by 9:30 PM on the weekends, or as early as 7 PM on weekdays. It's a place to go if you want to see a few hours of live music without being out all night.
Wala Wala is an impressive two-story cafe bar with a great atmosphere. Wala Wala is both internationally famous and popular with Singaporeans. The bar has been around for twenty years, and many people who went there as kids are still going to Wala Wala as adults.
Contact info
Rookery is a bar at night and a cafe during the day. Rookery is frequented by business people who want a cup of coffee during lunch break or want to have a drink after work. It is also a popular place for people who want to do a bit of work online over a cup of coffee. Rookery also offers excellent although slightly expensive breakfasts.
After the sun goes down, it becomes more of a restaurant-bar than a cafe, and live bands frequently play. The drinks are reasonably cheap, and the bar has a warm and relaxed atmosphere. The bar's regular band, Sands and Gideon, plays every Thursday and Friday night and is worth seeing.
Contact info
The crazy elephant is known for blues and blues-inspired rock and roll music. The most impressive thing about the crazy elephant is that all of its live performances are free. You will never have to worry about cover charges at this venue. There is also no dress code, so the crazy elephant is a very accessible place that anyone can head over to on any night. The bar is open seven days a week, until 3 AM on weekends and as late as 1 AM or 2 AM on weekdays.
The blues music is a refreshing change from the usual rock, and you can find out about truly excellent local mixed rock and blues bands at the bar. The bar looks much more like an American dive bar than what you can usually find in Singapore. It is made out of wood and concrete, with graffiti on the walls and pool tables. The bar is very accessible, and you will not need to make a reservation.
Contact info
Level Up is half bar and half arcade, the first venue of its kind in Singapore. Anyone interested in a bar with many arcade machines and a style to match ought to visit level up while they are in the city. The bar is extremely well decorated and looks just as a mixed pub and arcade should. Level up is one of the most fun and most unique bars in town, with a mix of live music from a great local live band in Singapore, arcade games, drinking, and food.
It can be great fun to play arcade games with your friends while drinking, a refreshing change from the usual darts or pool. Level Up has a good mix of modern and classic machines. As well as new games, there are classics such as Metal Slug. Best of all, the bar even has air hockey! If some of your friends don't drink, level up can be a fun place for a mix of drinkers and non-drinkers to go. The only flaw is that the bar has become so popular that a reservation is sometimes necessary.
Contact info
Kult Yard has a unique history, as the bar built in what was once a police barracks in Singapore's Chinatown. Today Kult Yard is full of local artists and musicians. Kult Yard hosts plenty of arts-related events, including but not limited to live music. Kult Yard is also one of the best places in Singapore if you are looking for cocktails. There are plenty of unique cocktails that you won't easily find outside of Singapore to try. Kult Yard is a place for interesting conversations between people interested in the art world.
Contact info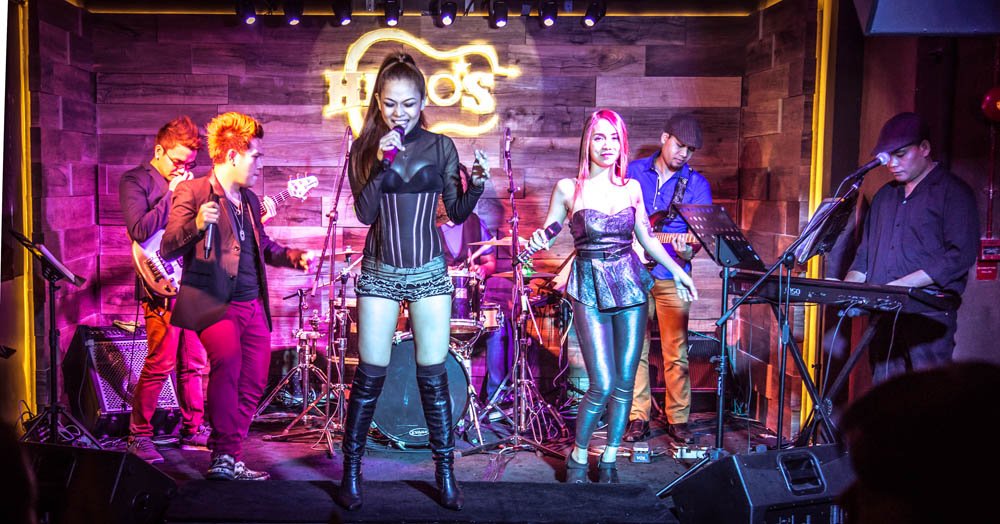 Hero's is a huge sports bar with both a large stage for live music and huge screens for live sporting events. The bar has somewhat of a wild west theme to it and plays fun rock and pop music. The screens are huge, perhaps larger than you can find in bars anywhere else in Singapore. As well as live music, Hero's offers stand up comedy every Tuesday night.
If you have some extra money to spend, there is a VIP section. At the VIP section, you and your friends can have privacy, beer tap tables, and air conditioning. There are a huge number of different drinks available, including craft beers and many non-alcoholic drinks.
Contact info
The Cool Cats bar is somewhat of a tribute to the speakeasies of the 1920s. The entrance makes it look like the bar is a secret, and the live music focuses on jazz. The atmosphere is excellent, with the seating, colorful lighting, and artistic layout adding up to a proper jazz lounge experience.
The bar seems to want to be well known and appears to be designed by ambitious owners that aim high. While it is not a huge venue, it still aims high enough to be able to attract world-class musicians. It is a place where you can see famous jazz musicians in a small, cozy setting.
Contact info
Barber Shop is worth checking out for its house blues band Raw Earth. Another regular live band in Singapore, the Barber Shop Quartet, plays very early rock music plus the swing music of earlier decades. On weekdays you can often see the two house bands. On the weekend, Barber Shop books many other artists. On Saturdays, there is often live music from 7 PM to 2 AM, if you and your friends want to stay that long.
Contact info
Mr. Punch Public House is an eccentric place located on top of Singapore's museum of toys. Mr. Punch Public House is popular and often crowded, so you should show up reasonably early or else there will be no tables left. Mr. Punch Public House also offers excellent food. There are not a huge number of dishes on the menu, but they are of good quality. The open mic night is also worth mentioning. If you are looking for an opportunity to play in front of a decent crowd in Singapore, Mr. Punch Public House might be your best chance.
Contact info
Related articles:
Other articles you might want to check out: