As much as we love sleeping (and our mattress), there's a lot of things that keep us from getting enough sleep in Singapore. For working adults in Singapore, working late to meet a deadline is considered a norm. Likewise, it's not unusual for students to stay up late to study and do their homework. So it's not surprising that Singapore is one of the most sleep-deprived countries in the world.
While it can be hard to get an 8-hour sleep on weekdays, you can still get a good rest with the right mattress in Singapore.
But what mattress should you get in Singapore? With so many brands out there, each promising a pleasurable experience and a good night's sleep, how do you differentiate the good brands from the bad ones?
What to consider when buying a mattress in Singapore?
In general, you should take into account the firmness, material, and price of the mattress.
Firmness
When picking a mattress, it's not just the softness of the mattress that matters. You have to take long-term factors into account, such as your body weight and preference, as well as how good your back is.
The firmness of the mattress goes from 1 to 10 on the firmness scale, with 1 being the softest and 10 being rock solid. The chart rating system is as follows:
Firmness
Description
Who is it for?
1-2
Soft
Lightweight sleepers
Side sleepers
3-4
Medium-soft
Lightweight sleepers
Side sleepers
Combination sleepers
Couples
5-7
Medium-firm
Heavy sleepers
Back sleepers
Combination sleepers
Couples
People with back pain
8-10
Firm
Heavy sleepers
Back sleepers
Stomach sleepers
People with back pain
Soft
Soft mattresses are rather difficult to find. They offer very little support for your body, meaning that if you were to lie on one, you might find that your body just sinks right into it. The good thing about soft mattresses is that they are more comfortable for people who tend to sleep on their sides, since you don't put as much pressure on your shoulders or hips.
Medium-soft
These mattresses provide slightly more support than their softer counterparts, but aren't quite as fun to ease yourself into. Medium-soft mattresses will still contour to snugly fit the shape of your body, but you won't find yourself sinking as much compared to a softer mattress.
Medium-firm
Most universal-comfort mattresses fall under this category. Medium-firm mattresses work well for almost all types of sleeping positions and body types, including those who frequently switch positions throughout the night. They also tend to last longer, since they're made of denser and harder materials.
Firm
Firm mattresses provide the most back support out of all the available mattress options, and you'll find that your body can rest on top of it without sinking down. Some people enjoy this feeling, while others may find it uncomfortable. Side sleepers should avoid sleeping on firm mattresses, as it may hurt their shoulders and hips.
Material
There are 2 main types of mattresses in Singapore: innerspring and memory foam.
Innerspring
Innerspring mattresses are made up of different layers which are separated by steel coils. The arrangement of these coils, coupled with the material of the outer layer, will influence how the mattress feels.
Generally, if an innerspring mattress has more coils, it's more comfortable. However, since the coils are all linked, it doesn't absorb movements well. If you're sharing the bed with someone who moves a lot while sleeping, you'll feel the movement as well.
The main materials that are used to make innerspring mattresses are either polyurethane foam, or cotton.
Memory foam
Memory foam is made from viscoelastic, which is highly energy absorbent and soft. It adapts to your body weight, and moulds itself to the shape of your body. When you get off the mattress, it returns to its original form.
These properties of memory foam make it very comfortable to sleep on. When your partner changes their position in bed, you won't feel the motion as much with the memory foam.
After its debut at NASA, as part of the airplane seat, memory foam was used from industry to industry. Some of its applications include padding the insides of helmets and shoes. They're even used in medical mattresses to prevent pressure ulcers.
The bad thing about memory foam is that they absorb a ton of heat, meaning that it can get pretty hot under your covers.
Price
This depends on the brand and the material used. Prices of mattresses in Singapore vary, ranging from the really affordable ones from Sea Horse, to the really pricey ones from premium brands like Simmon and Tempur.
Additionally, each type of mattress in Singapore comes in these 4 sizes.
| | | |
| --- | --- | --- |
| Size | Dimensions in cm | Dimensions in inches |
| Single/ Twin | 96.5cm x 190.5cm | 39" x 75" |
| Super Single/ Twin XL | 96.5cm x 203.5cm | 39" x 80" |
| Queen | 152.5cm x 203.5cm | 60" x 80" |
| King | 193cm x 203.5cm | 75" x 80" |
Let's get started on our compilation of the best mattresses to get in Singapore.
10 most comfortable mattresses to get in Singapore for a peaceful night
Firmness
7/10 (Medium-firm)
Material
Pocketed springs
Latex and memory foam
Price
| | | |
| --- | --- | --- |
| Size | Price | Number of coils |
| Single | $799 | 336 |
| Super Single | $899 | 420 |
| Queen | $1299 | 616 |
| King | $1499 | 756 |
HipVan is a Singaporean company that sells all sorts of furniture of high quality at affordable prices.
This LEVITATE mattress by HipVan is a mixed-type mattress. Its upholstery is made of latex, cool fabric, and memory foam, while its inner coils consist of spring coils. HipVan promises you cool, plush comfort, and just enough bounciness to stop you from sinking into the mattress, even as you keep tossing around at night.
Another cool thing about buying this mattress is that you get a 100-night risk-free trial period, with the option to return it if you aren't fully satisfied.
Plus, it comes with a 12-year warranty.
Firmness
6/10 (Medium-firm)
Material
Bamboo fibre knitted fabric cover
Haylee® Aeroflo Foam
Haylee® Cool Gel memory foam
Transition foam
High-density foundation foam
Price
| | |
| --- | --- |
| Size | Price |
| Single | $499 |
| Super Single | $579 |
| Queen | $699 |
| King | $849 |
Haylee is a well-known player in the mattress market in Singapore, with local actor Desmond Tan as their spokesperson.
Their mattresses were created after testing 1,000 different combinations of materials, thicknesses, and ratios. The fabric cover claims to be anti-odour, anti-fungal, anti-dust mite, and anti-bacterial, which makes for a comfy mattress to sleep on.
The various layers in the mattress does plenty of different things, such as regulating heat, redistributing weight, and improving back support – all whilst still being comfortable.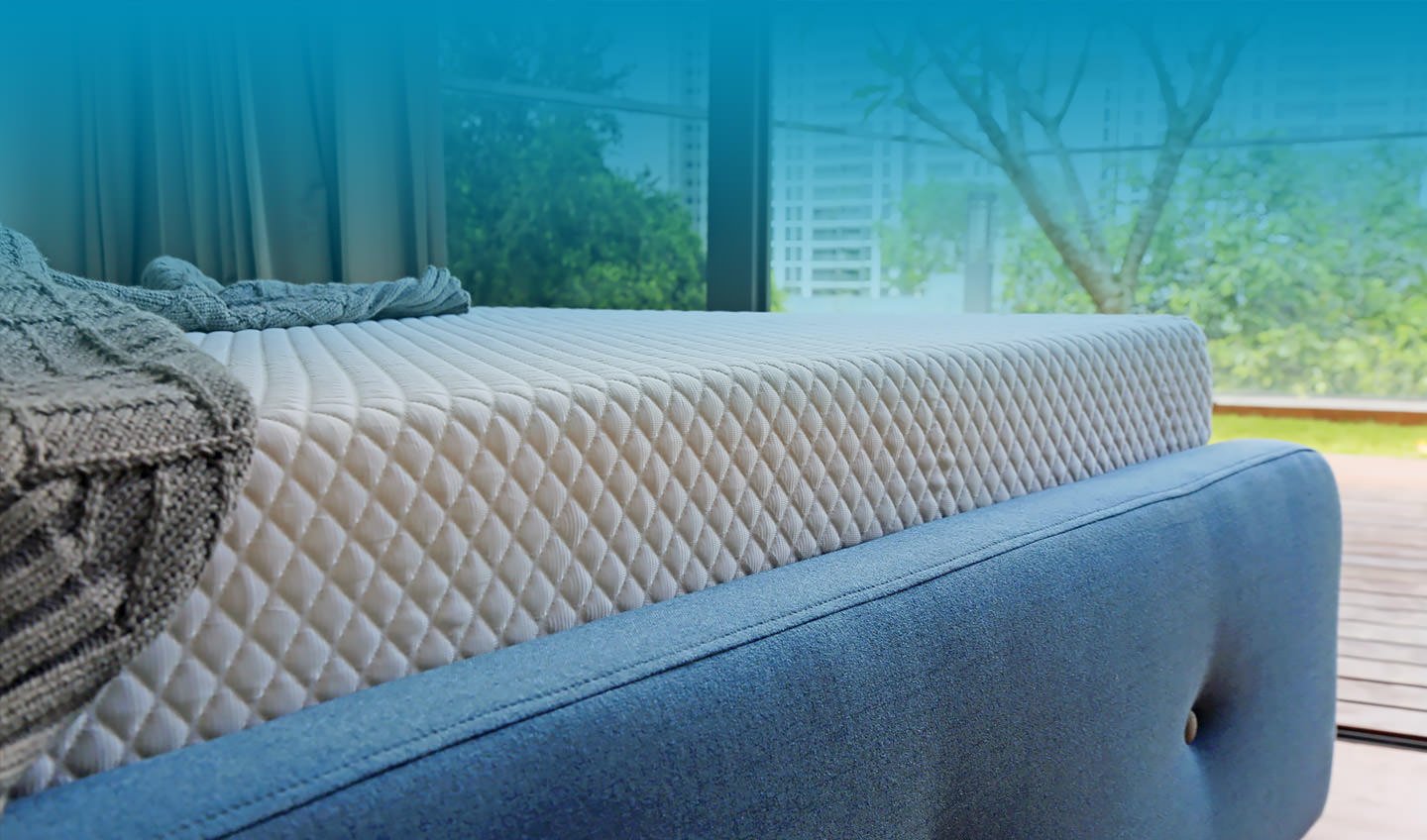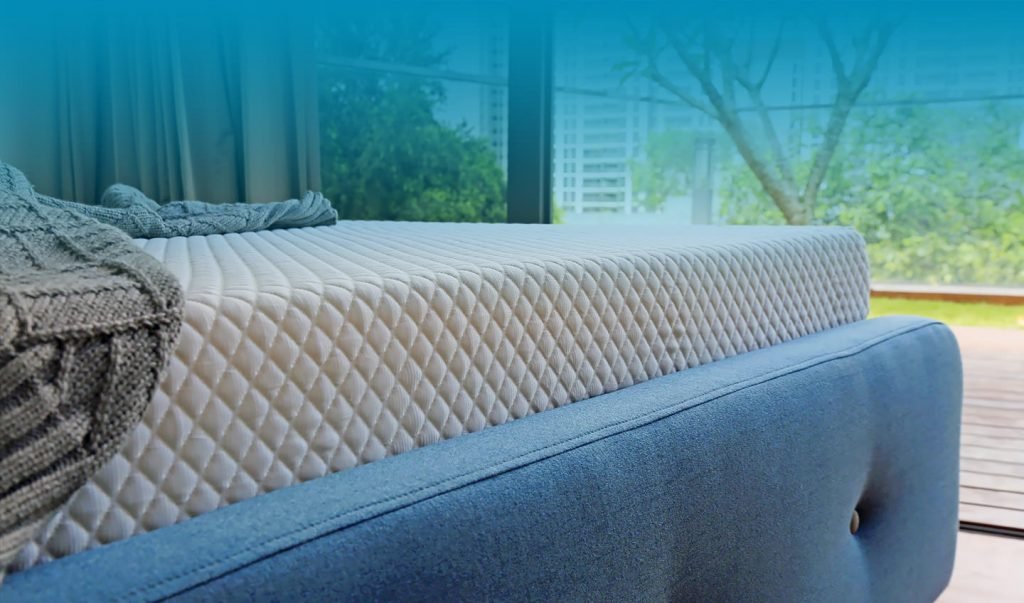 Firmness
9/10 for their Regular Mattress, and 8/10 for the Hybrid Mattress (both are classified as firm).
Material of Regular Mattress
High density foam
Pocketed springs
Cooling fabric
Material of Hybrid Mattress
Memory foam
Pocketed springs
Cooling fabric
Price
| | | |
| --- | --- | --- |
| Size | Price (Regular) | Price (Hybrid) |
| Single | $450 | $590 |
| Super Single | $550 | $690 |
| Queen | $680 | $950 |
| King | $780 | $1,150 |
Baton Sleep offers premium mattresses at affordable prices, which is great for those who want good mattresses but don't want to blow your monthly salary.
Their Regular Mattresses are more affordable compared to both its predecessors on this listicle. This could be due to the nature of the materials used to make their mattresses, which make for cheaper mattresses than those made of memory foam.
Alternatively, you can opt for their Hybrid Mattress, which combines both springs and memory foam together to give you a firm bed that's still comfortable to sleep on. Rather than transferring motion, the Hybrid Mattress absorbs it instead, ensuring that your partner can rest undisturbed.
Their mattresses also come with a 30-day free trial, allowing you to test it out and see if it's to your liking.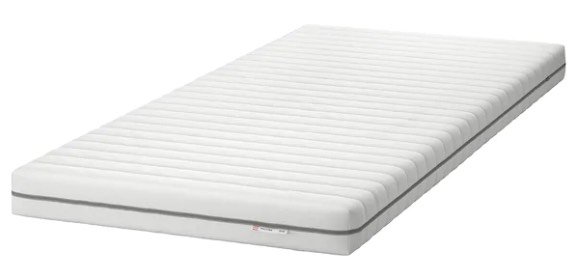 Firmness
Depends on the mattress you want to buy, though they're mostly firm.
Material
They have a vast variety of spring, foam, and latex mattresses.
Price
Price starts from $119.
Admittedly, IKEA's popularity isn't due to their mattresses. However, you cannot deny the sheer affordability of an IKEA mattress; theirs are among the cheapest in Singapore. If you're not fussy about sleep, you can consider getting one from them.
That's not to say that IKEA doesn't stock mid-range options as well, because they absolutely do. Their mid-range options may be a bit pricier, ranging between $499 and $899, but they're still pretty affordable compared to more high-end brands.
Firmness
From medium to firm, depending on mattress.
Material
Pocketed springs
Cooling gel foam
Latex foam
Memory foams
Price
Prices start from $1,270 and can go up to $12,100.
Simmons' Beautyrest series are some of the top mattresses anywhere and not just in Singapore, incorporating luxurious materials such as cashmere and silk into their pillow tops. They also embed their Advanced Pocketed Coil technology into their mattresses, limiting motion transfer.
With technological innovations included into every mattress, Simmons has cemented its place in the champion's league of mattress companies, with hotel lines across the world incorporating Simmons mattresses in their rooms. Hotels in Singapore that use Simmons include Shangri-La, Marriott, Marina Bay Sands, and The Ritz Carlton.
Firmness
Generally medium-firm.
Material
Individually pocketed springs
Superior foam
Latex foam
Memory foam
Micro-gel fibre
Price
Prices range from around $400 to $3,200.
King Koil is well-known for being one of the best mattress manufacturers in the world. They specialise in mattresses with individually pocketed springs, which is effective at reducing motion transfer during sleep. If your partner moves a lot during sleep, this is the ideal mattress to get as it ensures that you won't be able to feel him/her move during your sleep.
Another unique thing about King Koil mattresses is that they're divided into 5 zones: Head & Shoulder Support, Upper Body Comfort, Spine Support, Lower Body Comfort, and Lower Legs Support. To provide even greater support at the heaviest part of the body, the Spine Support section of each mattress comprises more coils as compared to other sections.
7) Sea Horse mattresses
Firmness
Generally firm.
Material
Depending on the mattress. Lower-end models like their Crystal Mattresses are made of high-density foam, with the higher-priced SEA-ALL Mattresses made of latex.
Price
Prices range from as cheap as $89 to less than $2,000.
Another mattress brand that's popular in Singapore is Sea Horse. Not only is the Hong Kong-based mattress brand popular for its high-quality mattresses, but also for its affordable price tag.
Their speciality is the SEA-ALL Mattress, which is made of latex and high-density sponge. Depending on your preference, you can sleep on either side to get comfortable and strong support.
While one side of the mattress is medium-soft, the other side is hard. Despite this difference in firmness, the good thing is that both sides are durable and not easily deformed. This means that you can experience sleeping on the other side as well, even after using one side for a long time.
Firmness
Ranges from soft to firm.
Material
Memory foam
Pocketed springs (for hybrid models)
Price
Price starts from $2,999.
Known for their memory foam mattresses, Tempur offers some of the most expensive mattresses in Singapore. In fact, the TEMPUR® Material used in their mattresses incorporates the memory foam material that was first developed by NASA to support astronauts during lift-off.
Tempur also offers a hybrid model that combines memory foam with pocketed springs. Not only does it mould and adapt to your body position, but also helps to minimise the transfer of movement, allowing you to sleep peacefully.
Firmness
Medium-firm.
Material
Latex foam
Memory foam
High resiliency foam
High-density foam
Price
| | |
| --- | --- |
| Size | Price |
| Single | $1,199 |
| Super Single | $1,299 |
| Queen | $1,499 |
| King | $1,699 |
What's special about the Singapore-based brand Woosa is that their mattresses are made in Belgium, which might explain their steeper price tag. Their mattresses consist of layers of different materials, which are designed to provide you with a good night's sleep.
The memory foam layer, for instance, is designed to "hug" you to provide comfy support, while the high-density foam layer ensures zero motion transfer, allowing you to toss and turn without disturbing your partner.
Plus, it's fitted with the moisture-wicking fabric and highly breathable latex, keeping you cool at night in the hot and humid Singapore.
Woosa is also another mattress brand in Singapore that comes with a 100-night free trial. If you're not satisfied with sleeping on it, you can have it picked up for free and get a full refund.
Firmness
Medium-firm.
Material
Latex foam
Memory foam
Pocketed springs
Price
| | |
| --- | --- |
| Size | Price |
| Single | $499 |
| Super Single | $599 |
| Queen | $799 |
| King | $999 |
Noa has some of the cheapest hybrid mattresses in Singapore. Not only does each mattress have a memory foam that cushions your body nicely and pocketed springs to reduce motion transfer, it also has latex foam to keep you cool at night. The combination of these 3 materials provides you extra comfort during sleeping.
And like other e-commerce mattress brands in Singapore, Noa offers a 100-night free trial. Likewise, you can arrange for a free pick-up to return it and get a refund, should you find that it's not the right mattress for you.
Additionally, it comes with a 15-year warranty. If you find any manufacturing defects in your mattress, you can get it repaired or replaced.
Related articles:
Here are some other articles that you might want to check out as well: