Microwaves are no doubt an essential in the kitchen. It's easy to use, hassle free, and helps you heat up food and drinks in just minutes. Whether you're a culinary enthusiast or not, a microwave always comes in handy, especially for busy working adults in Singapore.
So how do you go about picking the right microwave for your home in Singapore? With so many different models out there, picking out the right one that suits your needs can be quite tricky.
Here, we're going to discuss some of the best microwave ovens you can find in Singapore, and listed out some of their unique features.
Before we get into that, let's talk about how you should go about choosing the right microwave oven in Singapore
How to Choose the Right Microwave Oven
Consider your own cooking habits
Do you eat home-cooked food often? Perhaps you spend a significant portion of your time whipping something healthy and delicious in your own kitchen?
Or perhaps you're not a fan of making your own meals. You usually just heat up leftovers or microwaveable meals.
Knowing your own cooking habits plays an important role when you're choosing a microwave oven for yourself. You want to get an oven with functions and features that you find useful. At the same time, you don't want to over-invest and pay a hefty price for an oven that you don't fully make use of.
If you don't spend a lot of time cooking in general, it's best to get a microwave oven with more basic features. However, if you do enjoy cooking your own meals, getting a microwave oven in Singapore with multiple features can be a great help!
Where do you want to place your microwave oven?
For most of us living in Singapore HDB homes, there's limited space in our kitchen. Knowing where you want to put your microwave oven and where the power source is, is crucial. You'll need to make space and take down clear measurements so you know what microwave size is suitable for you. The last thing you want is to bring home a microwave and realise it's too large for the space you've put aside!
What type of microwaves are there?
There are three types of microwaves — countertop, over-the-range, and built-in. Most people et countertop microwaves because they are the most affordable. No extra installation is needed. All you have to do is to plug it in and you're good to go.
On the other hand, built-in and over-the-range models cost more and require a professional installer. One of their benefits is that smoke and doors are filtered before exhausting back to the room. Additionally, built-in models free up counter space so your kitchen looks less cluttered.
Now that we've discussed a few points you should consider to help you choose the best microwave for your kitchen, let's dive into the best 10 microwaves ovens in Singapore!
10 Best Microwave Ovens in Singapore
1. SHARP R-20A0(S)V MICROWAVE OVEN (20L)
Price: $99
Specifications
20 L Easy Mechanical Control
Powerful Output Power (800 W)
5 Auto Cook Menu
Compact and space saving wide door screen design
Exterior size: 439 x 256 x 338
Interior size: 306 x 208 x 306
This Sharp Microwave oven sits somewhere between the high-tech and no-frills range. It has a relatively powerful output power and 5 auto cook menus to choose from so you can still prepare a range of different foods with this microwave oven.
The size is pretty compact and definitely saves space for your kitchen counters. If you only use the microwave for preparing basic meals, this model is a pretty good choice to consider.
2. ELECTROLUX EMM2022MK 20L TABLE TOP MICROWAVE WITH GRILL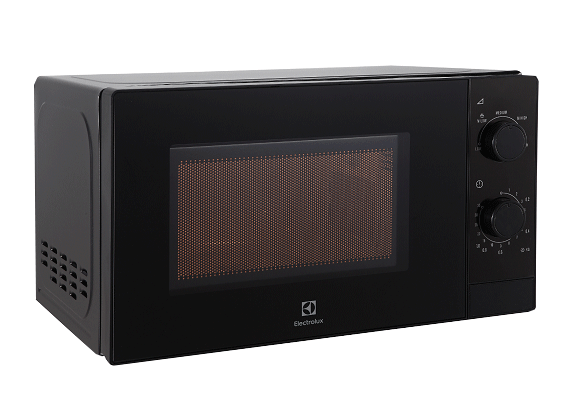 Price: $89
Specifications
5 power levels
700 W microwave power
258.2mm x 439.5mm x 330mm
If you're looking for a simple, hassle-free microwave oven, the Electrolux Microwave Oven with Grill is a great choice to consider. It allows you to heat up and defrost foods with just a few touch with its intuitive controls! This compact microwave oven is perfect for those who simply need to cook their foods without additional frills.
3. SAMSUNG MS23K3513AK/SP FREESTANDING MICROWAVE SOLO (23L)
Price: $141 
Specifications
Quick Defrost for fast thawing of meat
Auto Cook programme for easy cooking
Deodorisation
Ceramic inside protects from scratches and discolouration
Exterior size: 489x275x374
The Samsung Freestanding Microwave Oven comes in handy for defrosting a range of foods. From meat, poultry, fish, bread and more, your cooking experience definitely speeds up with this microwave oven.
On top of that, this microwave oven in Singapore also features an ECO Mode, which saves power when you're not cooking. Its deodorisation mode also helps to keep smells at bay.
4. Panasonic Microwave Oven NN-GT35HMYPQ 
Price: $155
Specifications:
23L Grill Microwave Oven
800 W Cooking Power
Dual Cooking
12 Auto Menus
Quick 30 Function
Add Time
Perhaps one of the best features of this Panasonic Microwave Oven is its dual cooking feature. The microwave power cooks your foods while its grill ensures a crisp surface while still retaining juiciness inside.
Its Quick 30 Function also allows you to set the cooking time for just 30s without any additional settings — great for those who simply want to heat up quick microwave meals. Additionally, its extensive 12 auto cooking menus allows u to cook soups, rice and even meat!
If you're looking for a fuss-free way to prepare your meals, this microwave oven could be a great addition to your kitchen.
5. LG MS2336GIB 23L NeoChef Microwave Oven
Price: $182
Specifications
Smart Inverter
LED Lamp
Even Heating
Fast Cooking
99.99% Antibacterial EasyClean
Interior size: 322 x 228 x 335
Exterior size: 476 x 272x 368
One of the greatest challenges users face with most microwave ovens is how tricky it is to gauge and control heat. LG's NeoChef Microwave Oven helps you with that problem — its Smart Inverter technology can defrost and heat up a range of foods with just the right temperature.
Another impressive feature would be its 99.99% Anti-Bacterial EasyClean. If you've used a microwave oven before, you'd know how much of a hassle it is to clean out stains and grime. However, since the NeoChef Microwave Oven has an anti-bacterial coating in its interior, all you need is just a few wipes to keep your microwave clean.
6. CORNELL MICROWAVE OVEN DMO-68
Price: $199
Specifications
20 L / 800W
30 min manual timer
Defrost setting
Cooking end signal
Glass turntable (24.5mm diameter)
H262mm x W452 mm x D365mm
Like the Electrolux microwave oven, the Cornell microwave oven is great for those who are looking for a simple, no-frills microwave oven. If you only use the microwave oven for defrosting and heating up small meals, the Cornell Microwave oven in Singapore does the job perfectly.
There's no need to over-invest in one that has multiple features you wouldn't use!
Price: $299
Specifications
27 L Grill Microwave Oven
Flat & Wide Cavity
Simultaneous Combination Cooking
23 Auto-cook Menus
Precise Power Control
LED Oven Light
The Panasonic Microwave/ Grill Oven is great for those who want to speed up their meal-prep. With its combination cooking feature, you can heat up foods and grill foods at the same time. Its 23 auto cook menus come in handy and help you prepare a range of different foods and recipes!
What's great about this microwave oven is that its clean, simple design also helps you save space. You don't have to worry about an overly cluttered countertop.
8. SHARP R-92A0(ST)V CONVECTION MICROWAVE OVEN (32L)
Price: $299
Specifications
32 L Capacity
Powerful Output Power (1100 W top grill, 2100 W convection)
10 Auto-Cook Menus
Time & Weight Defrost
Child Lock
LED Display
Additional 30-Second Function
Exterior size: 519 x 315 x 510
Interior size: 351 x 249 x 361
Do you have kids at home? If you do, you'd appreciate the child lock feature that comes with this microwave oven in Singapore. Compared to the previous Sharp model, this microwave oven has 10 different auto-cook menus to choose from. It also has a larger capacity (32L), which makes it a great option for those living with their families.
9. SAMSUNG MC28H5015AS 28L COMBI, GRILL AND CONVECTION MICROWAVE OVEN
Price: $259
Specifications
15 Pre-set Cooking Modes for smart and convenient cooking
Advanced fermentation for delicious yoghurt/dough anytime
Deodorisation Setting helps to dissipate odours in the oven
If you are into healthy living and making your yoghurt and bread from scratch, this Samsung Grill and Convection Microwave Oven is a great addition to your kitchen! It allows for advanced fermentation which is essential in yoghurt and bread-making. Additionally, it also has deodorisation settings so you don't have to worry about weird smells coming from your oven.
Its 15 pre-set cooking modes also make meal preps a breeze — great for families that like to eat home-cooked meals.
10. LG MJ3965BGS 39L Smart Inverter Microwave Oven
Price: $696
Specifications
Smart Inverter
LED Lamp
Even Heating
Fast Cooking
99.99% Antibacterial EasyClean
Interior size: 395 x 262 x 378
Exterior size: 544 x 327 x 525
Like the LG Microwave Oven model mentioned previously, the Smart Inverter Microwave Oven helps you speed up cooking processes. Its even heating helps you defrost food effectively and also creates a more satisfying dining experience.
As the 39L Smart inverter Microwave Oven is much larger, its ideal for cooking larger portions of food. If you happen to have a bigger household, this microwave oven will definitely come in handy!
Best Places to Buy a Microwave Oven in Singapore
There are many stores in Singapore where you can buy microwave ovens. When it comes to microwave ovens, here are some of our top picks:
If you're looking for electrical appliances, Best Denki is also a great place to visit. There, you'll find many Japanese brands as well as other international brands. Like Courts, Best Denki also has many branches across the island, which makes it easy to access for all!
From home appliances to furniture and even electronic goods, Courts is a great place to visit for almost all your family needs! Goods are reasonably priced and there's a wide selection to choose from as well. On top of that, there are many branches around the island, which makes it really accessible.
At Lion City Company, home appliances are on sale regularly. If you want to compare prices between different microwave oven models, remember to check this store out to get the best deals!
The name says it all. Mega Discount Store has a wide range of home appliances with discounted prices. If you're looking for a functional, no-frills microwave oven and don't want to overspend, this is your go to.
What's great about Parisilk is that its customer service is available 24 hours a day! If you're looking for high-quality customer service to help you set up your microwave, you've come to the right place. There are a few branches in Singapore, however, you can also order your microwave oven online if you don't want to make the trip down.
These stores have great customer service and a wide range of appliances to choose from. Regardless of your cooking needs, you'll be able to find a model that best suits you! Ever tried any of the microwave models we've listed here? Share with us your experience and your top recommendations!
Related articles:
Other articles you might want to check out: