A fridge is a common and essential household item. But, what if you've just moved into a new place and realise that you're short on space for a full-sized refrigerator?
Thankfully, we have the option of a mini fridge in Singapore – a lifesaver for those who can't find space for a full-sized refrigerator. It's also great for those who already have spaces in their refrigerators filled to the brim.
With limited space in Singapore, mini fridges are especially handy for smaller living areas such as your bedroom, dorms, or studio apartment. Mini fridges are also portable and hassle-free, which comes in useful for those who want to carry it around for barbecue parties or picnics.
Mini fridges come in many different sizes and features. To help you make the right choice on buying a mini fridge in Singapore, you should make certain considerations beforehand.
What to consider when buying a mini fridge in Singapore?
To get the best mini fridge to suit your needs, you need to think about the style or type you're looking for, as well as other important factors below:
1. Functions available
Some mini fridges have separate freezer and fridge controls. Typically, they come with one control for both functionalities.
This separate control helps you to save on electricity – i.e. turning the freezer off if you do not need the function. It also enables you to keep your freezer temperature when the fridge is freezing food.
2. How much energy it uses
A fridge consumes more electricity than a typical household appliance – not because of its consumption per hour, but because it's plugged in 24/7. The relatively small electricity consumption can thus rack up big numbers over time.
Remember to review the energy sheet specifications of your mini fridge. It provides information about how much electricity the appliance consumes over time. You can find it on the manufacturer's website as well as affiliate websites.
Energy-efficient mini fridges can save you from excessive bills in the long run. Also, mini fridges with strongly insulated doors would consume less power. Lastly, keep in mind that electricity consumption depends on usage – avoid opening and closing your mini fridge for no particular reason!
3. Noise it generates
A noisy mini fridge can be annoying when it is placed under your study desk or in your bedroom.
To prevent this issue, read up on mini fridge noise emission levels on product reviews on the manufacturer's website and Amazon. Some models make more noise when ice builds up in the airways.
4. Size and capacity
The physical dimensions of a mini fridge is an important consideration.
Do you want to put your mini fridge in your garage, home office or under your desk? If so, you need to think about where you want to put the fridge and measure the desired location. Be sure to leave in an inch between the fridge.
Once you are clear on the measurement of the desired space, you can determine the proper dimension for your fridge. You'd also need to consider different designs, such as the tall, cube, or under the counter.
The last thing you'd want is to get a fridge that turns out to be too big to fit in your desired space!
5. What you want to put inside
What are you likely to put in the mini fridge? Drinks, skincare products, or ice cream?
A compact and small fridge may seem like a good idea because it occupies a small space. However, that might be impractical for your needs.
It would be best if you also consider a mini fridge with adjustable shelves. This allows you to maximise space in the fridge, depending on what you have in it. Some mini fridges in Singapore also come with removable shelves.
11 best mini fridges in Singapore
Now that you are clearer on what mini fridge you're looking for, it is time to start your shopping. To make things easier for you, we have listed the 10 best mini fridges in Singapore that you can buy today.
1. Mini USB LED PC Refrigerator Fridge Beverage Drink
Price: $16.42
Key highlights
Easy installation
Compatible with all platforms
Measurement: 19.5 x 8.3 x 9.4cm
You can keep one cold or warm beverage ready to drink at all times with this tiny red USB mini fridge. It also doesn't require batteries since it is powered by a USB cable that you can connect to your PC.
This mini fridge in Singapore is best for those who are working or using their computers for long hours. Just plug it in your computer's USB port, put your canned drink and enjoy!
2. Baseus Mini Fridge Refrigerator 8L
Price: $99
Key highlights
60W low power, about 1 kWh for a day of operation, high efficiency and energy saving
Comes in white and pink
Measurement: W36 x D27.5 x H29cm
This mini fridge has a contemporary design with a round, small, and chic design, which holds up to eight 330ml can drinks. With dual cooling and heating functions, it has quick cooling technology that can reach 0℃, 1.5 hours cooling and 1-hour heating to a stable temperature.
You can use this portable mini fridge at home on a desktop and in a car. It is also bedroom friendly since it has a silent mode design!
3. Europace 50L Bar Fridge ER9250
Price: $158
Key highlights
Temperature Range: 6 – 12°C
Measurements: W46 x H53 x D51.5cm
This mini fridge comes in a unique PCM Brushed Silver Colour and is ultra-quiet so you can place it in your bedroom without it disturbing your rest. It also comes with a 1-year warranty and has an energy-saving design with efficient dual cooling modules.
4. AGWS Coca-Cola Mini Fridge Electric Cooler and Warmer
Price: $168
Key highlights
Semiconductor Electronic Refrigeration
Low energy consumption at 40-50W
Measurement: 18.8 x 24 x 26.5 cm
This mini fridge in Singapore doesn't only has a Coca-cola design, but it can also store six cans of 330ML Coca-cola! It has a powerful cooling of about 20-22℃ below ambient temperature and can reach 0℃. Get to your ideal temperature within 2 hours of refrigeration! It is also convenient and portable that you can bring it with you everywhere you want!
5. Cooluli Infinity 15-liter Compact Cooler/Warmer Mini Fridge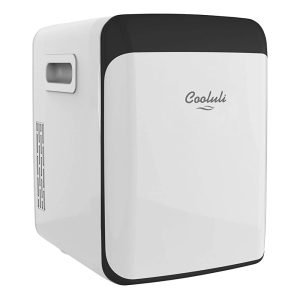 Price: $180
Key highlights
Easy shift from cooling to warming
Convenient and light weight
Measurement: 12 x 10 x 14 inches
This portable mini fridge can cool or warm your items with a flip of the switch. It has a stylish design with a glass front and features Cooluli's advanced eco-friendly technology which uses minimum energy and prevents frost. If you want a chic and stylish mini fridge, consider this on your list!
6. Danby Designer 4.4 Cubic Feet Compact Refrigerator (DCR044A2BDD) Black
Price: $191.99
Key highlights
Energy efficient
Measurement: 20.9 x 20.7 x 32.7 inches
Danby mini fridge comes in black and has a larger capacity of 126L. It features a mechanical thermostat, semi-automatic defrosting system, and a beverage dispensing system.
It also comes with a full-width freezer compartment with an egg tray in the door shelf. If you want a compact mini fridge that can store enough of large containers, water bottles and food, this can be a great option!
7. Farfalla FR-103QF 103L Bar Fridge
Price: $229
Key highlights
Energy Consumption: 234 kWh/year
Measurement: W48 x D53.6 x H83.6 cm
Farfalla mini bar fridge comes with adjustable shelves and a freezer. It has mechanical temperature control with adjustable thermostat, flat back, with lock & interior light. This mini fridge also comes with a 12 months warranty for parts and 24 months for services.
For those looking for a mid-tier mini fridge, farfalla FR-103Q 103L Bar Fridge is the way to go.
8. HAIER Joy Series 38L
Price: $277.72
Key highlights
Quiet design of about 25db
Measurement: W50 x D50.5 x H54 cm
This compact and sleek silver mini fridge is quiet and comes with removable shelves and a convenient basket which is easy to pull out. It is highly efficient with a freezer and direct cool system.
If you want to stay at your bedroom with a portable pantry to keep all of your favourite snacks and drinks in arm's reach, consider having this mini fridge in Singapore!
9. PowerPac 71L 2 Door Mini Bar Fridge with Freezer
Price: $299
highlights
Fridge/Freezer compartment size: 49L / 22L
Energy consumption: 75W
Dimension: L48 X W44.5 X H84.5cm
This mini fridge comes with high quality and energy-efficient compressor with 10-year of warranty and 2-year warranty on parts and components.
Its optimal door seal design with anti-bacterial and activated carbon filler interior to prevent the growth of bacteria. It also comes with removable shelves and a vegetable crisper compartment to help you maximise space.
10. Magic Chef 3.5 Cu. Ft. Mini Refrigerator Stainless
Price: $367
Key highlights
3.5 cu ft. capacity design with manual defrost
Interior light to ensure easy viewing of items
Measurement: 194 x 185 x 325 cm
A sleek and versatile energy star qualified mini fridge with a full-width freezer compartment. It also comes with interior analogue controls for easy tweaking of temperature.
To help you save space, it also has an in-build dispenser and 3 Glass shelves for easy cleaning.
11. Tecno TFR1288 (Cream) 1-Door Retro Series Designer Fridge
Price: $499
Key highlights
Equipped with interior light and 7 thermostat settings
Energy consumption of 110kWh/year
Measurement: W54.3 x D61.5 x H97.8 cm
If you've always liked the retro look, this mini fridgein Singapore might be for you. It has a larger capacity of 128L and comes in pastel colours like Cream, Mint, and Lemon colours with matching chrome legs and handle.
It has a direct cool system with freezer compartment and a vegetable crisper compartment. It also has adjustable shelves to help you maximise space to store your groceries with ease.
Best places to buy a mini fridge in Singapore
The Audio house offers a wide range of home appliances and gadgets such as TVs, fridges, home entertainment technologies, and furniture. They ensure you to have the simplest and easiest ways to stay comfortable at home. Enjoy deals and discounts on their best products, as well as same-day delivery services.
Established in 1981, Gain City started with a simple quest of improving lifestyles. Today, renowned as Singapore's largest air conditioner retailer, the brand is synonymous with air conditioning installation and services. They're also the preferred retailer for consumer electronics including home appliances, furniture, bedding, and computer accessories.
Harvey Norman is a leading household name in Singapore that carries a large range of products. They're offering most trendy and innovative home entertainment systems, appliances, and computing technology. Harvey Norman aims to provide the latest product innovations from leading brands.
Lion City Co was established in 1969 and carries major brands of home appliance and audiovisual products. Their top-quality home appliances include kitchen and home appliances, electronics, health and beauty. Lion City Co also offers free shipping services in Singapore.
Related articles:
Other articles you may want to check out: