From time immemorial, I always remembered ovens as just ovens and toasters as just toasters. In recent years though, the hybrid of these two have been on the lips of many homeowners. You may be one of them.
Touted for its dual functionality and increased convenience for busy people like yourself, the oven toaster in Singapore has gained popularity and traction. Imagine being able to not just toast your bread, but also bake one from scratch!
But before you put your money down for one, you should consider a few factors to make sure your oven toaster suits your needs.
6 factors to consider before buying an oven toaster in Singapore
1. Cost
Ask yourself what kind of oven toaster will be more suitable for what you intend to cook. Are you just looking to make toasts every now and then or are you planning to use it to bake all sorts of dishes on a regular basis? The answer to this question will give you an idea of the type of oven toaster you should be looking at.
If you fall in the category of minimal and infrequent usage, there are a host of affordable oven toasters in the market you can take your pick from that are easy to use and easy on your wallet. However, if you are thinking of using it extensively, maybe something a little more expensive may make more sense in the long run.
2. Ease of use and cleaning
If easy cleaning is an important factor for you, look for a model that doesn't have any parts that are too hard to get to. Generally, oven toasters are much easier to clean than traditional ovens, so you will end up saving a lot of time on cleaning whichever model you choose.
3. Even cooking
In any type of cooking, being able to get food cooked evenly is a very important factor. Oven toasters are great when it comes to achieving this.
However, do look out for those that come with convection technology as those are the ones you want to ensure your food gets cooked properly without worry each and every time.
4. Settings
How functional you intend for your oven toaster to be will also ultimately affect the oven toaster you buy.
The number of settings ranges across the different types of oven toasters so if you are looking for something simpler and straightforward, a model with lesser settings may do the trick. If you want a plethora of functionalities to match the array of dishes you intend to cook in it, then perhaps one with more settings will be a good idea.
5. Size
A common issue we face in most Singapore apartments is the lack of space. When planning on the type of oven toaster to purchase, the amount of kitchen and cabinet space you have is very important.
However, it's not just the space you should be concerned with. What you intend to make using your oven toaster should also be considered. Whether you have plans to cook up a storm or just want one to do toasts and bake little treats now and then, you can definitely take your pick from the array of oven toasters that are available across the island and online.
6. Uses
The main uses you have in mind for your oven toaster will make a big difference in the model you choose. Will you just be toasting bread most of the time, or do you want to be able to do proper baking with your oven toaster.
Besides considering the ways you are likely to use your oven toaster, think also of the other ways you would be happy to use it for if the chance arises. It may be a good time to start putting into practice that new ondeh-ondeh cake you saw on Facebook!
Once you have decided the functions that you seek in an oven toaster, you are on your way to purchasing the best oven toaster in Singapore! Here are 10 for you to kick start your search.
9 best oven toasters in Singapore
1. Panasonic Oven Toaster NT-GT1
Price: $69
Key highlights
Looking for a small oven toaster that has a myriad of customisable features? Then you may want to take a look at this particular model. It can toast, heat and bake so you can go forth and cook what your heart desires.
Besides having many cooking controls such as an adjustable thermostat that you can manage on your own, it also comes with four dynamic temperature levels for easy and even cooking, and a removable crumb tray for cleaning ease. With a 1-year warranty, it's easily one of the best oven toasters in Singapore because of just how versatile it can be.
2. Kenwood Oven Toaster (White) – MO280
Price: $48
Key highlights
The multi-functionality of this oven toaster gives it its edge. If you are looking to be able to toast, bake and grill one in one appliance, this is the oven toaster for you.
Besides its large capacity of 10 litres, you will also be able to get beautifully cooked food with its thermostat temperature control, 30-minute auto cut-off timing (it dings at the end!), and easy viewing through its glass door.
Of course, cleaning is a breeze too since this oven toaster in Singapore comes with a removable crumb tray and non-stick interior coating. Plus its 1-year warranty and low price may just be the cherries on top of the cake.
3. SONA SMO23A Oven Toaster (10L)
Price: $33.90
Key highlights
The Sona Oven Toaster SM023A's larger 10 litre capacity and slightly lower 800 watt power consumption makes it both energy-efficient and practical.
The two selector knobs make it super easy to roast and toast, and you can see how your food is doing through its clear class panel. The 2-year warranty makes this oven toaster a model choice for its value and quality.
4. TOYOMI Toaster Oven 2 Layers 12.0L – TO 1212
Price: $59.90
Key highlights
Looking to cook pizza with the family? Perhaps this oven toaster will fulfill that wish. Fully functional with baking tray/rack, you can easily make temperature selections for the type of food you wish to cook in it.
And you don't have to be worried about overcooking! With a large view tempered glass window and a build-in thermostat, you can be assured of delicious food evenly cooked to your preference.
5. Cornell CTO-S10WH 9L Toaster Oven
Price: $33.50
Key highlights
A compact design is suitable for many of us due to our tight living quarters. But it also helps if your oven toaster is able to fit a variety of your food items.
Being able to heat, toast, grill or bake a variety of food items at the same time is also possible, thanks to the multitude of racks it comes with. This is accentuated by its adjustable thermostat and two Quartz heating elements.
It also comes with auto shut-off for safety reasons and a 1-year warranty. What's not to like about this oven toaster in Singapore?
6. Zojirushi Electric Oven Toaster ET-REQ75
Price: $65
Key highlights
When considering buying an oven toaster, you may have also thought of being able to cook something larger such as a whole chicken or larger confectionaries. This is the one you can really think about.
This oven toaster is 25cm wide and comes with a deep interior so you can cook larger items at once. Its temperature sensor thermostat ensures your food will be cooked perfectly without getting burnt, and the easy to clean slide out crumb tray and detachable door makes all the convenience together in one package.
If you will like to have a look at the physical product, or will like to have more options, you can head to the following locations to do some shopping to get one.
7. TEFAL OF500E Equinox Toaster Oven 9L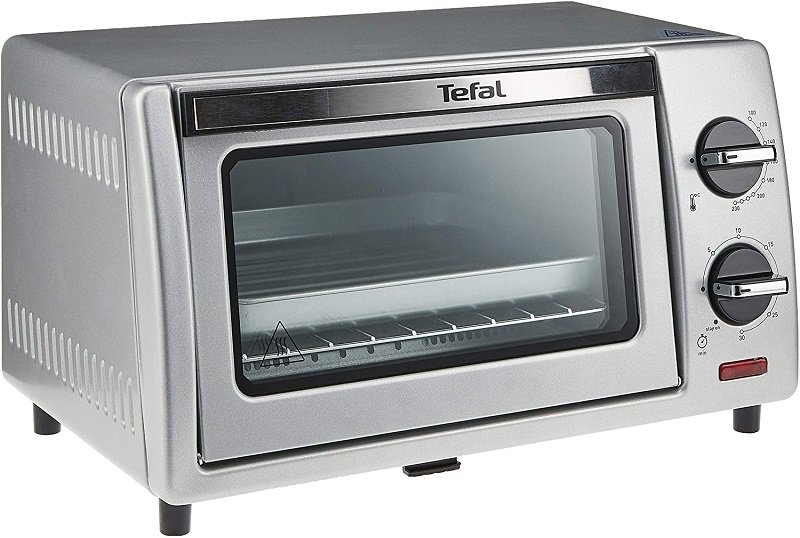 Price: $79.90
Key highlights
If you are searching for an oven toaster that combines great performance with the convenience of a small frame and easy-to-use functions, you may want to consider getting the Equinox 9L.
The range of features it comes with includes Quartz heating technology for faster heat-up time. This is matched by its intuitive heat controls that can run up to 230° C, a timer that can go up to a maximum of 30 minutes, an auto shut-off function, a double-layered door for added security, and a non-stick interior and removable crumb tray for easy cleaning options.
With all these attractive functions, there is no way you are not tempted to buy it already.
8. Electrolux EOT4805K Oven Toaster
Price: $109
Key highlights
With a large capacity of 21 litres, and a versatile function which allows you to toast, bake and broil, this oven toaster is giving the rest a run for its money.
If you are a clean freak, this oven toaster comes with an easy clean bottom sliding to make cleaning up drips and spills easy.
It also has an auto shut off and a signal function to prevent your food from getting overheated. Looking for a smart home appliance? This has got to be it.
9. Cuisinart AirFryer Toaster Oven
Price: $233.10
Key highlights
What's better than an oven toaster that can double up as an air fryer? The answer is nothing. Not only does this oven toaster bake, broil and toast, it also allows you to air fry right inside it!
Now you can enjoy all your favourite foods cooked in one appliance. So convenient and healthy!
Best places to buy an oven toaster in Singapore
A well-known and well-loved furniture giant in Singapore, Courts is revelled for its low-cost and good quality products amongst many households.
Besides furniture, they also carry a large range of branded oven toasters to suit your needs. Add to that their lowest price guarantee and 14-day hassle-free exchange, you will definitely be able to find an oven toaster that will accomplish what you have in mind for it to do perfectly.
Giant is a great shopping location full of everyday items we require in our daily lives. Besides a myriad of fresh groceries, you are also treated to home appliances such as cooking utensils, one of them being an oven toaster.
And they don't disappoint with their lot of well-branded, well-priced oven toasters that are sure to meet the needs of any household. Take your pick and get cooking!
Another popular location for all things IT, Harvey Norman doesn't disappoint with its large array of appliance choices to fit the various households in Singapore. Oven toasters are not an exception.
Online, they have more than a hundred models of oven toasters for you to choose from, depending on what you require yours for. Pricewise, it ranges from below $50 to above $10,000, so you really can pick one that fits not just your cooking preferences, but also your budget.
A store that comes with a whole lot of history, Parisilk deals with not just communication and various IT products, it also has a relatively good choice of home appliances that are priced for individual tastes.
So whether you are looking at a simple, straightforward oven toaster that is below $50, or something more sophisticated, you can be sure to find it here.
When it comes down to selecting the best oven toaster for yourself in Singapore, do yourself a favour by trawling the internet for some product reviews to further reinforce your decision on the model you need. Make sure the oven toaster works for your needs so cooking can be a breeze from now on!
Related articles:
Other articles you may want to check out: