What better way to watch Netflix than projecting it on your wall? Projectors these days are no longer heavy and bulky. They are now designed to be light and small enough to slip into your bag or pocket. If you're looking for the best portable projector in Singapore to bring along your next business trip or family gathering, here are some of our best picks.
Things to consider before buying a portable projector
Before adding the best portable projector in Singapore to your shopping cart, check that the features and specifications are suitable for your needs. Here are some things to consider before you hit that check-out button.
Connectivity options
HDMI, USB, Wi-Fi, and Bluetooth are some standard connectivity options you can use to connect your smart devices to the projector. Through screen mirroring, you can project what you're playing on your smart devices.
Ensure that the connection between your projector and smart device is compatible.
Image brightness
Consider if you'll be using the portable projector in a low-light or bright environment. The higher the number of lumens, the more precise the projection will be.
Typically, 1,500 lumens will suffice for home projections, while classrooms and conference rooms will require at least 2,500 lumens.
Lens clarity
There are many types of lenses in the market such as the standard 4K zoom lens, short fixed lens, ultra-wide lens, wide zoom lens, standard zoom lens, long zoom lens, and ultra-long zoom lens.
Depending on the length of projection and room you're using it at (e.g. conference room, living room or bedroom), choose the lens that's suitable for your uses. .
Picture quality
Most projectors will either use the DLP (Digital Light Processor) or LCD (Liquid Crystal Display).
DLP projectors are generally brighter, sharper, and bulkier. They have a little less "screen-door" effect and offer better contrast. On the other hand, LCD projectors have no "rainbow effect" and are usually cheaper.
10 best portable projectors in Singapore
Mini LED Projector in Singapore
Price: $32.41
Product details
Optical resolution: 320 x 240
Contrast ratio: 600:1
This mini projector is about the size of your palm. The projected image is not as large as what conventional projectors would produce, but it might be good enough for some people.
It's not just photos that you can project – this nifty projector also supports VGA and HDMI cables so you can cast from your laptop or desk computer too.
Mini LED Projector in Singapore
Price: $59.80
Product details
Brightness: 400 – 600 lumens
Dimensions (L x W x H): 12.50 x 8.50 x 4.50 cm
This is an energy-efficient projector that can be connected to a regular power bank. Its specifications include a 400-lumen output, which is on the smaller side of the spectrum and a native resolution of 320 by 240.
Since this mobile projector is the fraction of the cost of most projectors, the YG300 does not work quite as well in bright areas. However, it projects images of up to 60 inches, which is an optimal size for family movie nights.
Mini LED Projector in Singapore
Price: $129.90
Product details
Brightness: 3,000 lumen
Native resolution: 1280*800
The Mirval Y6 LED Mini Projector is a quality portable projector at a low price. It has a full HD resolution of 1080p that's crisp and clear. With 3,000 lumens, it's bright enough for use in the daytime without needing a very dark room.
This Mirval projector is compatible with laptops and consoles. Affordable and high quality, the Mirval Y6 is the best portable projector in Singapore you can find in this price range.
4. ELEPHAS 1200 Lumens LED Mini Video Projector
Mini LED Projector in Singapore
Price: $228.80
Product details
Projection distance: 4.95 to 13.12 ft
The ELEPHAS LED Mini Video Projector is lightweight and portable. Its 1,200 lumens will suffice for low-lit environments.
Besides a remote control, the ELEPHAS 1200 Lumens LED Mini Video Projector comes with an HDMI and miniAUX-dual RCA sound cable. You can choose a suitable screen size of between 50 inches to 130 inches, though it works best at 100 inches.
5. ViewSonic M1 Mini, Ultra-portable pocket LED projector
Mini LED Projector in Singapore
Price: $299
Product details
Changeable colour plates
Pocket-sized
The ViewSonic M1 Mini is small, sleek, and fits comfortably in your pocket. It uses a lamp-free projection with an LED light source that has a rated brightness of 120 LED lumens.
Its resolution of 854 by 480 pixels is sufficient for most uses at a 16:9 aspect ratio. You can quickly recharge the ViewSonic M1 mini via direct power, or by connecting it to a power bank or computer.
6. Samsung Smart Beam Portable Mini Projector SSB-10DLFN08
Mini LED Projector in Singapore
Price: $440
Product details
Dimensions: 77.8 x 77.8 x 40 mm
Weight: 192g (including battery)
This palm-sized portable beamer can be synced to any phone or tablet.
When fully charged, it can last 2 hours and can project at a distance of up to 3 metres at a screen size of up to 190.5cm.
Screen mirroring can be done by installing the Samsung Smart View App. This projector is the best portable projector in Singapore in terms of smart uses.
Price: $599
Product details
3 hours projection
Lithium-ion battery
The ASUS S1 projector is perfect for screening in small spaces and can be used for an eight-hour stretch. At just one metre away from a screen or wall, it can project an image of about 41 inches.
Featuring a stylish and modern look, the ASUS S1 can also serve as a portable 6,000mAh power bank. It's no wonder that the ASUS S1 projector is dubbed the best portable projector in Singapore.
8. Xiaomi Mijia Smart Projector Youth Version Beamer Full HD 4K Video Projector Portable
Price: $589
Product details
LED resolution: Full HD (1080p)
Dimensions: 115 x 150 x 150mm
The Xiaomi Mijia smart projector's 1:2:1 projection ratio is suitable to project in any room. Whether it's to watch a movie, play games, or screen a presentation, this projector can be controlled via remote control or the MiTV app.
This projector supports 1920 by 1080 full HD picture resolution, and is compatible to broadcast in 4K resolution.
9. Sony Mobile projector MP-CL1A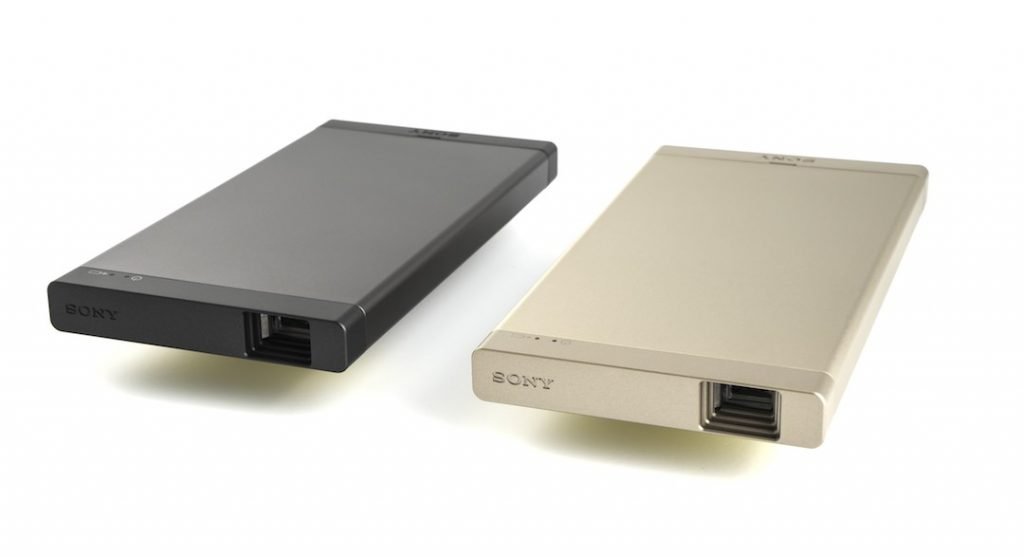 Price: $925
Product details
Bluetooth / Wi-Fi connectivity
Laser output resolution: 1920 x 720
The Sony MP-CL1A is a portable laser light projector that's capable of producing an image of up to 40 inches at 1920 x 720 full HD resolution.
Its fully charged battery can last for up to two hours. This Sony mobile projector is the best portable projector in Singapore that can perform well under low-light conditions.
10. Epson EH-TW5650 2D/3D 3LCD Full HD (1080p) Home Projector
Price: $1,499
Product details
White and colour brightness: 2,500 lumens
Full HD 1080p resolution
The Epson EH-TW5650 is a full HD projector that offers loads of advanced features. It uses the patented Epson RGB liquid crystal shutter system with 480Hz drive technology.
With the Epson EH-TW5650, you can put up on your 3D glasses and enjoy a high-quality cinematic experience in the comfort of your home.
Best places to buy a portable projector in Singapore
Families across Asia would be familiar with COURTS, a one-stop shopping destination. Find everything from electrical and IT appliances like monitors and portable projectors as well as home furnishing products there.
Instalment plans such as the COURTS Flexi-Scheme are available to help you split your big purchases into affordable monthly payments.
D-NEXUS is a one-stop IT online shop where you can find visualisers, projector screens, and the best portable projectors in Singapore.
After making payment, your item will be shipped out within 24 to 72 business hours, subject to availability. For product warranty, you may contact the respective manufacturers.
From projectors to audio and video conferencing systems, Singaporeprojector.com has it all.
If you're looking to set up audio and visual systems for your home, place of worship, meeting room, or classroom, SingaporeProjector.com is a one-stop-shop for your consideration.
Related articles:
Other articles: