Are you turning your room into a home theatre or taking your presentations on the go? Transform any setting with a projector and projector screen. If you're looking for the best projector screen in Singapore, this article has got you covered.
Things to consider when buying a projector screen in Singapore
To choose the best portable projector screen in Singapore for your projector and room, consider these aspects.
1. Assembly and installation
There are two basic screen types: fixed frame and retractable. A fixed frame screen requires a large section of empty wall space, so it's most often found in dedicated home theatres.
Retractable screens automatically roll up in a case and are available in two versions: automatic or manual.
Automatic or motorised retractable screens feature an electric motor that will raise or lower the screen at the touch of a button.
Manual retractable screens, which are usually more affordable and easier to install, require manual pull-down.
2. Dimensions
Space is often the main limiting factor when looking for a projector screen in Singapore.
However, even if you have plenty of space, bigger isn't always better. Projecting too large an image can produce a picture with less than optimum brightness, or noticeable pixel structure. You should ensure that the projector screen size is within the range of your projector's specifications.
Screen sizes are measured diagonally, such as 120 inches or 100 inches.
Screens also come in different aspect ratios such as square (1:1), HDTV (16:9), NTSC or Video (4:3), or Widescreen PC (16:10).
3. Material used
The gain of a screen is affected by its coating. The higher the gain, the more reflective the screen will be.
High-gain screens will work best with projectors with lower lumen, or in bright settings, since these screens will provide a brighter, less washed-out image.
Screens with standard or neutral gains are good for wide seating areas as they will reflect the light evenly in all directions.
Screens with negative gain are best used with high-lumen projectors as they will deliver deeper blacks by reducing reflected light.
10 best projector screens in Singapore
1. Dreamall 3D HD Wall Mounted Projection Screen Canvas LED Projector
Portable projector screen in Singapore
Price: $13.29
Product details
60", 70", 84", 100", 120" (16:9)
Polyester
The Dreamall 3D HD Wall Mounted Projection Screen Canvas is available in five sizes to suit every possible venue.
Installation is easy and hassle-free with the availability of holes surrounding the screen's border for hanging. This portable projector screen is perfect for indoor and outdoor settings, and is easy to clean and foldable.
2. Mirval PS100 16:9 Portable 100 inch Projector Projection Screen
Portable projector screen in Singapore
Price: $18.90
Product details
100 inch (16:9)
Six holes all around (hooks included)
The Mirval PS100 screen is a portable screen that can be installed easily using six peel-and-stick hooks that come with the screen.
Made of flexible polyester material, this projector screen is lightweight, foldable, and portable, making it ideal for indoor and outdoor activities. The high-quality material fabric will not be creased after unfolding.
3. BANOSS AS84 Anti-Light 84 inch Projector Screen
Price: $19.90
Product details
Unlike conventional projector screens, the BANOSS AS84 projector screen comes in a grey, reflective fabric which enhances contrast.
To set up the screen, simply hold it up using velcro and double-sided tape.
4. WEJOY 100 inch Projector Screen 16:9 Portable
Portable projector screen in Singapore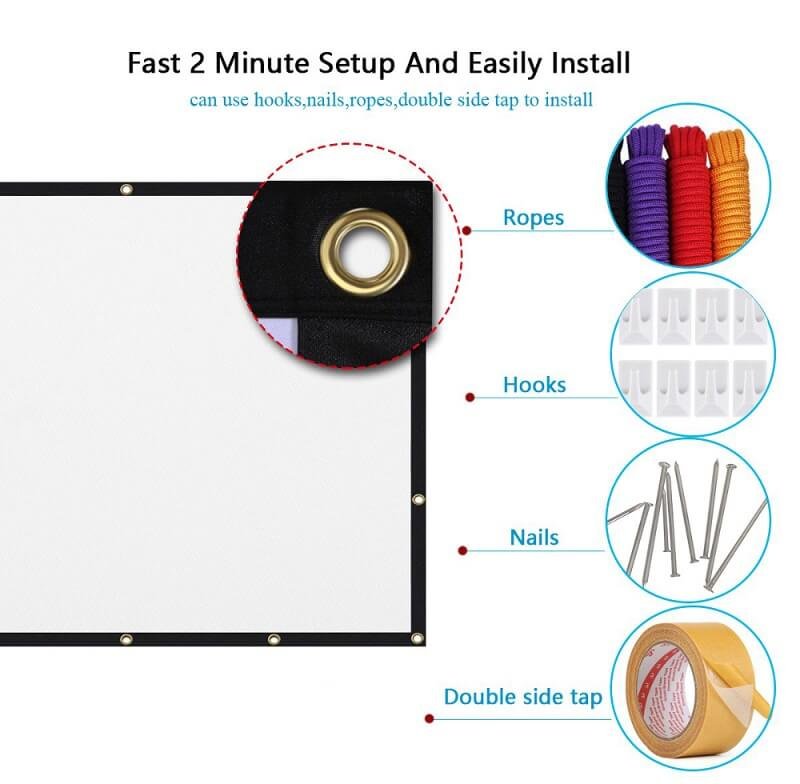 Price: $22.34
Product details
The material of the WEJOY 100 inch projector screen is sturdy and flexible, unlike flimsy cloth versions.
This portable projector screen also comes with holes if you prefer to use ropes or hooks to hang it. Alternatively, you can set it up on any wall using velcro tape.
5. EXZEN 100 Inch (1:1) Semi Buffer Projector Screens
Price: $138
Product details
100 inch (1:1)
Gentle roll-up
The EXZEN SB-N70 Semi Buffer Projector Screen is a manual pull-down screen, and is an affordable option for the occasional user.
Mount it on a wall or ceiling, and enjoy your moving pictures which will be surrounded by a black, light-absorbing border. Words and subtitles are clear on this screen due to the use of a finely woven matte white fabric.
6. Comm Manual Pull-Down Wall Screen CP-MA70
Price: $139
Product details
This projector screen can be manually raised or lowered from a deluxe streamlined white metal case. Made of a high-quality matte white fabric, this screen offers clear and vivid pictures.
Simply mount it on a wall in your classroom, meeting room, living room, or training centre to begin use.
7. BIGSHINE EZ Tripod Projector Screen
Portable projector screen in Singapore
Price: $155
Product details
60 inch (4:3)
Non-reflective masking
Optional tripod
This simple and sturdy portable scroll screen is ideal for training, meetings, and home use. To install, simply mount the screen to a wall. You can also use the tripod should you wish to set up a screen in an outdoor area.
Using premium fiberglass fabric, this portable screen offers superior images with high resolution quality.
8. 300 inch Projector Screen White Projection Screen Foldable 16:9 Home Theater Movie LED Projector for Wall Projection
Price: $231.09
Product details
300 inch (16:9)
32 holes around (hooks not included)
This projector screen is ideal for large gatherings such as when watching a football match, public displays, and classroom training.
Made of polyester fabric, this projector screen can be easily installed using hooks, rope, or by pinning it to a wall.
9. Nikko Motorized Fiber Glass Screen Tubular Motor 68 X 51 / 80 X 60 / 95 X 71 Projector Screen
Price: $288
Product details
Available in 1:1, 4:3, or 16:9
Wall or ceiling mounted
The Nikko Motorized Projector Screen is perfect for educational, business, and home use. It is available in different sizes and is made of high-quality fiber glass fabric which produces clearer and sharper images.
A portable infrared or radio frequency remote control is available if you do not wish to use a wall mounted remote control.
10. BIGSHINE 120 Inch (16:9) Integrated Motorized Projector Screen
Motorised projector screen in Singapore
Price: $758
Product details
120 inch (16:9)
Infra-red and radio frequency remote control
The BIGSHINE LT-INT120W motorised projection screen is a high-quality screen that's suitable for installation at home or in offices.
Its reliable electric motor works quietly when raising or lowering the screen, which is made of long lasting, premium quality fiber glass fabric.
To bring out deeper blacks and contrasts, the BIGSHINE LT-INT120W motorised projection screen is treated with black masking to enhance the quality of the projected image.
Best places to buy a projector screen in Singapore
AR Visual has an online store with a comprehensive array of audiovisual solutions such as projectors, projector screens, controllers, cables, and visualisers. It's increasingly catering to home customers with its expanding range of home entertainment systems.
Projectors, projector screens, and accessories can be found at the Bigshine online store or at its showroom. If you already own a projector, you may bring it to test out the different screens. Installation services are also available especially for the setting up of projector screens.
Office World Supplies boasts a collection of projectors, video walls, visualisers, and office equipment such as whiteboards, toners, and laminators. Choose from a manual or semi-automatic projector screen in Singapore to set yourself up for a smooth presentation, whether in the office or on the go. 
Related articles:
Other articles: