Have a collection of shoes that can't fit in your shoe rack anymore? You might want to consider a new shoe cabinet to keep your shoes more organised. Shoe cabinets are a good solution for helping you categorise your shoes. However, do note that shoe cabinets are bulkier and larger in size compared to a shoe rack, and may need a bigger space to put up.
A good shoe cabinet in Singapore is something that you'll need to protect your shoes and to keep your home tidy. Most shoe cabinets are affordable, and there are various styles that are available in the market. But, how should you look for one that perfectly fits your needs? Don't worry as we did our work and researched the most stylish and chic shoe cabinets in Singapore.
But before heading to our list of the best shoe cabinets in Singapore, let's take a look at the things to consider before having one.
Things to consider when buying a shoe cabinet in Singapore
1. Aesthetics
When it comes to a shoe cabinet design, there are lots of style variants that are available in the market for you to choose from. Having a stylish and classy one is best if you want to have a chic accent decor in your home. There are also classic and simple designs available if you prefer to have a more traditional look.
2. Construction quality
Having great construction quality is a prerequisite for any furniture, especially those that you want to use for many years. Nobody wants to change their furniture once every few months. You'll need to know the shoe cabinet materials used and specifications to see if it's well constructed.
3. Space available
Shoe cabinets are mostly bulky and more prominent, so you must have more space before buying a new one. However, you can also find some mid-sized and ultra-thin shoe cabinets that are available online. It is also vital to check on the product size details first to reassure that the shoe cabinet you'll buy fits the space you have for it in your home.
10 best shoe cabinets in Singapore
1. TRONES Shoe cabinet
Price: $39.90
Kye highlights
Size: W52xH19xL77 cm
Material: Polypropylene plastic
Easy to remove door
The TRONES shoe cabinet is perfect for those who have smaller space, as it has a shallow design that takes up little space in your hallway. It should also be placed and fixed directly on the wall, so you have an ample space in your entryway.
If you need to change your storage, you can easily stack several cabinets on top of each other or place them side by side to create more storage space. There's also an area on the top of the cabinet that allows you to place small items like your purse, keys, and mobile phone.
2. Russ Shoe Cabinet Walnut
Price: $49.90
Key highlights
Particleboard with a laminate finish
Removable, non-adjustable shelves
Non-soft closing drawers
Polypropylene plastic handle in silver
MDF back panel with an internal laminate finish
Polypropylene plastic legs
Size: W40cmxD40cmxH91cm
This Russ shoe cabinet is made with medium-density fiberboard with a unique lamination material. It has a stylish design that fits your home interior and is best for hallways with smaller space. However, it needs to be handled with care, so make sure to avoid water contact and use alcohol-free soap with a soft damp cloth when cleaning.
3. Simple modern ultra-thin shoe cabinet large capacity plate type dumping
Price: $49.90
Key highlights
2 adjustable diaphragm
Multifunctional
Skirting board hole position
Stylish handle
Tipping bucket design
This shoe cabinet is beautifully designed with a modern industrial look that is very chic – perfect for any home interior. With its adjustable diaphragm feature, this shoe cabinet is very versatile, allowing you to store any shoe sizes, bags, or any daily necessities.
You can also place it anywhere you like as it has a slim design that can fit in your entrance, bedroom or basement.
If you're looking for a multifunctional storage cabinet where you can place any of your things to meet your storage needs on a variety of occasions. This Simple modern shoe cabinet in Singapore is a perfect storage assistant for your entire family!
4. BISSA Shoe cabinet
Price: $55
Key highlights
Adjustable shoe compartments
Holds min. 12 pairs of shoes
SIze: W49cmxD28cmxH135cm
The Bissa shoe cabinet has a minimalistic design that can help you organise your footwear as well as saving some floor space in your entryway. It is available in 2 color options with either brown or black and comes with 3 compartments. It also consists of particleboard, paper foil, and polystyrene plastic which makes it durable and stable.
If you're a minimalist type and want a space saving shoe cabinet that can accommodate at least 10 pairs of shoes, check out this Bissa shoe cabinet.
5. Shoe cabinet SC1356
Price: $68
Key highlights
Budget shoe cabinet
Made by compressed wood
2 Doors shoes cabinet with plastic legs
3 compartments
2 Tones colour : dark oak / white wash
This shoe cabinet is perfect for every budget with two doors and three compartments that can accommodate at least a dozen pairs of shoes. The cabinet has a simple wood design with dark oak or white wash finish, making it a versatile choice for many types of decor.
If you're on a limited budget but want a mid sized quality shoe cabinet with a simple yet classy design, this shoe cabinet in Singapore is worth considering.
6. Justin Shoe Cabinet 01
Price: $75
Key highlights
Size: L60cm x W33cm x H91cm
Made by MDF wood
Adjustable shelves
Can fit about 10-12 pairs of shoes
This shoe cabinet that comes in an espresso or oak finish has louvre design doors and adjustable shelving. This classic shoe cabinet can also fit up to 12 pairs of shoes.
If you're into a wood design shoe cabinet that has a classic look and can accommodate more than 10 pairs of shoes, you can consider this shoe cabinet i Singapore.
7. Veera Teak Shoe Cabinet
Price: $88.80
Key highlights
Solid MDF hardwood
Melamine finish
Door design for ventilation
Space-saving
4 compartments
This Veera teak shoe cabinet is characterized by a translucent board in front, making it appealing to all who love traditional design. The cabinet also has a space-saving storage with four compartments that can accommodate at least a dozen pairs of shoes. With its solid MDF hardwood material, this shoe cabinet is very sturdy and durable that can last for many years. However, it should be cleaned with care and avoid too much water exposure for it to maintain its wood stability.
8. (FurnitureSG) 3-Door Wooden Shoe Cabinet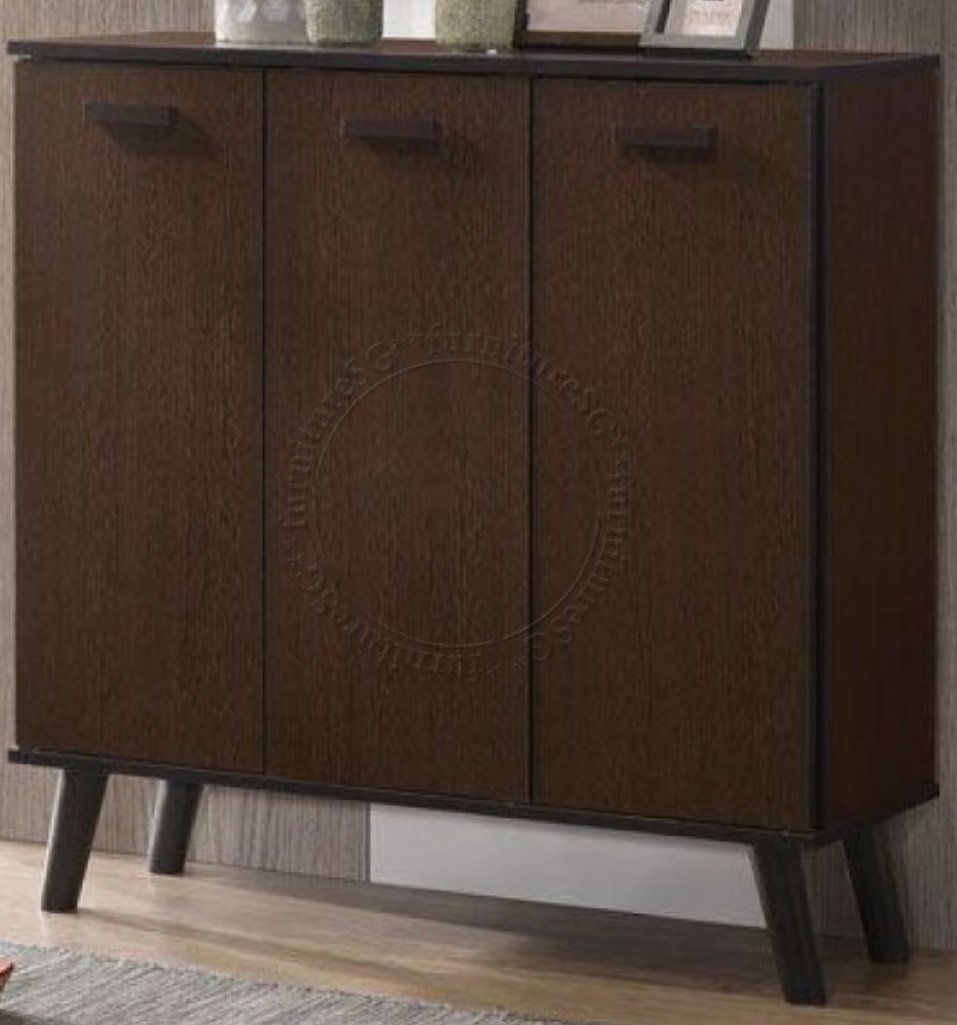 Price: $99
Key highlights
Product features and materials made by medium-density fibreboard
Adjustable shelves
Dimensions: L90cm x W33cm x H91cm
Free delivery
Free installation
6 months against manufacturer's defect
This stylish shoe cabinet is a beautiful design with beautiful wood that consists of MDF material. Each shoe storage is very roomy and practical which makes your favorite shoes in perfect order.
With a budget friendly price that can make your entryway tidy and clutter free, this classic wood shoe cabinet should be on your list of shoe cabinets to consider.
9. OPTIMUS PLASTIC SHOE CABINET / WATERPROOF / OUTDOOR CABINET
Price: $155
Key highlights
Waterproof cabinet
Fully plastic
Suitable for corridor and balcony area
Size: L75cm x D45cm x H94cm
Ventilation at the back
Add on legs available
Three colours: brown, grey, beech
This plastic shoe cabinet by Optimus is designed with a heavy-duty, blow-moulded resin, which makes it solid and strong. It is also waterproof so you can place it outdoors like your balcony and corridor, or just anywhere you want.
It's also very durable and can resist any warping, denting, and rusting, making it best for long term use. The shoe cabinet also comes with a capacity of 10kg per shelf,and is multifunctional. This means you can store anything you like, including tools, clothes, toys, and more.
If you want a shoe cabinet storage that can be placed outdoors and can last for many years, this Optimus plastic shoe cabinet is an excellent choice!
10. Furniture Living Tall Shoe Cabinet
Price: $168
Key highlights
Shoe cabinet
Wooden
Elegant
Sleek design
Size: L31.5in x D13.5in x H66in
This stand-alone tall shoe storage solution is a high wooden cabinet that has sufficient storage for all your shoes. Its elegant design matches any surface in your home. With its multifunction storage feature, this cabinet can make your space a lot tidier.
This storage cabinet also provides ample storage space through various combinations and can be used as an item rack, shoe cabinet, or bookshelf. The wood material that is used makes the cabinet strong and durable, allowing it to have a longer service life.
Best places to buy a shoe cabinet in Singapore
IKEA is one of the leading retailers all over the world when it comes to furniture and house fixtures. They have well designed products that come at affordable prices. If you wish to shop in IKEA, you can visit their store locally or simply check out their website.
Hipvan was founded in Singapore and has become popular for having stylish designs and quality products at an honest price. Check out their website to see more of shoe cabinet options as well as other furniture products that you can buy.
FortyTwo (previously BEDS.sg) started in the industry last 2007 and became the biggest home furnishing eCommerce website in Singapore. Their product range includes over 20,000 items like furniture, home decor, and lifestyle items. If you wish to experience the best online shopping ever for your furniture needs, visit their website here.
The Furnituremart.sg has a team of people with immense experience in marketing, logistics, furniture manufacturing, and retailing. They also offer comprehensive online product information that can be accommodated by their experienced staff online. If you wish to shop with excellent customer service, consider shopping at Furnituremart.
FurnitureSG offers a 24/7 home shopping experience, where the customers can choose a variety of products for all their furniture needs, including kitchen cabinets, wardrobes, shoe cabinets, dining sets, and more. They can also deliver after office hours with no extra charges and with no minimum spending.
Related articles:
Here are some other articles that you might want to check out as well: