Singapore has a hot and humid tropical climate throughout the year. Adding to that, our small living space makes it hard to keep the air circulating in our room, office, or kitchen. That's why having a small ceiling fan in Singapore is a perfect solution to keep our home cool and refreshing.
In this article, we'll show you what features to look for in a good small ceiling fan, our top 10 picks, and where you can buy them.
What to consider when buying a small ceiling fan in Singapore
Before you choose a small ceiling fan best suited for your household, it's important to consider these factors:
1. Blade
While you should pay attention to the blades' shape, size, or colour, it's essential that you look into the features such as the number of blades and their angle.
Small ceiling fans in Singapore come in various numbers of blades, ranging from 3 and up to 6 or more. 3-blade ceiling fans generally circulate more airflow, while those with more blades make the fan quieter.
If you prefer more airflow, you can consider one with lesser blades. If you prefer less noise, getting one with more blades will be more suitable.
Blade angle also makes a big difference in how much air is circulated by the fan. The perfect angle to look for is between 12 and 15 degrees.
2. Energy-saving features
A lower wattage ceiling fan saves more energy, with the optimal power going up to 70W. Anything above uses electricity inefficiently.
If you're looking to save more money on your electricity bill, this feature is a huge consideration when picking a small ceiling fan for your home.
If you're the environmentally-conscious type, you can consider a ceiling fan that comes with a light fixture. Having a small ceiling fan with a light can be 60% more efficient than getting a separate fan and a light.
3. Lighting fixture
Speaking of light fixtures, ceiling fans these days are not just to cool and ventilate a room, but also to provide light and to complement a room's design.
Light fixtures are an important feature to take into consideration when shopping for a small ceiling fan in Singapore. It gives you a two-in-one cooling and lighting solution for your home. You can find such ceiling fans with adjustable brightness levels and even different light colours.
4. Warranty
Ceiling fans usually come with a big price tag, so it's vital to check if they have a warranty. You don't want to buy one that malfunctions within a month, and end up having to spend more to get it fixed. A warranty period of over 1 year is a good deal for a ceiling fan.
10 best small ceiling fans in Singapore
1. KDK M11SU 44" Ceiling Fan w/RC
Price: $185
Product details
Max 54W power
3 speeds
Timer
1-year warranty
Safety wire
This KDK M11SU fan will be excellent for small apartments in Singapore, as it takes up very little space on the ceiling. This small ceiling fan is perfect for people who already have a light fixture and need only a fan.
With max 54W power and 3 blades, you'll have better air circulation while using very little energy. It features a safety wire, thermal fuse for safety, and comes with a 1-year warranty.
The fan also comes with a remote control, so you can conveniently adjust your room's airflow.
2. Fanco DC Ceiling Fan B-star/F-star
Price: $189 – $199
Product details
3 ABS blades
5 speeds + reverse
3-tone LED light
Fanco has been selling and improving fans since 1998. With more than 20 years of experience, their amazing 3 ABS blade ceiling fan features a powerful but silent DC brushless motor.
The ceiling fan comes in 3 sizes (36'', 46'', and 52''). Whether it's for a small balcony, bedroom, dining room, living room, or a patio, you'll be able to find the design and size that's suitable for you.
The Fanco DC ceiling fan also has a 5-speed selection and 3-tone LED light. At a price point of under $200, this fan is one of the best small ceiling fan with light in Singapore for its price and quality.
3. FANZTEC GLIDE-2 DC MOTOR CEILING FAN 38/43/48 inch
Price: $229
Product details
3 ABS blades
6-speed modes + reverse
3 sizes to choose from
25W LED light with 4 tones
This Fanztec 35W power small ceiling fan uses much less electricity compared to other ceiling fans. Its 25W LED light and 4 tones can be turned up as bright as day or dimmed down to warm evening light.
This fan comes in 38'', 43'', and 48'' sizes, so you can fit it in any room — whether it's the balcony, bedroom, or dining room. The best thing is? the same $229.00 price tag applies regardless of fan size!
With its low price point, high functionality, and low electricity usage, this Fanztec small ceiling fan is a perfect option for the budget-conscious.
4. Acorn AC268 32″ LED Acrylic Fan
Price: $299
Product details
3 speeds
Tri-color 22W LED
70W power
ABS acrylic blades
This Acorn 32" LED small ceiling fan is made of high-quality ABS acrylic blades that look amazing in all 3 colours (black, coffee, and white).
This small ceiling fan will surely fit your needs as you can easily adjust light colours, fan speed, and even set a timer with an easy-to-use remote controller.
5. Aeroair AA-120 DC Ceiling Fan
Price: $319
Product details
3 blades
6 speeds + reverse
20W 3 colour LED light
1-year warranty
This Aeroair AA-120 ceiling fan comes in 42'' and 52'' sizes, with a choice of black or white. All colour and size options feature a 20W LED light with 3 colours.
It's also designed with a powerful 48W brushless DC motor, along with a well-engineered and angled 3 blades to provide more airflow without making too much noise.
It comes with an easy-to-use remote control that allows you to choose from 6 speeds, reverse mode, or switch to different light colours at any time of the day.
6. Alaska 38″/50″ Opal DC Ceiling Fan With Remote & Light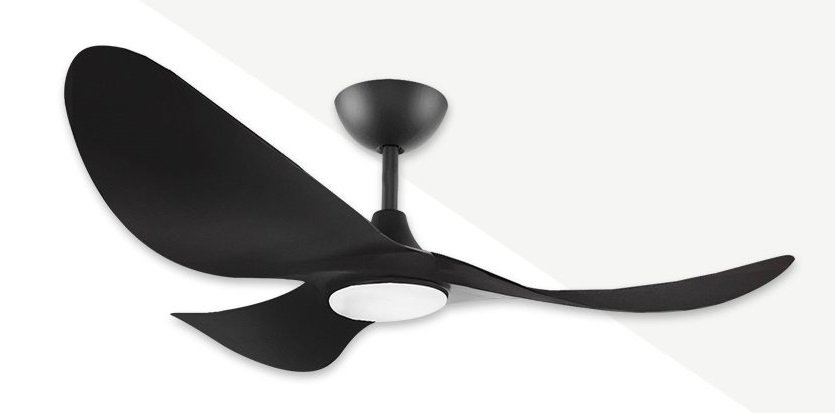 Price: $359
Product details
35W power
3-colour 18W LED light
Safety wire
2-year part /10-year motor warranty
This Alaska Opal ceiling fan comes in beautifully designed black or white blades. Inspired by the elegance and sophistication of pearls, this fan can be an excellent complement to your home decor.
The aluminium composite material is light, sturdy, and lasts a long time. The fan comes with a 2-year part and 10-year motor warranty, so you can be assured that you're getting your money's worth.
Overall, this small ceiling fan with light combines great functionality, safety, and beauty. If you're looking for a good-value small ceiling fan in Singapore, you might want to put this on your list.
7. Elmark Aircraft A8 18" Ceiling Wall Fan
Price: $385
Product details
3 speeds
Small 18" size
Can be mounted on ceiling or wall
3 adjustable angles
110 degrees oscillating function
Elmark Aircraft A8 is a small and versatile ceiling fan. The fan can be mounted on a wall or the ceiling, depending on your preference. Its 110-degree oscillation allows you to control how you want the air to flow in the room.
This beautiful ceiling fan also comes with acrylic or wooden blades. However ,its versatility, beautiful design, and multiple functions do come at a higher price.
The product comes with a 1-year warranty, so you don't have to worry about spending unnecessary money to fix it should it break down.
This Elmark Aircraft A8 fan is one of the top picks to consider if you have a higher budget.
8. KAZE 40/46/52″ Trio 3 Blades DC Ceiling Fan
Price: $399
Product details
3 blades
6 speeds + reverse
Breeze mode
38W max power
1-year part / 10-year motor warranty
The Kaze energy-saving motor technology can save up to 70% energy compared to traditional alternating current (AC) motors. This fan comes in a minimalistic design with colour options of black, white, and silver, making it a suitable piece for any home interior.
Its 3-piece acrylic blades are sturdy, light, and silent when in use, perfect for those looking for a quieter environment. With 3 sizes (40'', 46'', 52''), this ceiling fan has 6 speeds, reverse, and a breeze mode.
9. CRESTAR Airis 42 Inch DC Motor Ceiling Fan With Bright 22W LED Light
Price: $460
Product details
3 ABS blades
6 speeds + reverse
22W 3 colour LED light
1-year part and 10-year motor warranty
17W power
Crestar fans use the least amount of power compared to most small ceiling fans in the industry. With just 17W max power, they operate quietly and are perfect for dining rooms and bedrooms.
The versatile 3 ABS blades can spin at 6 speeds and can spin under a reverse mode. The 22W powerful LED light comes with 3 colours and dimming capabilities to accommodate different moods throughout the day.
The Crestar Airis small ceiling fan comes in 4 colours (dark/light wood, black, white), which are sure to fit well into any home interior.
10. Spin Quincy 43" Ceiling Fan
Price: $688
Product details
UDDC motor
3 ABS blades
40W max power
If you're looking for a high-end small ceiling fan in Singapore that is really quiet but still powerful, this is a great choice.
Its UDDC motor with state-of-the-art double-layered ABS blades provide maximum airflow with little to no noise.
This minimalist matte-white small ceiling fan is perfect for any modern interior, but comes at a higher price tag.
Best places to buy a small ceiling fan in Singapore
Having started as a furniture retailer in the UK, COURTS was established in Singapore in 1974. Operating more than 14 stores islandwide, COURTS offers a wide range of brands with affordable pricing.
Whether you're looking for a small ceiling fan in Singapore, or kitchen and electronic appliances, COURTS is a good place to shop for your home.
Mega Discount Store is the perfect place to find reputable ceiling fan brands at reasonable prices. They regularly offer promotions and great discounts on their products and have more than 40 different ceiling fans to choose from.
In addition, Mega Discount Store retails various home and kitchen appliances obtained directly from manufacturers, and they offer installation on delivery for a small additional fee.
The owners of SG Appliances have been in the electronic appliances business since 1993. With a vast experience in the industry, they were one of the first ones in Singapore to sell electric household appliances online.
Along with small ceiling fans, SG Appliances have thousands of other appliances that come at low prices along with fast delivery.
Related articles:
Other articles you may want to check out: