Cleaning hard floors can be tiresome for most people, but there are new innovations where mops are designed for greater ease and efficiency. Spray mops are perfect to help you with the cleanliness of your home.
Having a spray mop in Singapore can make your cleaning experience more hassle-free. It has a function in which you can press a button to splash a water solution, so you don't have to take a bucket along with you.
Things to consider when buying a spray mop
1. Budget
When it comes to buying a spray mop, you should always consider how much you should spend to have one. There are several types and features that a spray mop could offer and that leads you to either pay more or less S$20 to S$100 depending on your needs.
Hence, it is very important for you to identify which spray mop feature is useful for you that could fit your budget to avoid any problems in the future.
2. Functionality
Most spray mops are cordless and can also be battery-operated power. Such cordless spray mops are more convenient to use than those that come with a cord, like a steamer or a vacuum.
There are a variety of spray mops that offer big water tanks, so you don't have to refill them from time to time. There are also several spray mops that provide an adjustable handle to make your cleaning easier for areas that are hard to reach.
Furthermore, when it comes to material, you should always choose a spray mop that has a microfiber head or pad to avoid any floor scratches, especially for delicate floors. It's also very absorbent and long-lasting.
3. Type of floor
If you're planning to buy a spray mop that comes with a cleaning liquid function, then make sure that it won't damage your floor. You should always look for a cleaner that is right for your floor type since there are specific ones for vinyl, laminate, hardwood, and granite.
Now that you're ready to find the best spray mops in Singapore, it's time for you to check our top 10 options below.
10 best spray mops in Singapore
1. Kenqo Spray Mop
Price: $19.90
Key highlights
Light Weight
Easy Storage
Ideal for daily maintenance cleaning
If you have a small area at home, Kenqo spray mop is perfect for your daily cleaning maintenance. As it is very lightweight,you can effortlessly carry it to anywhere in your home.
It also comes with a reusable and washable microfiber pad that can cover multiple rooms of approximately 1000sqft. So you won't be able to change your mop pad from time to time when cleaning.
2. Eluxgo SPRAY MOP
Price: $20
Key highlights
Ergonomic design
Suitable for use on windows and doors
Wide mop surface
Eluxgo is one of the spray mops that will make your cleaning effortless. It comes with S6 spray-affixed mop that sprays fine mist to trap dust and mop it away instantly making it effective, quick and easy to use. Its handle is comfortable to hold and ensures you get to enjoy your cleaning experience without thinking of it as a chore.
This spray mop also comes with a wide mop surface which makes it easier and quicker for you to clean. If you're into cleaners that could get the job done on your floor, wall, windows, and doors, this spray mop is a perfect choice!
3. Xiaomi Deerma Spray Mop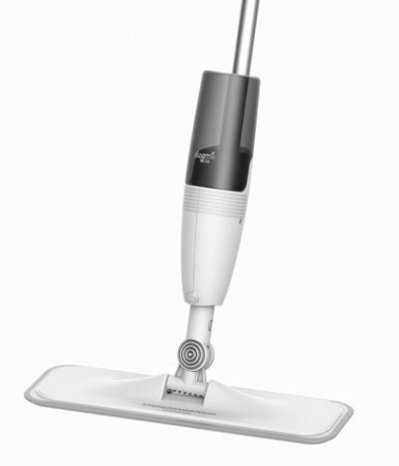 Price: $17.90
Key highlights
350ml water tank
Wide spray range
Carbon Microfiber Mop Cloth
Extended Steel Pole
Non-Slip, Durable, Wear-Resistant
Xiaomi deerma spray mop comes with a 360 degree mop rotation and a 95cm wide spraying range. It is best when cleaning hard to reach areas and surfaces of sofa, bed, chair, and walls.
This spray mop also comes with a carbon microfiber pad with 3 layers of cloth that provides high absorption and eliminates dirt, oil stain and pigments. It is also durable, wear-resistant, and non-slip for long-lasting use.
In terms of cleaning performance, Xiaomi deerma spray mop in Singapore is exceptional and should definitely be on top of your list!
4. RC-Global 2020 Easy Magic Spray Mop
Price: $18.90
Key highlights
Safe to use on all floor types
Eco designed handle easy to use & hold
Fine mist water sprayer
Refillable water bottle
Able to add different liquid into the spray water
A combination of a sprayer and an efficient microfiber pad, the RC Global spray mop is exceptionally great in giving you spotless clean floors. Whether it's dirt or any other stubborn stains, this cleaner will swiftly get rid of it.
One feature to love about this spray mop is that it gives you the capability to add either disinfectant, perfume, or essential oils. So, if you would want your home to smell fresh and clean, you can definitely add whatever aroma you like.
The mop also comes with a fine mist water sprayer that distributes water evenly. It also provides a comfort grip handle, which lets you use it without experiencing exhaustion in your hands.
5. Boomjoy 2020 Upgraded P4 Spray Mop
Price: $29.90
Key highlights
Easy to use
Reusable Mop Pad
Light & Convenient
Micro-Molecular Refined Spout Design
The Boomjoy 2020 spray mop is another product that will not disappoint. It is exceptionally lightweight and features a 360 degree swivel that could remove dirt and corner stains from those hard to reach areas in your home.
It also comes with a foam squeeze mode and thickened handle, helping you to use it comfortably while cleaning. Its microfiber mop pad gives you a unique cleaning solution as it absorbs oil stains, dust, dirt, and even hair.
If you're looking for a spray mop in Singapore with upgraded features yet very budget-friendly, consider Boomjoy as your top option.
6. Roman Easy Floor Cleaning Microfiber Cloth Flat Spray Mop
Price: $39.90
Key highlights
Flat scratch-free cleaning pad
Lightweight
Simple trigger-spray mechanism
360 degree rotating
With this Roman spray mop, you'll absolutely be pleased with its ability to eliminate stubborn pigment, dirt, or smudge on your floor. It has a 360 degree rotating head feature that allows you to get into hard to reach areas of your home.
This spray mop cleaner also comes with a simple trigger spray mop mechanism that helps you control the cleaning solution spray for long and lasting use. Since the spray mop is lightweight, you can carry it anywhere in your home effortlessly.
This spray mop is designed ergonomically for every household's floor cleaning needs. If you're in search of a spray mop in Singapore that is cheap and has great functionality, consider this product!
7. O-Cedar ProMist MAX Microfiber Rotary Spray Mop
Price: $42
Key highlights
Reusable microfiber pads
Refillable bottle
Dual sided mop head
Use wet or dry
The multifunction O-Cedar spray mop that comes with a dual-sided head, allowing you to clean with ease without the need of changing the mop pads. It's microfiber pad also has a deep cleaning function that removes up to 99% of bacteria from your floor or wall.
This spray mop is also very versatile, allowing you to use a wet or dry function when disinfecting or shining your floor. If you're looking for a better and faster way of cleaning your floor, definitely consider this spray mop!
8. Rubbermaid Reveal Microfiber Spray Mop
Price: $49.90
Key highlights
Safe to use on all floor types
Microfiber cleaning pad
22 oz. refillable bottle
Non-scratch scrubber
This spray mop is designed with practicality for all your floor cleaning needs. It comes with a manual operation where you can use it whenever you want without the hassle of replacing a dead battery. This spray mop features a reusable and washable microfiber pad to help you save money. It also gives you great cleaning ability that could eliminate at least 50% of bacteria on your floor.
Moreover, this spray mop is very safe to use for those households with hardwood, laminate, vinyl, and tile flooring. If you're searching for a budget-friendly yet very efficient and functional spray mop in Singapore, this is a great buy!
9. Libman CO Freedom Wide Spray Mop
Price: $55
Key highlights
Reusable premium microfiber fingers pad
Powerful precompression spray mechanism
Mop neck swivels 360 degree
The Libman spray mop gives you the most convenient and user-friendly design that comes with a hanger feature for easy storage. You can comfortably maintain your floor's cleanliness with its microfiber pad's effective dirt, stain, and pet hair removal without damaging your floors.
When you're having trouble reaching the surfaces under your bed or sofa, then this spray mop could be a perfect solution for you. It has a 360 degree neck swivel for you to clean those hard to reach surfaces and corners.
10. BONA Wood Spray Mop
Price: $76.30
Key highlights
Ergonomic design
Refillable cartridge
Rotating head
Reusable microfiber pad
This spray mop has an ergonomic design, making it very comfortable to use for your cleaning. It comes with a rotating head feature that can be easily used on hard to reach surfaces adding you more convenience.
What's more, a wood cleaner solution is included in the package. This formulation is specifically formulated to give you a more effective way to remove the toughest grime and dirt on your wood or laminate flooring. So, forget filling up a bucket and adding concentrate – just spray and clean!
Best places to buy a spray mop in Singapore
Horme is one of the leading home improvement suppliers in Singapore. They offer a wide range of kitchen and bathroom accessories as well as cleaning products—including spray mops. If you're into DIY or simply need to find hardware supplies for your home, Horme is a great store to shop at.
KENQO started in 2003 with a variety of innovative products. You can shop for all kinds of products where you can choose from categories such as wellbeing, beauty, lifestyle, and fitness. They also offer household products including spray mops. KENQO is a great store where you can shop for products with great quality and value.
The Home Shoppe is a one-stop store to shop for all kinds of home-related products. They offer a variety of products including plastic storage, homeware, outdoor waterproof cabinets and furniture. It is a great store to shop for a spray mop where you can choose innovative designs with great features.
Related articles:
Other articles you may want to check out: