Toasters, like many other kitchen electronic devices, have evolved significantly. There's a wide range of toasters that are available on the market today, from two and four-slice toasters to metal and plastic, as well as long slots. Most of the toasters in Singapore aren't tailored just to toast a plain slice of bread anymore. Aside from toasting bread to a perfect golden brown, it's essential to find a toaster with the perfect features that suit your needs.
To find the ideal toaster in Singapore, we take a look at the best-selling toaster in Singapore's kitchenware and shopping sites. So read on and find out the best toasters in Singapore below!
Types of toasters
Countertop toaster oven
A toaster oven is primarily used to heat-up and toast various foods. It can also cook pizza, broil meat, and roast a whole chicken or pan of vegetables. There are also toaster ovens that have convection that cooks food faster or can defrost food.
Pop-up toasters
When it comes to toasting slices of bread, the colour preferences vary. Pop-up toasters come with different browning controls for you to get the desired colour of toasts you want. It also accommodates any size of bread and makes your cleaning simple as it has a removable crumb tray.
If you're a busy person and needs a quick preparation in the morning, then a pop-up toaster is the best choice. It has a defrosting and reheating function which helps you save time and effort.
Before jumping out to the list of products reviewed, here are a few things to look out for before buying a toaster in Singapore.
Factors to consider when buying a toaster
1. Cost
A regular toaster is an excellent choice if you're on a tight budget. But if you would like to get a toaster oven instead of having a regular one, then you'll have to spend more cash. However, there are also high-end toasters that have the same quality as toaster ovens.
If you're searching for excellent toaster ovens or just want something simple and affordable regular toasters, then you should thoroughly consider your options before making any decision. Always keep in mind to not spend more on high-end toaster oven brands to benefit the perks of one.
2. Ease of use
Toasters are easier to use as long as you set the browning control setting right. All you have to do is place the bread slices into the toaster slots, and turn it on by pushing the lever down.
However, it's a different matter when it comes to toaster ovens. For those ovens with analogue dials, it will be hard for you to get the correct setting since the appliance lacks precision. You may also need to turn your bread upside down continuously to get an even colour on both sides.
3. Size
Your toaster must fit your kitchen's counter space, or you will have a hard time using it. If you have enough counter space in your kitchen area, then having a regular size of a toaster is just right for you. However, if you're really out of counter space, then try to look for a smaller size of toasters or ovens to fit your space.
Furthermore, if space is your prime consideration, you need to ensure and check both exterior and interior measurements before you purchase.
11 best toasters in Singapore
1. PowerPac 2 Slice Pop-up Bread Toaster
Price: $24.50
Product details
Cancel, reheat & defrost function
Adjustable browning
Easy to clean
Toast 1-2pcs of bread at one time
Cool touch body
This toaster in Singapore has great performance at an affordable price compared to the others in our roundup. It features adjustable browning, toasting, defrosting, reheating, and cancelling function, so you will be able to toast whether dealing with frozen bread or thick slices.
2. Cornell 2 Slice Pop-up Bread Toaster
Price: $24.90
Product details
2-slice cool touch toaster
Automatically pop up
Variable electronic browning control
With additional lifting function for 10mm
Anti-slip design
With dust cover & crumb tray
1 year warranty
For two-slice toasters, nothing beats the consistency and ease of use of this Cornell model. This toaster is good for smaller households that only need to make two pieces of toast at a time. It also includes a lift feature allowing your bread slices to pop out of the toaster, making it easier to get without stinging your fingertips.
Moreover, the surface of the toaster stays cool even after making breakfast for the whole family, so you won't have to wait for it to cool down.
3. Russell Hobbs Mono Toaster
Price: $35
Product details
Adjustable browning control
Bun warming rack
Blue LED buttons
Cancel, reheat and defrost functions
High lift
Removable crumb tray
This Russell Hobbs toaster couldn't be more simple to use with its no-frills style, you'll find it easy to master when you start using it. You can also modify the color of your bread by setting its browning control based on your preference, or reheat and defrost the bread slices as well.
An illuminated on/off blue LED button makes your toasting tasks even easier. Additionally, this toaster comes with a removable crumb tray to discard the bread crumbs without any hassle after toasting.
If you're in a hurry and need a toaster with faster toasting ability that can make several slices in the morning, this bread toaster in Singapore is ideal for you!
4. PHILIPS HD2582 Daily Collection Toaster
Price: $46
Product details
2 large variable slots
8 browning settings
Extra auto shut-off protection
High lift function
Integrated bun rack
Reheat, defrost in one go
Removable crumb tray
PHILIPS HD2582 is a compact toaster that comes with eight settings and two large variable slots. With these features, you can have even toasting results regardless of different bread types.
If you wish to get your toast the way you want it, you can easily adjust the browning setting to your preference. Having this toaster also keeps you safe from electrical danger, as it has extra auto-off protection that protects the product against short circuits.
5. Electrolux ETS1303W 2-Slice Bread Toaster
Price: $59
Product details
Adjustable browning control
Cancel, reheat & defrost function
Easy to clean
Integrated bun warmer
Removable crumb tray
This toaster in Singapore has seven levels of browning control as well as settings for reheating toast, defrosting frozen bread, or keeping the toast warm.
If you love some bread rolls, you can easily crisp your rolls as well as buns and pastries using its roll rack. It's very easy to do, just place the bread on the activated rack and select a browning setting that you prefer. Also, it has a removable crumb tray making it easier for you to clean the toaster.
6. Kenwood Oven Toaster
Price: $59
Product details
Multi-function (toast, bake & grill)
10L capacity
Indicator light
Glass door
Removable crumb
Kenwood oven toaster countertop has a modern kitchen stylish yet simple design. It has a large capacity that can at least toast five pieces of bread at one time. It's also beneficial for those who love to bake their favourite pastries and cakes.
With its dual-dial control design, this oven toaster lets you select power options and set a timer based on your preference. It can also make your grilling and toasting easier.
7. Tefal TT-5500 Toaster
Price: $68.90
Product details
Adjustable heat for 7 different browning levels
Combination of toaster and egg cooker in one
Defrost, reheat, toast, and cancel function
High lift function
Removable crumb
Toast up to 2 toast
Tefal Toast N' Egg toaster transforms breakfast by incorporating a toaster and egg cooker. With this specification, you can perform each function separately or all at once for a 4-minute breakfast. This toaster also has a high lift feature allowing you to raise the bread slightly to check your toasting progress without starting over.
Having this toaster in Singapore with a steamer tray and an egg poaching tray is the best choice for you to have a quick and easy breakfast!
8. Tefal OF500E 9L Equinox Oven Toaster
Price: $79.90
Product details
Adjustable thermostat
Auto-off 30-minute timer
Double layered door
Power indicator light
Quartz heating technology
The Tefal Equinox oven toaster features fast heat-up time and great toasting results with quartz heating technology. This high-performance toaster delivers perfect toasting of bread and reheats your meals quickly.
If you're baking in a small volume or don't want to heat up your kitchen with a regular oven, this is the ideal toaster oven for you.
9. Delonghi Argento Flora Toaster
Price: $110
Product details
Browning controls
Bun warming rack
Extra lift function
Reheat and defrost function
Removable crumb tray
The Delonghi Argento Flora is a beautiful toaster with a chic design that is suitable for all your toasting needs. It has six browning controls that make your bread toast colour match to your browning preference. It also comes with integrated electronic controls for easy reheating and a bun warming rack.
This toaster is easy to use, especially to those with bleary-eyed problems. With its toasting dial buttons for defrosting and reheating functions, you can quickly get to do it on your own!
10. Smeg Toaster 50th Retro Style Aesthetic TSF01SSUS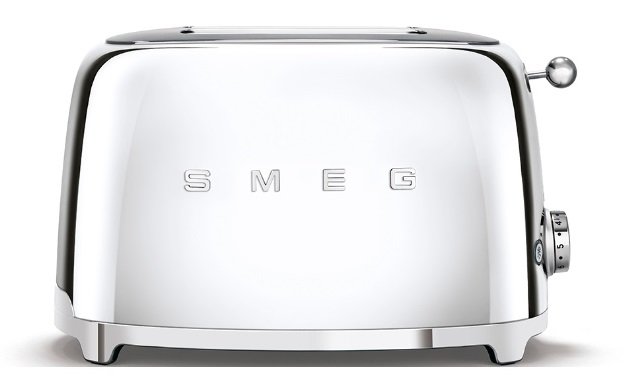 Price: $258
Product details
Automatic slice popup
Anti-slip feet
Built-in cord wrap
Reheat, defrost, bagel, and cancel function
Removable stainless steel crumb tray
This toaster in Singapore has a highly attractive design that fits well in any kitchen compared to other toasters. It also comes with fitted extra-long slots so that you can enjoy toasting all kinds of bread. This toaster also features non-slip feet making it sturdy and stable and a removable crumb tray that makes cleaning fast and easy.
If you need an extra-wide toaster or are looking for something a little more stylish, then consider this new Smeg toaster!
11. BALMUDA The Toaster K01A-KG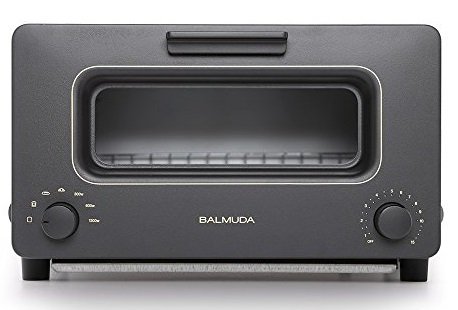 Price: $650
Product details
Control panel: dial type
5 steps temperature control: toast, cheese toast, baguette, croissant mode
Steam function
Timer 1-10, 15 minutes
BALMUDA The Toaster is the best toaster to perfect texture and flavour of your bread toast with its steam technology. It also has a temperature control that lets you choose what mode should you wish to use.
If you're not on a tight budget and want a better (lighter, softer, and tastier) experience, then this toaster should be on top of your list.
Best places to buy a toaster in Singapore
COURTS is a leading retailer in Asia that offers electrical, IT, and furniture products including kitchenware and appliances. Most COURTS products are easily affordable. They're also open for flexible in-house financing for secure payment solutions.
Harvey Norman is a leading household store in Singapore. They carry a vast range of products from the latest home entertainment systems and computing technology to the most innovative and stylish home appliances available.
Mega Discount offers consumer electronics at excellent value and with superb customer service. They carry a wide range of products including gadgets, audiovisual equipment, home and kitchen appliances, as well as accessories. What to love more about this store is that they also provide delivery and installation through its delivery team.
While you're here, you might want to take a look at some of these related articles:
Here are some other articles that you might want to check out as well: