In Singapore, it's easy to shop for toilet seat covers at your nearby hardware supplies store. But beyond just looking for a functional one, it's also essential to find long-lasting one. Having a well-designed toilet seat cover definitely makes a difference!
After all, the bathroom is more than just space where we clean up. We spend some of the most critical times of the day getting ready in the bathroom. Toilet seat covers shouldn't just be functional — they should also go well with the design of your bathroom.
Tips on how to choose an efficient toilet seat cover
One of the most obvious aspects to take note is the size of your toilet seat cover. Different manufactures produce covers that have different dimensions. The last thing you want is to get a toilet seat cover that doesn't match your toilet at all! Besides the overall parameters, you should also take note of the measurements of the hinges and how far apart they are.
Besides dimensions, you should also consider the material used for your toilet seat cover. Usually, toilet seat covers are made of polypropylene or soft plastic. An advantage of using toilet seats made of soft plastic is that it's affordable and lightweight. However, they are also easily damaged and scratched. Sometimes, they even lose their shape if they are not appropriately handled.
An alternative to soft plastic is hard plastic. Hard plastics are generally less prone to damage in comparison. Additionally, hard plastic toilet seat covers are highly resistant to discolouration and easy to clean. You don't need to spend as much time scrubbing your toilet seat cover if you use one made of hard plastic! Some hard plastic toilet seat covers also contain silver particles in its structure which makes it immune to bacteria and fungi growth.
If you want to stylise your bathroom a little further, you can also opt for wooden or resin toilet seat covers. Resin toilet seat covers are sturdy and also come in various designs. You can choose a wide range of decorative designs with resin seat covers.
Wooden covers, while stylish, are not as sturdy. They may also be breeding grounds for bacterial and fungi growth. As such, they might not be the best option for toilet seat covers, primarily due to Singapore's humidity.
Now that we've briefly gone through some benefits and disadvantages of different toilet seat covers, let's take a look at some of the best toilet seat covers you can find in Singapore:
10 best toilet seat covers in Singapore
1. Sani ware Soft Close Toilet Seat Cover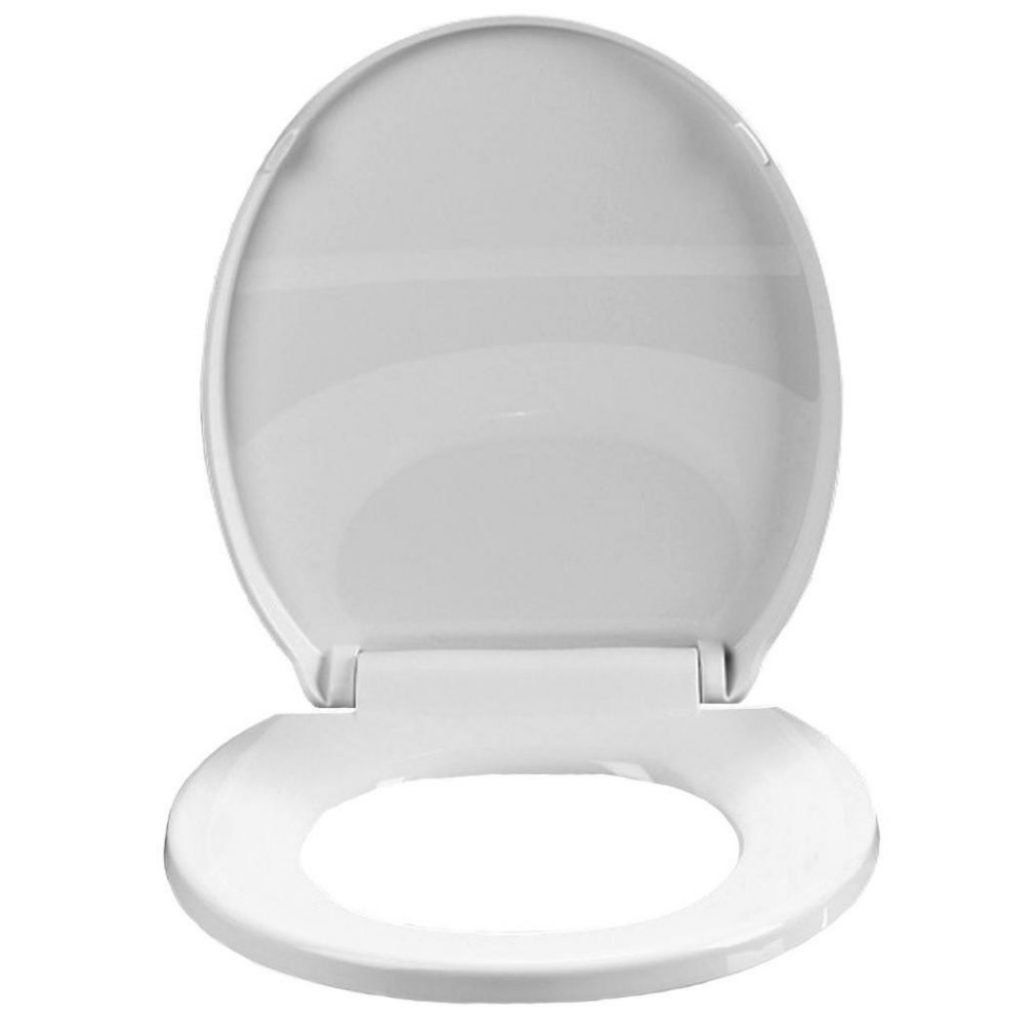 Price: $20
Key highlights
Are you looking for a simple, no-frills toilet seat cover? The Sani toilet seat cover is affordable and designed to be soft closing. With lots of good reviews online, this toilet seat cover is said to be easy to install, and value-for-money. It's easy to get it online too!
2. SG INSTOCK Toilet Seat Cover
Price: $22.90
Key highlights
This toilet seat cover comes in two different models — U shape and V shape. It's designed to be sturdy, durable, and slow close. Its quick-release design also allows for easy cleaning and easy installation. You can get this toilet seat cover online on Lazada.
3. SHOWY BLANC SOFT CLOSE TOILET SEAT & COVER 2935
Price: $35.90
Key highlights
If you're looking for an affordable, functional, yet quality toilet seat cover, this is a model you can consider. The Showy Blanc toilet seat and cover is one that's designed to ensure soft closing so it would prevent slamming and wear and tear. This toilet seat is one of the best sellers on Horme.
4. SHOWY ADULT TODDLER DUAL TOILET SEAT COVER C/W MAGNETIC HOLDER 2494AT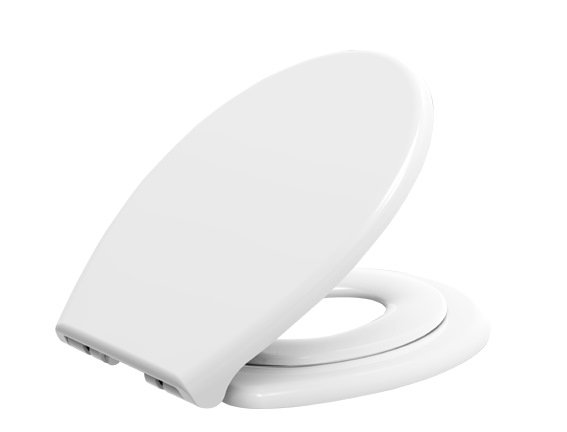 Price: $42.80
Key highlights
Have a toddler at home? Perhaps you can get the Showy Adult Toddler Dual Toilet Seat Cover for your bathroom. It has a magnetic holder which makes switching between the toddler and adult seat easy. If you're looking for a toilet seat that's durable, affordable and children-friendly, you can consider this model.
5. My Toilet Disposable Toilet Seat Cover 50 Sheets/Bathroom/Clean Cover/Natural Pulp/
Price: $45
Key highlights
Disposable seat covers are the most hygienic option. If you're looking for an affordable option for daily use, these disposable seat covers are an excellent option for your bathroom. They'd definitely make cleaning up more hassle-free!
6. Johnson Suisse Heavy Duty Toilet Seat Cover
Price: $48.49
Key highlights
435mm x Width 372mm
Looking for a toilet seat cover that feels more solid and sturdy? The Johnson Suisse Heavy Duty Toilet Seat Cover could be an option to consider. Its made of non-recyclable plastic and designed to be best paired with Johnson Suisse toilet bowls. If you already have a toilet bowl from the same brand, pair it with this toilet seat cover to get a perfect fit.
7. Baron Original Toilet Seat Cover/ W888 W303 Soft closing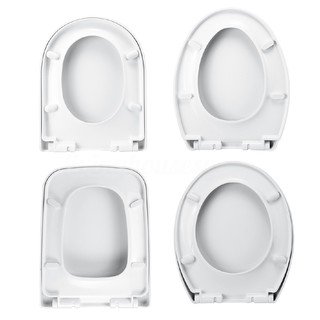 Price: $85
Key highlights
Product best paired with Baron toilet bowls.
Baron seat covers are designed to be paired with Baron toilet bowls for a perfect fit. If you happen to have a Baron toilet bowl, it will make sense to get a baron toilet seat cover as well. There are five different models to choose from, depending on the shape and size of your current Baron toilet bowl. All five models are durable and designed to be soft closing to prevent wear and tear.
8. Bacera B6076-UF-Toilet-Seat-Cover
Price: $80.25
Key highlights
Looking for a toilet seat that's long-lasting and resistant to scratches and discolouration? Perhaps this Bacera toilet seat cover is what you're looking for. Manufacturers of Bacera toilet seat covers take testing seriously as all models undergo life testing and are put through high and low temperatures to ensure durability. The product is also designed for easy maintenance and installation.
9. Duravit 0066300000 Darling Toilet Seat and Cover
Price: $250.90
Key highlights
Imported from the US, the Duravit Darling Toilet Seat and Cover is designed to be extremely durable. It's stainless steel hinges, sturdy material, and sleek design come together to ensure consumers get to enjoy a quality, long-lasting product.
10. TOTO TC513A Soft Close Seat & Cover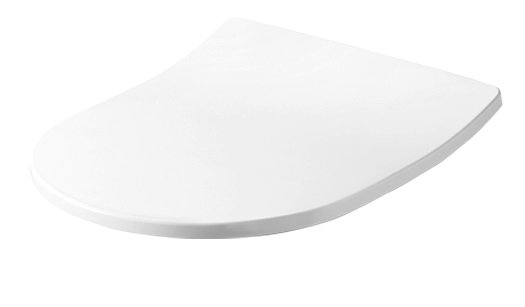 Key highlights
The TOTO TC513A features a stylish D shape design with a soft closing seat and cover making it quiet and soundproof when closing. It's made with urea resin plastic that is solid, durable, and can last longer compared to other brands.
If you opt to buy a toilet seat cover from a trusted brand with quality and stylish design, consider this as an option.
Best places to buy a toilet seat cover in Singapore
Sure, you can easily find toilet seat covers in Singapore, but if you're looking for something durable and long-lasting, you should shop at stores that carry quality products. Here are some of the best places where you can buy toilet seat covers in Singapore.
At Horme, you'll find a wide range of hardware tools and supplies. Toilet seat covers are just one of the many products you'll find there. If you're into DIY or simply need to find hardware supplies for your home, Horme is a great store to shop at.
From kitchen appliances to bathroom essentials, you'll find a range of goods on Bacera. Toilet seat covers featured here come in all shapes and sizes. They even give you handy measurement guides on the website so you can easily refer to it for installation.
Homefix is the one-stop store to shop for all kinds of home-related products. On the website, you'll get to browse the living room, bedroom, kitchen and bathroom related products. You can also shop by brand if you have a particular preference in mind! If you're looking for a store that supplies all your household needs, Homefix is a great option to shop at.
Since toilet bowls come in varying shapes and sizes, it's vital to get a toilet seat cover that goes well with it. In general, it's better to pair it with a same-brand toilet seat cover. However, if you don't have that choice, you can still find one that suits your bathroom.
If you're ever in doubt about how installation works, it will make sense to get a professional to install it for you! Toilet seat covers are essential items, and we use them daily, so don't overlook the importance of getting one that suits your needs.
While you're here, you might want to take a look at some of these related articles:
Here are some other articles that you might want to check out as well: