In the beginning was the Word
Tote.
To tote simply means "to carry". And toting meant to carry your stuff in a bag or sack. As the bag evolved, so did the word – tote went from a verb to a noun.
The makeover of the canvas bags
In the 1940s, tote bags were made of large, sturdy, and durable canvas, and weren't exactly the sleek models that you see today. L.L. Bean, the company who developed the modern tote bag, intended for these bags to carry ice from your car to the freezers. You didn't exactly need style or fashion for a daily chore like that.
It didn't take long for people to realise that a bag this big could be used to carry other things. By the 1950s, housewives were sauntering to supermarkets with tote bags on their shoulders, complimenting themselves on their genius. In 1960, L.L. Bean took advantage of this to sell tote bags with a more feminine design.
In 1962, American designer Bonnie Cashin decided to put her own spin on the tote bag, and created… something. It's known as the Cashin Carry Bag, and you can Google it to find out more, because I've already hit my daily quota of 'wtf is this'. The best thing I can say about it is that it definitely has personality.
The advent of the It bag came in the 1980s. A popular book store in New York City, The Strand, picked up the trend and started to create their own tote bags. They look the same as the tote bags we see today – two straps, printed designs, a single colour – nothing too over the top.
From study dates to client meetings, there's a tote for anyone, in any style, for any occasion. They are one of the most versatile fashion accessories that you can own; if you're going to buy groceries, a standard cloth tote will get the job done. Fancy dinner at a nice hotel? No problem, just look for a leather tote and you're set for the night.
Some of these totes are knock-offs, like the cheap cloth ones you find in night markets overseas. These totes will cost you about the same price as a large mango. On the other hand, totes from Balenciaga can sell for up to thousands of dollars. If you cared purely about functionality, it might be better to get a handful of cheap tote bags, then replace them as they wear out.
The tote bag can carry many things, and as such, it has slowly carried our conversation over to a rich girl in her rich girl house, dreaming of rich girl things.
Tote bags vs satchel bags vs shoulder bags
It's every girl's dream to live like a princess, and Tiffany? Tiffany has it all. A massive 'Live, Laugh, Love' decal plastered over her bed is marred only by a massive dreamcatcher. Its feathers haven't been cleaned in months.
Birds chirp by the window, lending their melodies to an otherwise silent room. The massive queen-sized bed is draped with an overhang of white lace, with bright yellow flowers twined around the frames.
Opposite it lies a walk-in closet that could have passed for a small BTO bedroom – except this dream is taking place in Asian wonderland, where BTOs don't exist. They only exist in Singapore, and in Singapore, having dreams are frowned upon by the government.
Many distinct styles can be found in the closet; one could almost be forgiven for thinking that the space was shared between two girls. In reality, it's just a rich, lonely 22-year-old who has done too much shopping on her own. Even in her dreams, Tiffany doesn't get a break.
Tiffany has a high school reunion dinner to attend that night, but she doesn't know which bag to bring. It's been 45 minutes now, and she has made absolutely zero progress during this time. All she's accomplished was to stand at the doorway, staring into her closet.
She begins to write down the differences between her bags, muttering to herself.
Tote bags
Tote bags have so. Much. Variety. You can literally print anything on them, from your idols to your favourite cartoons – even a dog's face. The cloth ones are so soft and light-weight, I don't even feel them on my arm most of the time. A canvas tote can also be used as a pillow when you fold it, which is great when you're going overseas but don't want to bring a neck cushion.
The leather totes are sturdier than the others, and can fit anything up to the size and weight of a small baby. They also have an open top, although they can sometimes feature buttons, zips, or velcro clasps.
Satchel bags
Satchel bags are designed with a flap over the mouth, and are buckled in place by straps. They're much more secure than totes – but they can be so inconvenient at times. It takes a minute to fish out my wallet, and another to close the bag.
Unfortunately, satchels are a bit too… how do I say it? Masculine. Although there are a few that have a more feminine design, satchel bags just don't mesh with my style. I need to get the attention of EVERYBODY ALL THE TIME. It's a pass from me.
Shoulder bags
Shoulder bags are similar to totes, but they are not identical. The idea of a tote is to be able to tote stuff around. Shoulder bags won't be able to tote anything bigger than a large water bottle. They're basically a big pouch for your big pouch.
Yes, shoulder bags are cute, but I want something to hide all the flowers that I'll be getting. So it's either a satchel or a tote…
Okay, but I already knew that. Now for the next part: what's good about a tote?
She continues talking about totes
Compartments
Unlike harversacks, which have their compartments sewn on their exteriors, interiors, and on the sides, some tote bags hide their compartments inside the bag. Small pockets are hidden inside the tote bag, granting you access to items that you frequently use.
For example, you can store your lipstick or earpiece inside the pocket, and take them out without having to dig through used tissue packets, old receipts, and a ceiling fan with lights.
Totes with compartments are usually carried around by office ladies and university students, thanks to their high functionality.
Closure
There are several variations of closures and clasps that you can find on a tote bag. The most common ones are zips and magnetic snaps, although there are a few anomalies that use velcro straps.
Personally, I don't fancy a tote with any sort of closure. I want to be able to reach in and grab whatever I want without having to waste precious seconds unzipping and zipping it back up. Yes, they might be easy to steal from, but I can just replace all the stuff in my bag with money.
Straps
Many people overlook a tote bag's straps, but they affect an outfit's look more than you might expect. Imagine having a large tote with short straps. The tiny arm hole will make the wearer look like a gorilla trying to fit his arm through a cardboard tissue tube.
On the plus side, some totes offer detachable straps that can be used to provide an extra bit of length to your bag.
Size
Tote bags come in all kinds of sizes. In general, these are the measurements that you can expect to find for a tote bag:
Small
Width: 12 inches
Height: 13 inches
Small totes are perfect for a short day and is ideal for cafe dates or running errands. A small tote is a great fit for your favourite book, a small water bottle, and your wallet. They usually have very simple graphics on the front of the bag as well. If you need a bag like this, Ezbuy sells them dirt-cheap.
Medium
Width: 16 inches
Height: 15 inches
Casual outings call for both fashion and function. Medium tote bags can carry your daily essentials alongside objects such as a laptop or a jacket. It's good for everyday use if you're in school.
Large
Width: 22 inches
Height: 15 inches
Large bags can accommodate several items. They're often used for outings, like a picnic at the beach. They are also extremely convenient for people who are always on the go. Large tote bags can fit a decent range of items, such as a first aid kit, a tiny fire extinguisher, or a foldable camping chair.
Extra large
Width: 20.3 inches
Height: 27.5 inches
One instance of an extra-large tote bas is Jill Sander's canvas-sized tote bag, which is made from a blend of linen and cotton. This accessory was created with bold, thick, leather handles, and costs a whopping US$598.
There aren't very many examples of extra large tote bags, and for good reason. A certain degree of functionality still has to exist in the world of fashion. Imagine a bag almost half your size, and having to stretch all the way to the bottom of the bag just to retrieve a small item.
On the plus side, this huge tote bag can be used to hold almost anything. You can use it to store your peg leg, a small dog, six 1.5l water bottles, or the upper torso of your cheating ex-boyfriend.
As Tiffany's mind clouds with rage over the memory of her ex spooning an antelope, the bags in her wardrobe begin to shift in anticipation. The movement was not missed by Tiffany, who recoiled in surprise.
"Are you okay, madame? Would you like me to escort you to the infirmary?"
"Shut up, you plastic bag. I'll be the one to take her."
As the bags fought over who the one to accompany Tiffany should be, her shock quickly gave way to arrogance. Who else in the world owned living bags?
"I'm going out tonight," she declared. "But I can't decide which one of you I should bring. Sell yourselves to me."
The totes in her wardrobe began to shout over one another, and the rubbing of material was incredibly uncomfortable to Tiffany. When she couldn't bear it any longer, she lifted a hand, and the bags fell silent. She felt empowered. Never before had she held so much power.
"You," she said, pointing to a cute, flowery bag. "What's so great about you?"
The Bags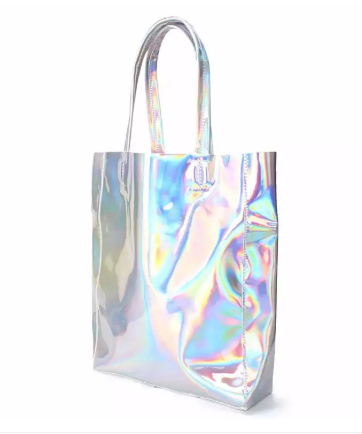 Price: $11.90
Colours available: Silver
Material: PU Leather
Size: 31cm x 10cm x 37cm
"My holographic body will bedazzle everyone the instant you walk into the room. All eyes will be on us, speckling the room with strobes of rainbow coloured lights.
PU Leather is also a way stronger material than canvas. You're not going to find any holes in me anytime soon; I'm elastic enough to spring back after holding heavy objects, yet soft enough to wash. But you don't have to worry about a thing – PU Leather is resistant to dust.
Where can you bring me, I hear you ask? To be honest, I'm not that fond of stiff environments; I'm a very playful kind of bag. So you can bring me out to casual places, like for movie dates, dinners – certainly not anywhere that you want to be seen as professional.
Actually, I – Tiff? Where are you going? Don't leave me behind!"
Price: $13.90
Colours available:

Red, Black, Blue, Grey, Orange, Pink, Purple, Light blue

Material: Canvas
Size: 25cm x 15cm x 25cm
"Oh, h-hey, Tiffany. I didn't think you'd want to consider me, especially after all that Holographic Bag said about canvas. It's true that canvas bags aren't as durable as PU Leather, but that depends on the type of canvas too, you know?
I'm more durable than the first flowery tote, and I'm relatively water-resistant as well. That means that you don't have to worry about me getting wet if you took me to the beach. If you like, you can also clip a sling to my body, so that you can wear me as a cross-body bag. It'll help you carry bulkier stuff, I think.
I-I know that tote bags are supposed to be catered towards convenience, but… I have a clasp that you can use to secure the opening of your bag. There are a few benefits to this, though; I won't slip off your shoulder all the time, and people won't be able to pull the contents out of my body as easily. Have you ever grabbed the wrong end of a tote bag by accident, and everything spilled out? That's not likely to happen here.
At $13.90, I'm not exactly the most prestigious bag out there, but I'd still love to accompany you to the reunion. It'd be great if you wanted to bring me too, but ultimately… it's up to you, Tiffany."
Tiffany reaches out for the tote, seemingly having decided. Before her hand makes contact with the canvas strap, another voice sounds out.
"You're better than $13.90, Tiffany. Come over here."
Price: $80.00
Colours available:
Material: Nylon
Size: 31cm x 19cm x 30cm
"Sit down, Tiff."
Tiffany lays her eyes upon what looks like the standard for what a tote bag should be. Transfixed, and hooked on to its every word, the young girl sits cross legged on the floor, looking up at the solid tote bag.
"Do you know what the most common material for a tote bag is? It's nylon. Not PU Leather, canvas, or cotton. Nylon. And there's a good reason for that, too: I'm durable, easy to clean, and even lighter than canvas.
Better yet, because of my durable nature, I can work in tandem with many different materials without tearing. Look at my leather handle and clasp; I'm perfect for the classy lady who wants to look professional. Yes, I might be a bit pricier compared to the other bags, but nobody can fault you for buying a bag befitting your value.
So pick me up, and let's go. The cab is almost here."
"Wait."
Tiffany faltered as the bag twitched in annoyance, irritated that it had to be foiled so close to its goal. The voice in Tiffany's head spoke once more: she recognised this voice! It appeared that the God of Tote Bags had saw fit to grace her with its advice.
"Consider all your options before making a decision, young Tiffany. There's still a final tote that has yet to introduce itself."
Price: $3,154.00
Colours available:
Material: Leather
Size: 24cm x 14cm x 20cm
"While some may argue that I am a handbag, the drop on my handle happens to be 9cm high – which means I can be carried around your shoulder the same way as a tote. It might be a slightly tighter fit, but a classy lady has to put up with a little bit of inconvenience every now and then.
I'm made of leather, which breathes and grows along with you. No two pieces of leather are exactly the same, which gives me a signature design that's specific to you alone.
But the instant you bring me into that hall is the instant that your life changes. No longer will people remember you as Tiffany Woolsworth, you will be given a title like Crown Princess Tiffany, or Wallet Slayer.
Why Wallet Slayer? My dear, I cost $3,154."
The shock of the price jolted Tiffany awake, and she banged her head on the low ceiling of her bunk bed. Wincing in pain, the girl checked her phone for any information.
It was 3a.m. in the morning. The year was 2019, and she had to go to work the next day. The reunion dinner was six weeks ago – Tiffany ended up skipping it because she didn't have anyone to go with.
She sighs, and fondles her pillowcase, which took the form of a small canvas tote bag. It did a good job of soaking up her tears over the months, and would continue to do so for months more to come. Tiffany smiles, seeing that she still had four hours to sleep, and closes her eyes once more, hoping that this time, she'd dream of office chairs in Singapore.