Is your vacuum cleaner faulty? Or maybe you're looking for a newer vacuum cleaner to help you clean up your home more efficiently? Nowadays, there are all sorts of vacuum cleaners in Singapore. How do you know what suits your cleaning needs? Here, we'll look at some popular vacuum cleaner models and some of the best vacuum cleaners in Singapore.
Types of vacuum cleaners in Singapore
Technology for home appliances have advanced pretty quickly over the years, and vacuum cleaners are one of the appliances that have emerged with many more options to choose from than before. Knowing the types of vacuum cleaners available in the market, and what are the best vacuum cleaners in Singapore can help you narrow down your search.
1. Bagged vacuum cleaners
These are perhaps the most traditional form of vacuum cleaners. In the past, bagged vacuum cleaners were bulky and heavy. These days, bagged vacuum cleaners come in different sizes, some more compact than others.
Bagged vacuum cleaners are generally more affordable. However, in the long run, bagged vacuum cleaners could be more costly because you need to buy replacement bags.
2. Bagless vacuum cleaners
Bagless vacuum cleaners function quite similarly to bagged vacuum cleaners. The main difference is that these vacuum cleaners don't store dust and dirt in a bag.
In the long run, you won't have to spend as much on your vacuum cleaner as you don't need to buy dust bags. However, the downside to these vacuum cleaners is that they need to be periodically cleaned or replaced as they use more filters.
3. Cordless vacuum cleaners
Vacuum cleaners that need to be plugged in are a hassle. It can also make vacuuming troublesome. You'll constantly need to plug in and unplug from the power source.
This is why cordless vacuum cleaners are so popular these days. There's no need to worry about entangled wires and dragging your vacuum cleaner around the house, and you don't have to exert extra effort.
4. Handheld and car vacuum cleaners
These vacuum cleaners are ideal if you want to clean tight spaces and corners.
Handheld and car vacuum cleaners can help you remove dirt where it's difficult for you to reach. Since regular vacuum cleaners are larger, it can be difficult to clean corners thoroughly.
5. Robot vacuum cleaners
Robot vacuum cleaners are perfect for those who have a busy lifestyle. If you want your home to be cleaned up while you're out and about, robot vacuum cleaners can do the trick.
Like other vacuum cleaners, robot vacuum cleaners come in a range of different sizes and features. Some robot vacuum cleaners have longer battery life and better navigating systems than others.
If you're considering getting one, make sure to compare different models to find one that suits your needs.
6. Wet and dry vacuum cleaners
Wet and dry vacuum cleaners can pick up both liquid and dry particles off your floor.
Unlike other vacuum cleaners which require you to have a dry floor, these vacuum cleaners can clean up almost all kinds of dirt. You don't have to worry about accidentally vacuuming over a wet spot and dirtying the floor even more.
That said, these vacuum cleaners tend to be pricier than regular vacuum cleaners. If wet and dry cleaning function is what you're looking for, you'll need to set a higher budget than you usually would for your vacuum cleaner.
12 best vacuum cleaners in Singapore
1. Xiaomi Deerma Wet and Dry Multifunctional Bucket Vacuum Cleaner
Price: $109
Key highlights
6L top dust bucket
Multi-functional dry/wet/wind blowing suction
4-layer filtration system
Looking for a multi-functional wet and dry vacuum cleaner in Singapore? This Xiaomi vacuum cleaner is a great option to consider. Its 4-layer filtration system ensures that your floors are clean and dust particles are picked up.
Since it is a wet and dry vacuum cleaner, you can clean up all kinds of grime off your floors too! The wide range of brushes and nozzles it comes with also ensures that you can clean even the trickiest corners in your home.
2. ELECTROLUX Z1231 BAGLESS VACUUM CLEANER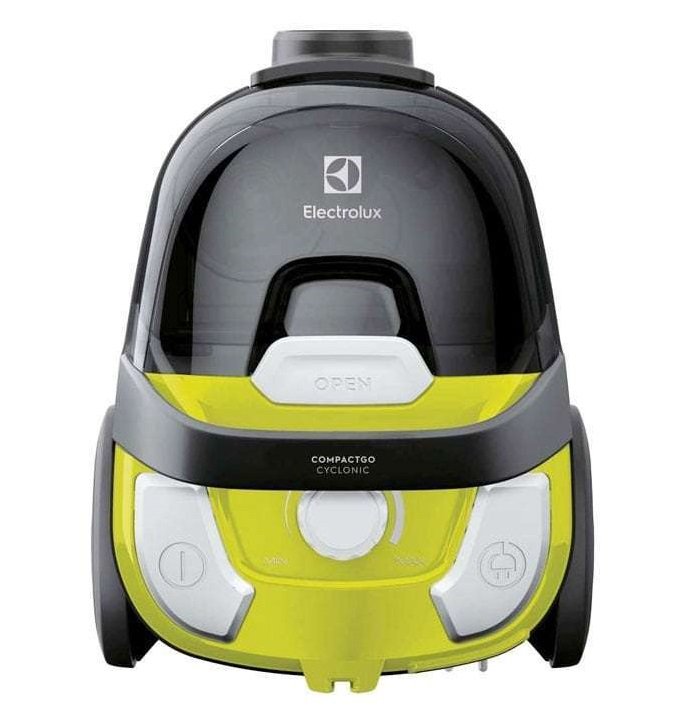 Price: $129
Key highlights
Suction power: 320W
Power consumption: 1600W
If you're thinking of getting a bagless vacuum cleaner in SIngaporethat can clean all kinds of surfaces, this model is a great choice to consider.
Its compact size makes it easy to handle and store. Additionally, it's also designed to clean those nooks and crannies that you can't quite reach, ensuring that all corners of your home are spick and span.
3. Suzuka Robot Vacuum with Water Tank 5-in-1
Price: $198
Key highlights
2200 Mah rechargeable
1200PA ultra-high suction
Wet/Dry mop with a water tank
Looking for a smart robot vacuum cleaner? The Suzuka robot vacuum cleaner could just be what you're looking for. It has real-time position features, a smart water tank, a house plan mode, and single room cleaning mode.
You can connect it to your smartphone to control it remotely even when you're away. Additionally, you can also schedule different cleaning times so that your home is cleaned regularly!
4. Dibea F20 MAX Cordless Vacuum Cleaner Local Set
Price: $209
Key highlights
Rechargeable battery with new patented design handle
3-speed control for effective and thorough cleaning
Bagless design
The Dibea handheld vacuum cleaner might be one of the best handheld vacuum cleaners in Singapore. Its cordless and rechargeable design makes vacuuming easy and convenient! There are 3 different speed modes so you can set it to the best suction power that suits your needs.
Additionally, it also comes with multiple accessories so you can easily change the brush and nozzle to clean up tight corners in your home.
5. TEFAL 2-IN-1 HANDHELD VACUUM

Price: $199
Key highlights
Removable handheld 2-in-1 vacuum
21.6v lithium-ion battery
Runtime: 45 mins
Cyclonic technology to trap dust
Fully charged in 5hrs
2-speed control
Looking for an affordable yet quality vacuum cleaner? This Tefal handheld vacuum cleaner is among the best handheld vacuum cleaners in Singapore, and is a great option to consider.
It has 2-speed control and ensures your floor is thoroughly cleaned with its cyclonic technology. Featuring a streamlined design, it is relatively lightweight, making it easy to handle.
6. Electrolux ZB3414AK Ergorapido PowerPro Cordless Stick Vacuum Cleaner
Price: $209
Key highlights
Emission filter: HEPA E10
Dustbin capacity: 0.5 litres
Battery technology: Li-ion TurboPower HD
What makes this Electrolux cordless vacuum cleaner a competitive choice for the best vacuum cleaners in Singapore is it's easy-to-handle and streamlined design.
It doesn't take up much space and is convenient and easy to use. What's more, it can also pick up both large and very tiny particles. With its soft bristles, you don't have to worry about scratches or damage to your floors.
7.  ECOVACS ROBOTIC VACUUM
Price: $299
Key highlights
An integrated 3-stage cleaning system
Connected to smart devices
This Ecovacs robot vacuum cleaner cleans the grime and dirt off your floor with its 3-stage cleaning system.
It has a side brush, main brush, and vacuum features which picks up all kinds of dust and dirt. On top of that, you can also connect it to smart home devices like the Amazon Echo and control your vacuum cleaner remotely, anywhere you are!

Price: $281
Key highlights
EZClean dustbin and brush
Extreme suction power
This Samsung handheld vacuum promises to be twice as powerful than conventional vacuum cleaners.
It also uses its EZClean dustbin and brush to ensure that cleaning your vacuum cleaner is not much of a hassle. To empty the EZClean Dustbin, you'll just need to pull a lever and tip out the contents.
9. Ohm cyclone vacuum 1018-d
Price: $288
Key highlights
Polycarbonate canister
Stainless steel filter
Easy carry and keep
Runtime: 45 mins
Looking for a handheld vacuum that's high in quality, functional yet affordable? This vacuum cleaner by Ohm is a great model to consider.
It's cordless, easy to handle, and also has an easy-to-clean filter — perfect for those who want a hassle-free vacuum cleaner.
10. Dyson V7 Fluffy HEPA Cordless Vacuum Cleaner
Price: $429
Key highlights
5.11lbs
3.5 hrs charging time
5.9 ft cord length
0.14 gal bin capacity
If you've tried and loved the Dyson V6, you'll love the Dyson V7. This model is an upgrade from the V6 model and has 75% more burn bar power.
It's a cord-free vacuum cleaner, which allows you to easily clean and vacuum your floor without fumbling over the wires!
This vacuum's deep cleaning function is ideal for those who want to clean their carpets or have pets at home.
11. PHILIPS 3-IN-1 CORDLESS VACUUM CLEANER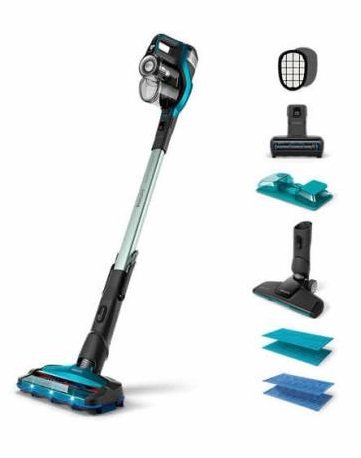 Price: $588.88
Key highlights
Battery type: Lithium-ion
Battery voltage: 25.2 V
Charging time: 5 hrs
Runtime: 75 mins
Looking for the best vacuum cleaner in Singapore that picks up dirt even in the trickiest spots?
This 3-in-1 thoroughly cleans floors and carpets with its 360° suction nozzle, capturing dust and dirt faster from all sides.
It also has a mop system to ensure all kinds of dirt are picked up — an excellent option for those looking for a well-rounded vacuum cleaner.
12. Rainbow vacuum black illuminate
Price: $1,100
Key highlights
360° movement on wheels
Powerful 'hurricane' motor
2-speed control
On-board computer control
Adjustable height power nozzle
Handy power nozzle trigger-control
Stainless steel wands
Water bath filtration
Unlike regular vacuum cleaners, this Rainbow vacuum cleaner is a high-end vacuum cleaner that uses water to clean up the dirt and grime off your floors.
It has a powerful 'hurricane' motor and 2-speed power control to remove all forms of dirt thoroughly. Additionally, its wheels can move 360°, which makes it easy to handle and move around.
Best places to buy a vacuum cleaner in Singapore
Best Denki is one of the best places to get home appliances due to their wide range of brands and models to choose from.
What's more, there are many branches across the island which makes it accessible for most of us living in Singapore. If you prefer Japanese products, Best Denki is a great store to browse.
COURTS is also a popular home appliance store in Singapore. Besides electronic items, they sell homeware and furniture.
So if you're looking for the best vacuum cleaner in Singapore, COURTS might be the place to shop. Products are reasonably priced, and promotions occur pretty regularly. If you're looking for affordable and quality products, you can consider visiting Courts!
Harvey Norman is a great store to visit for all your day-to-day home appliances. Like COURTS, you can find a range of electronic goods and also homeware in their stores.
Prices are also pretty affordable, and you can easily compare products on their website — pretty useful for tech-savvy consumers.
With so many different vacuum cleaners in the market, it can be hard to choose the right vacuum cleaner. Some models are more affordable, while some have more features.
Before you commit to any, make sure you consider what your needs are. Do you have carpets or tiled floors? How about storage space? Is that a concern for you? Knowing what you need can help you nail down the best vacuum cleaner that suits your home!
Related articles:
Other articles you may want to check out: