Doing laundry might just be among most people's list of dreaded household chores, but the right washing machine can make things a lot easier. If you're looking for your first washing machine or are replacing an old one, you've come to the right place. In this article, we look at the top options for the best washing machine in Singapore.
Let's first look at what you should keep in mind when looking for one.
Things to consider when looking for the best washing machine in Singapore
1. Budget
The cost of a washing machine in Singapore can range between $300 and $3,000.
A smaller budget can still get you a simple washing machine that does basic washing. A larger budget will allow you to buy one with various features like Wi-Fi connectivity, and sanitising or steam cycles.
2. Capacity
If you live alone or with a partner, a small washing machine with a capacity of up to 5kg should suffice.
If you have children or a larger household, you might want to get a bigger washing machine with a 7-10kg capacity. This will save you from having to do laundry every day.
3. Configuration
One of the first things you'll need to figure out is whether to get a front or top load washing machine.
Front load washing machine
First introduced in the 90s, front load machines are more gentle with the laundry. They also use less energy and are more environmentally friendly. However, all this comes at a higher cost.
Top load washing machine
The main benefits are ease of use and price. Top load washers don't require bending as much and are better for people with back or knee problems. Additionally, they are cheaper and great for those on a budget.
9 picks for the best washing machine in Singapore
1. SHARP Washing Machine ESX705 7KG
Cheap washing machine in singapore
Price: $299
Product details
Capacity: 7kg
Water efficiency: 2 ticks
Intelligent Waterfall system
If you're on a very tight budget but need a washing machine urgently, the Sharp ESX705 is something to consider. Priced just under $300, this is the cheapest washing machine on our list.
The washing machine has an Intelligent Waterfall system that helps to better dissolve and distribute detergent into clothes. This makes your wash cycle more efficient and guarantees no detergent is left over after every wash.
This simple washer has four cycles: standard, heavy, gentle, and quick wash.
2. Electrolux EWF7525EQWA 7.5kg UltimateCare Front Load Washer
Price: $619
View on Amazon
Product details
Capacity: 7.5kg
Water efficiency: Four ticks
Great for delicate garments
Vapour finish for fewer wrinkles
Usually, European washing machines are a bit more expensive because of their brand name and high quality. However, at under $700, the Electrolux EWF7525EQWA 7.5kg model is an amazing budget pick. It's also large enough for a family of four.
This model has all of the washing programmes that your household needs. It also has four ticks for water efficiency—which is the highest water efficiency rating—so you don't have to worry about a high water bill.
In addition, the washing machine is great with delicate garments, and your clothes will come out less wrinkled.
3. SAMSUNG WW75J42G0KW/SP FRONT LOAD WASHER (7.5KG)
Price: $649
Product details
Capacity: 7.5kg
Water efficiency: Four ticks
Warranty: 11 years
Quiet
Steam cycle
Great for a three to five person household, this Samsung washing machine is quiet, energy-efficient, and protected with an 11-year warranty!
Apart from all the regular washer features, the washing machine has a hygiene steam cycle. This can remove heavily ingrained dirt and up to 99.9% of bacteria.
This machine has the maximum number of ticks for water efficiency, and uses less electricity compared to other washing machines of a similar price.
4. TOSHIBA 10.0KG TOP LOAD WASHING MACHINE AW-DUH1100GS
Price: $749
Product details
Capacity: 10kg
Water efficiency: Three ticks
Direct Drive inverter motor
Sleek look
This beautiful looking Toshiba washer can handle loads of up to 10kg. If you have a large family, this Toshiba top load washing machine is a great pick for you.
Its Direct Drive inverter motor technology allows for reduced noise reduction and vibrations. Despite being a large washing machine, the washing machine still looks sleek and elegant.
5. BEKO FRONT LOAD WASHER 9KG 3 TICKS WMY914831
Price: $725
Product details
Capacity: 9kg
Water efficiency: Three ticks
16 wash cycles
Two-year warranty
This versatile Beko washing machine can accommodate laundry for a household of five to six people. It will handle hard stains, bedding, delicate garments, baby clothes, and even woolens.
Need a quick 15-minute wash, hand wash cycle, or a low-temperature hygiene wash? You can get all that done with this Beko washing machine!
6. PANASONIC NAFS10V7LRQ TOP LOAD WASHER (10KG)
Price: $799
Product details
Capacity: 10kg
Water efficiency: Three ticks
11 wash cycles
ActiveFoam system
This Panasonic product is another great high-capacity top load washer on our list.
If you have young children, Panasonic's ActiveFoam and StainMaster+ systems will come in useful. The high-density foam paired with the washer's powerful scrub wash will eliminate even the nastiest stains.
This large capacity top-load washer is also energy-saving, and uses just 7.5 litres of water per kilogram of laundry.
Apart from being a very green washer, it's also more ergonomic than conventional top loaders. With its lower front height and wider tub opening, loading and unloading your laundry will be much easier.
7. Hitachi SF-140XAV 14kg Top Load Washing Machine
Price: $869
Product details
Capacity: 14kg
Water efficiency: Three ticks
Four-step penetration wash
Simple four-button control
Easy-to-use LED display
Managing a huge household? You might want to consider getting this Hitachi SF-140XAV washing machine, which can handle up to 14kg of laundry.
The simple four-button control and easy-to-use LED display takes seconds to configure your preferred cycle. What's more, a four-step penetration wash system provides extra performance power for your detergent and removes even the hardest stains.
With its huge size, easy-to-use controls, and powerful performance, this product might well be the best washing machine in Singapore for large families.
8. Ariston NATIS RSG 721 EX 7Kg Front Load Washer
Price: $1,099
Product details
Capacity: 7kg
Water efficiency: Three ticks
Woolmark Green Care
Child lock
Baby cycle
This Ariston Natis front load washer has an upgraded brushless inverter motor. It's also capable of making up to 10 different drum motions during the washing cycle to clean different types of stains!
What's more, the Woolmark Green Care certification allows you to wash woolen and other delicate clothes. This programme uses very gentle drum action on slow speed to avoid any damage to delicate laundry.
In addition to the regular cycles, this washing machine has a Baby cycle that will be great for young families. This wash cycle uses more water to dilute detergent and rinses garments thoroughly. This guarantees that your baby's skin doesn't get irritated from any traces of leftover detergent.
9. LG TWINWash F-2721HTWV (21/12kg) Front Load Washer Dryer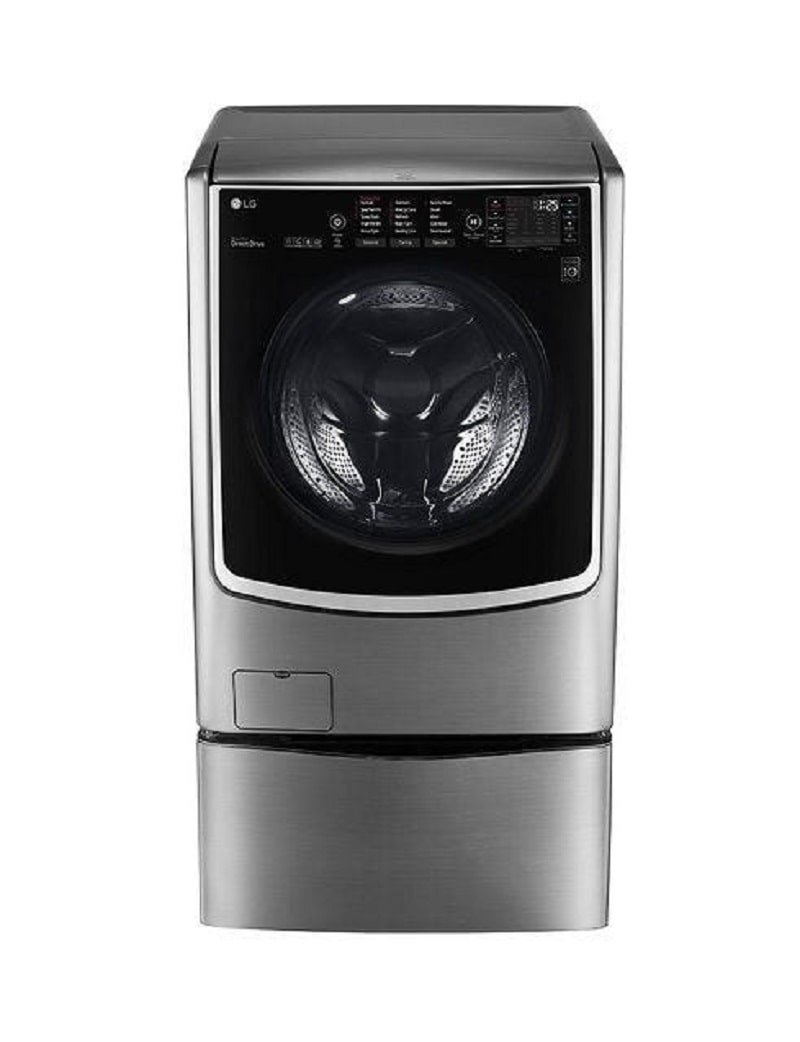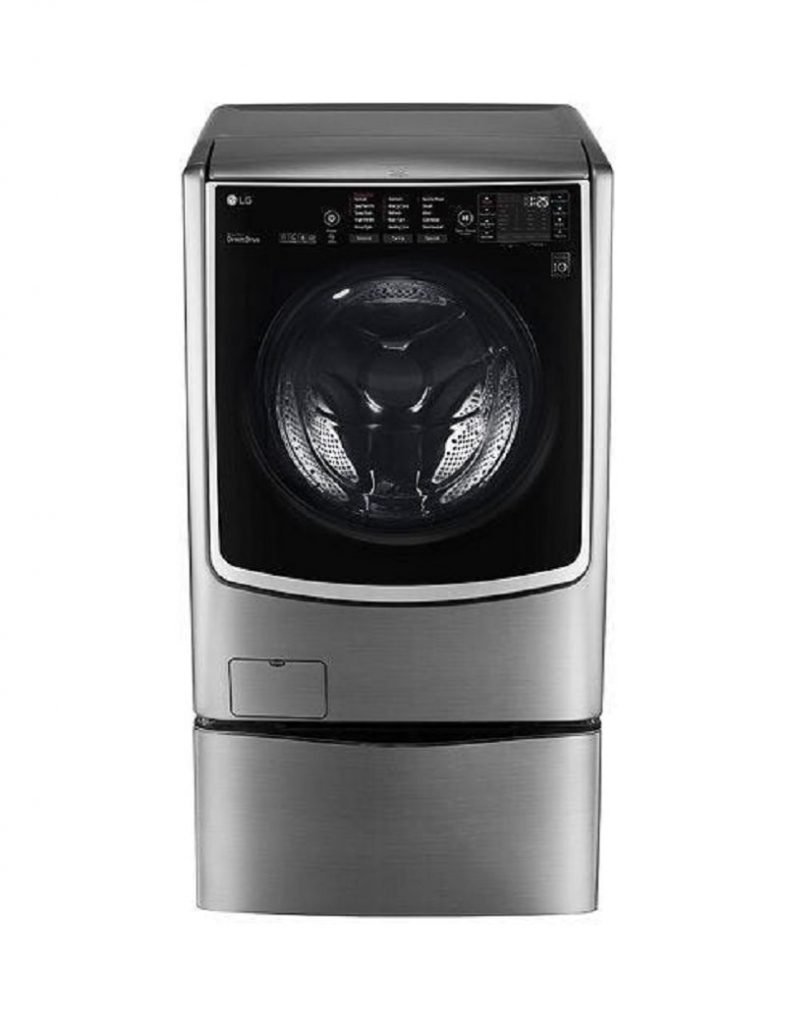 Price: $2,769
Product details
Capacity: 21kg washer and 12kg dryer
Water efficiency: Four ticks
2-in-1 washer dryer
Energy efficient
SmartThinQ technology
Many features
This is probably the king of washing machines. With a 21kg of washing capacity, this device can serve even the largest family. What's more, the washer has a main and a smaller drum so you can wash two loads at the same time!
Since this device is both a washer and a dryer, you can start drying your clothes after every wash cycle without moving them. The SmartThingQ technology also allows you to control everything on your smartphone through Wi-Fi.
With that said, this washing machine does come with a very hefty price tag.
Where else to buy the best washing machine in Singapore
Gain City is a local company that began as an air conditioner retailer. Today, it's one of the largest household appliance retailers in Singapore.
Check out their vast washing machine selection. What's more, you get to support a local business by purchasing from Gain City!
As one of Japan's largest electrical and electronics retailers, Best Denki offers the highest quality appliances from around the world. Today, Best Denki has more than 354 retail stores all over the world.
A well-known place to shop for household appliances, COURTS has about 200 different washing machines to choose from. That means you're bound to find the best washing machine in Singapore for your needs!
Related articles:
Other articles: