We all enjoy a glass or two of wine sometimes. Whether it's with friends or a nightcap on our own, a small glass can help us relax and unwind. The best way to consume wine is when it's chilled just right. But with so many options for a wine chiller in Singapore, it may be a tad difficult to figure out which one is the right one for you.
In this article, we've shortlisted some of the best wine chillers in Singapore to help you make an informed decision. Before we dive into that, let's take a look at some of the things to consider when getting a wine chiller in Singapore.
Things to consider before buying the best wine chiller in Singapore
1. Capacity
This will depend on how much of an avid wine drinker you are. If having a glass every night is your thing, then you may want to consider getting a larger wine chiller.
This is also to ensure your wines are always kept at their optimal chillness for immediate consumption whenever you desire.
2. Dual-zone or single-zone cooling
Dual-zone wine chillers allow you to set different temperatures for each section to cool different types of wine.
If you're looking for something more compact, a single-zone cooling wine chiller will do the trick — but that would mean that all your wines will be cooled at one temperature.
3. Energy efficiency
Before you make a wine chiller purchase, keep in mind that you'll need to keep it running 24 hours a day, seven days a week.
To make sure you don't get a heart attack upon receiving your electricity bill, it's a good idea to take note of some elements to keep costs down. These include thermoelectric cooling, LED lighting, and triple pane glass to keep your wine chiller working optimally.
4. Chiller size
Where you intend to keep your wine chiller is also something you need to consider. While some homes are large enough to have an entire room dedicated to keeping wines, most of us probably don't have that luxury of space.
A small space means a smaller wine chiller. Although you'll still be able to have your wine whenever you want, you may need to plan and chill your bottles ahead of time.
10 best wine chillers in Singapore
If you're wondering which wine chiller you should get, here are 10 best wine chillers in Singapore for you to choose.
1. FARFALLA 12 Bottle Wine Cooler FWC-12TBK
Small wine chiller in Singapore
Price: $123.90
Product details
Thermoelectric system
Single-zone cooling
Controlled humidity
Compact
Lightweight
Lightweight and compact, this wine chiller boasts a thermoelectric system with single-zone cooling. Although it can only hold about 10 to 19 bottles, you can be sure that your bottles are kept optimally chilled with its two-layer glass door.
2. EuropAce 33 Bottles Wine Cooler
Price: $299
Product details
Anti-vibration chrome shelves
LED interior lights
Touch panel control
33-bottle storage space
If a handle that sticks out doesn't appeal to you, this wine chiller with its recessed handle will be perfect for you. Holding up to 33 bottles at a time, its shelves have an anti-vibration feature to make sure your wines retain their original flavours when you decide to consume them.
This EuropAce wine cooler also comes with a five-year compressor warranty.
3. MAYER WINE CHILLER MMWC28MAG-WD
Price: $409
Product details
Single-zone cooling
28-bottle storage
Seamless design
LED light
Three-layer glass door for enhanced UV protection
Touch control
Compressor direct cooling
This wine chiller is perfect for those who seek clean lines in all their furniture. The three-layer glass door protects your wines from harmful UV rays. It's single-zone cooling system lets you adjust the temperature from 4°C – 18°C. And to make it even better, its touch control makes it easy to operate.
4. Tecno TWC133CDN 40 Bottles Wine Chiller
Price: $466
Product details
40-bottle storage
Sleek minimalist design
Double-tinted tempered glass door
Digital temperature control
Quiet, energy-saving compressor
Stylish and quiet with low energy consumption this Tecno wine chiller is perfect for wine drinkers to have their daily nightcap without worrying about their utility bill.
This wine chiller stores up to 40 bottles, and features a classic see-through black tinted door, with wooden shelves and a stainless steel handle. It's the epitome of how a classic wine chiller looks.
5. CHATEAU CW18SNS 18 BOTTLES WINE CELLAR
Price: $529
Product details
Single-zone cooling
Adjustable temperature
UV-insulated triple glass door
Ventilation circulatory system
Reversible door
This compact and stylish wine chiller will fit seamlessly into any room you place it in. It can hold up to 18 bottles at any one time and features a single-zone cooling system.
Through its temperature display feature, you'll be able to see that the temperature is kept constant throughout the day and night. Its insulated triple glass door also maintains the coolness within the chiller for optimal results.
And guess what, it has a reversible door so you can open it from any side. Convenient!
6. Valenti 47bot Wine Chiller With Fan Cooling System VAW47S
Price: $568
Product details
47-bottle capacity
Fan cooling system and frost-free glass door
Touchpad temperature control
LED display temperature range
With the Valenti wine chiller, you don't have to worry about this wine chiller frosting up. It features a frost-free glass door and a fan cooling system to keep the temperature consistent. You can control and adjust the temperature with its touchpad temperature control panel.
Its soft interior lighting also allows you to see and showcase your wines. Its affordability and compact form make it one of the contenders for the best wine chiller in Singapore.
7. Brandt CAV50B/X 50 Bottles Wine Cellar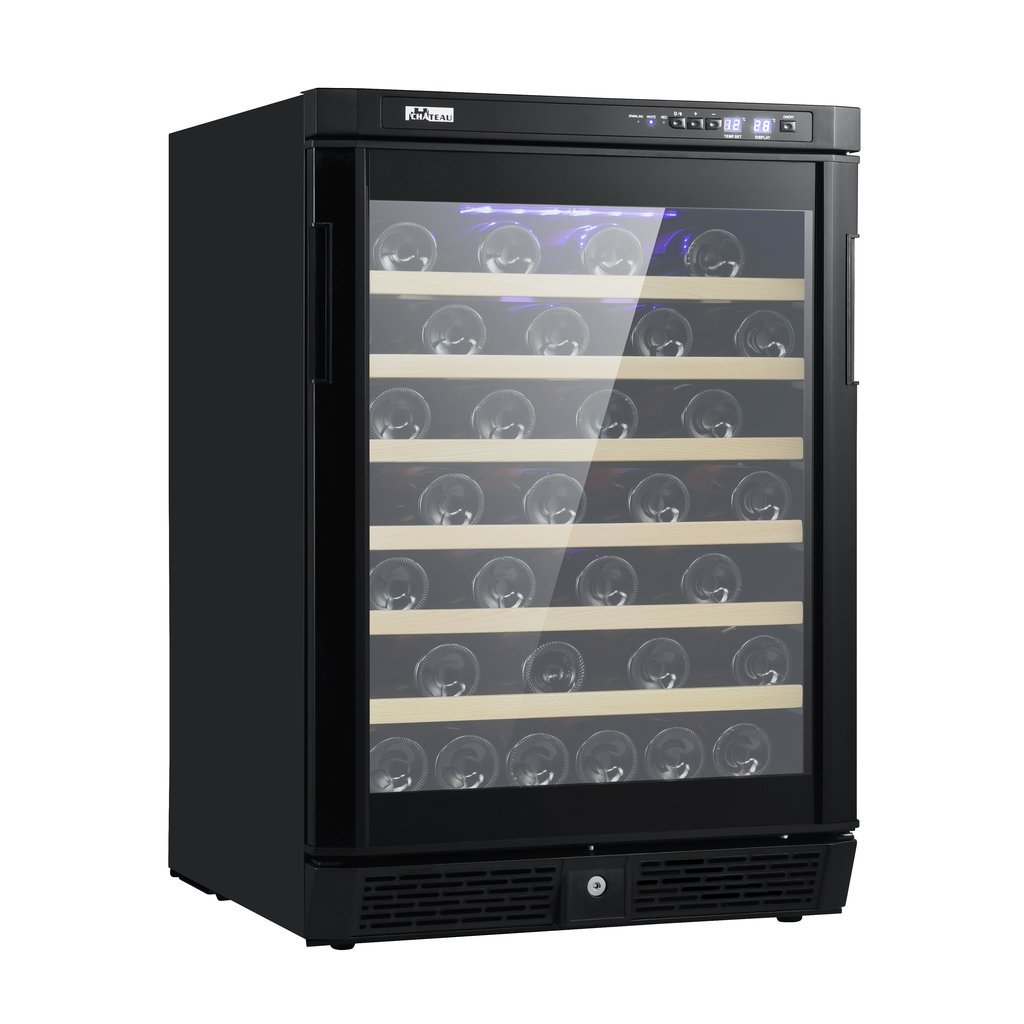 Price: $989 – $1,059
Product details
Adjustable temperature
Large storage capacity
With an adjustable temperature feature and three wooden shelves, there's no need to worry you won't have enough properly-chilled wines for your next party.
This wine chiller may take up more space in your house, but this also means you'll have sufficient space to keep all the wines you love in it.
8. Kadeka KS54TL
Price: $1,488
Product details
Compact
Hold up to 54 bottles at any one time
Charcoal filter for humidity and freshness control
Single-zone cooling
This sleek looking and compact wine chiller may cost quite a bit, but it can hold up to 54 bottles of your favourite wines.
The humidity and freshness of the wines are perfectly controlled with its charcoal filter, promising a dry environment for your wines to thrive in. This wine chiller also features a three-layer anti-UV full glass door in a light blue tint, a stylish addition to your home interior.
9. Liebherr WKb 4611 Barrique Wine Cellar
Price: $2,290
Product details
195-bottle capacity
Single-zone cooling
Equipped with temperature alarm for irregularities
Digital temperature display
Electronic control system
This wine chiller is perfect for those who have space to spare and hundreds of bottles of wine to keep chill at any one time.
Boasting a large capacity of up to 195 bottles of wine, this wine chiller features a black hard line full reversible door design that minimises condensation. It also has an activated charcoal filter to ensure that the interior is fresh and odourless.
In the case of any irregularities within the chiller, the door and temperature alarm will also alert you of it.
10. MIELE WINE CELLAR
Price: $12,800
Product details
Active AirClean filter
FlexiFrame
Single-zone cooling
Optimum wine protection through UV filters
Secure storage of wine bottles with pull-out racks
The most expensive wine chiller in the list, the Miele wine cellar can keep up to 178 bottles at any one time. With its Active AirClean filters, the air within the chiller is kept clean and odourless.
Your wines are protected from harmful UV rays with the chiller's UV filters. Its FlexiFrame also allows you to open the chiller from any side you wish, adding greater convenience when removing wines from the chiller.
Where else to buy the best wine chiller in Singapore
Prefer to be able to see the actual product before buying one? You can check out some of the best wine chillers in Singapore at the following places.
This homegrown furniture and appliance store is renowned for its quality products at affordable prices. Its wine chillers are no different.
Featuring a good range of wine chillers, you can take your pick from compact ones to larger, free-standing chillers.
The great thing about the wine chillers they carry is that not only do there's a wide range of sizes and also prices. This means that you'll most probably be able to select the best wine chiller in Singapore for your needs.
Mega Discount Store is a great place to get appliances for a great price. Wine chillers are no exception.
The number of wine chillers they sell is pretty phenomenal. And the brands they carry are those we associate with producing reputable appliances.
Whether you require something large for your huge wine collection or a small one just for your cooling and drinking pleasure, this place has it all.
You can tell from the name that they know their stuff about some of the best wine chillers in Singapore.
Their website makes it easy for you to navigate and look for the type of wine chiller you want.
Price-wise, you should be able to find a wine chiller that fits your budget and preferences. Do look out for their promotional items as you may be able to snag a great wine chiller for an awesome price.
Related articles:
Other articles: