Bladeless ceiling fans are a recent entrant to the ceiling fan market. These fans typically provide air circulation that's less harsh, while generating less noise and consuming less energy. What's more, they look pretty stylish and aren't very common.
In this article, we look at the top three best bladeless ceiling fan options you can find on the market.
Why buy a bladeless ceiling fan?
If you're not keen on ceiling fans due to the harsh air movements they tend to provide, a bladeless ceiling fan might be right for you. Bladeless ceiling fans typically work by providing vortex airflow. The air moves around the room in a cyclonic pattern, allowing for an even temperature throughout the room.
Additionally, for some models, you can save 30-50% of the energy that a regular ceiling fan would use. This makes them very environmentally friendly.
Furthermore, bladeless ceiling fans are usually very quiet. Trying to put your baby to sleep or need to take a nap? Bladeless ceiling fans generate only 35-45 dB of noise, which is around the noise level of a quiet library.
What to look out for when buying a bladeless ceiling fan
1) Cooling power
While bladeless ceiling fans may provide more even airflow throughout a room compared to traditional ceiling fans, they may not provide as much cooling power.
As such, it's best to have a clear idea of how much cooling power you need and what the different bladeless ceiling fans out there can provide.
2) Energy efficiency
In general, bladeless ceiling fans consume less energy. Unlike normal ceiling fans, bladeless ceiling fans don't have large blades that require more energy to move them. As such, energy consumption is lower.
With that said, energy consumption rates may still vary across different bladeless ceiling fan models in the market.
3) Ceiling height
If you live in an apartment with a very high ceiling, you'll want to get a more powerful bladeless ceiling fan. A higher ceiling means greater air capacity, so the fan will need to be powerful enough to move more air.
If your ceiling is pretty low, you might be able to make do with a bladeless ceiling fan that's cheaper and not as powerful.
3 best bladeless ceiling fans to get 
1. Oceano Bladeless Ceiling Fan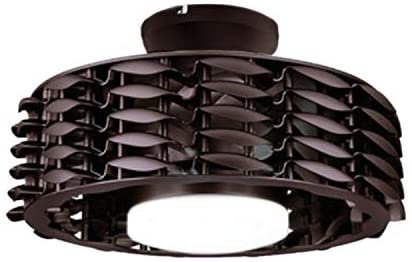 Price: US$398
Product details
Fan + LED light
Six-speed remote control
Three-color dimmable LED light
One-year warranty for replacement parts
DC motor
Choose from six colors

Looking for a bladeless ceiling fan but don't want to spend a lot of money? The Oceano Bladeless ceiling fan might be your best option. For just under US$400, you can have a high-quality bladeless ceiling fan that comes with an LED light!
The remote control allows you to select from six different speeds, as well as one, four, and eight-hour timers.
You'll also be able to save energy and reduce your electricity bill with this bladeless ceiling fan. The fan and LED light combination only uses 50W, compared to a regular ceiling fan with no light fixture that would consume 60-70W.
You get to toggle between warm, white, or neutral for the LED light. Want to set a more cosy or romantic mood? All three colors are dimmable.
That's not all. With the height versatility and different color choices that you get with this fan, it's suitable for any room design. You can choose from six fan colors (white, black, blue, pink, gold, and nickel) and three mounting configurations (flushed to the ceiling, 6" downrod, and 10" downrod). 
This fan is a good choice if you're on a tighter budget, but want a bladeless ceiling fan with decent features and flexible installation.
Pros
Low noise
Flexible mounting configurations
Many colors to choose from
Cons
Who it's suitable for
Buyers looking for a bladeless ceiling with decent features at a relatively affordable price
Buyers looking for a smaller bladeless ceiling fan
2. Exhale Bladeless Ceiling Fan
Price: US$547.99
Product details
Vortex airflow technology
Multi-directional airflow
Power-saving DC motor
Two-color dimmable LED light
Sleek and futuristic design
Six speeds
Five-year warranty
This Exhale fan is an elegant and sleek bladeless ceiling fan for those who appreciate innovation and style in their home products.
Anyone who's keen on sleek and minimalist designs for their home appliances will love this fan. Its clean and futuristic body with no visible screws or bolts will look great in any room.
The 360-degree vortex airflow technology of the fan moves the air at the bottom and distributes it throughout the whole room. This process is known as destratification, where the temperature throughout the room is equalized.
The Exhale bladeless ceiling fan is very quiet, operating at up to 45 dB at the highest speed. Also, because of its innovative power-saving DC motor, you can save up to a third of the energy that you'd consume if you were using a regular ceiling fan.
The fan also comes with a very long warranty. The DC motor is covered with a lifelong warranty, while the fan has a 5-year warranty.
Pros
Vortex technology that equalizes room temperature
Very energy efficient
Low noise
Easy to install
Who it's suitable for
Buyers keen on energy-efficient appliances
Buyers who like aesthetically-pleasing appliances
3. LUMIO Bladeless Ceiling Fan
Price: US$629
Product details
Vortex airflow technology
Fan + beautiful light fixture
Three height selections
Three-color LED light
Six-speed remote control
One-year warranty for any replacement parts

This LUMIO fan is designed to provide airflow that feels like an outdoor breeze. Its vortex airflow technology moves the air in the room very efficiently, and will equalize the temperature in the room in under two minutes. 
A strong DC motor turns the outer casing of the fixture to create a smooth but strong natural airflow at six different speeds. There's also the one, two, four, and eight-hour timer function that you can use.
With this ceiling fan, you can select three installation configurations: flushed to the ceiling, or on a 4" or 8" downrod.
Is your ceiling sloped? Not to worry. The LUMIO ceiling fan is compatible with ceilings that have up to a 23-degree slope.
This sleek-looking LUMIO bladeless ceiling fan also doubles as a light fixture. The dimmable LED light has three color modes: yellow, cold white, and soft white.
You get to choose from three colors with this fan: white, black, or wood. That way, you can ensure that the fan is a right fit for your room's aesthetics.
Pros
Vortex technology that equalizes room temperature
Good color selection for different room designs
Flexible mounting configurations
Cons
Who it's suitable for
Buyers who have a sloping ceiling
Where to buy bladeless ceiling fans
Related articles:
Other articles: