A notification pops up: your friend has just welcomed a new baby!
With only a few days before you meet up, the pressure to find the perfect gift begins. One thing's certain – you want to skip the usual baby clothes, given that everyone else will likely have the same idea.
In this article, we'll guide you to one of the most distinctive baby gift sets & hampers available in Malaysia. Dive in and discover the perfect present!
With so many options, finding suitable baby gift sets & hampers for your friend is difficult.
Blissbies has one mission. They curate meaningful educational baby gift sets in Malaysia to support new parents and provide a good learning journey for their newborns & young babies in Malaysia. Their toys are carefully selected and tested by their babies.
Their Blissbies gift set boxes are delivered in a nice-looking kraft box that may surprise your friend.
The gift box has various toys that may surprise your friend's babies.
Details
Prices: RM129, RM199, RM299
Website: blissbies.com
Hamper Type: Box
Shipping options: Free shipping across Malaysia
Locations
The Journey of Blissbies
Upon the birth of their son, an array of gifts and hampers graced their doorstep – everything from adorable outfits to diapers and plush toys.
However, amidst this sea of presents, one stood out distinctly: a thoughtfully curated box of toys. This particular gift not only captured their hearts but also kept their young one engaged and amused.
A never-ending need for toys.
This gift was a valuable addition to their ever-growing toy repertoire. As new parents, they realized the importance of engaging one-on-one with their child. But, as every parent knows, children's fascination with a toy is fleeting.
Within a few days, a once cherished toy may lose its allure. Their experience underscored the importance of having a diverse range of toys and books. With the strategy of rotating these playthings regularly, they found that by day ten, a once "old" toy could reclaim its novelty, rekindling their child's interest.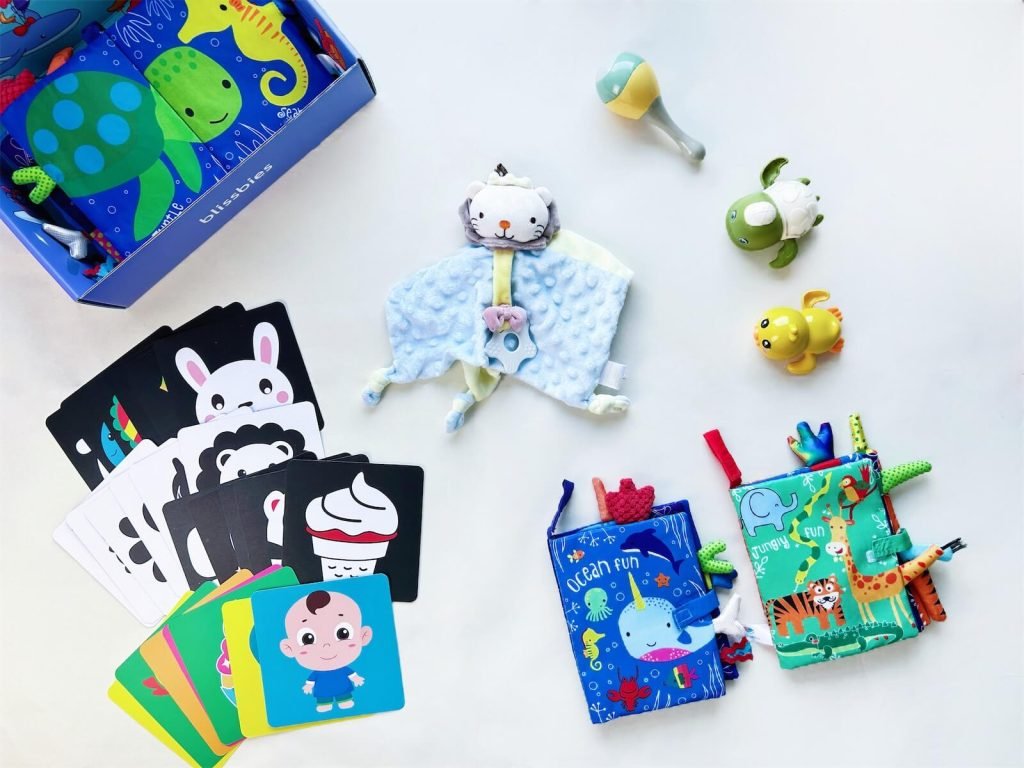 The Blissbies Toy Selection Process
What goes into curating the toys for the Blissbies gift box?
Three core principles guide their selection process:
Endorsement by their Little One
Before any toy makes the cut, it must first gain approval from their son. If he takes a liking to it, it's a good sign.
Safety First
Every toy's safety is paramount. They ensure that everything they include is newborn-friendly, steering clear of items that may pose any risk.
Entertainment Value
Beyond safety and approval, each toy should bring joy and engagement. Only those that promise to provide fun and excitement find a place in the Blissbies box.