Perhaps it was the cabin fever that got you to fish out that baking oven that has been sitting in your kitchen for some time, alongside your handy skills to bake a perfect, warm and sweet banana bread. No need for the doubt – when there's a will, there's a way! Yet while you sift your flour, mash your bananas and turn to preheat your oven, you may wonder, "Will a new baking oven in Singapore make my banana bread taste better?"
The answer is yes! When the process is better, the food tastes better! Here are some of our recommendations for the best baking ovens in Singapore.
Types of baking ovens in Singapore
Wait! Before you grab the wallet, consider the different types of ovens that should cater to your needs best.
1. Convection oven
A convection oven generates and distributes heat using the fan and exhaust system installed inside it. When the cavity heats up, the fan helps blow hot air over and around the food, and the exhaust system vents it back out. This creates a convection current in the air, where heat is constantly circulated.
Because of the working mechanism of the convection oven, this allows food to bake quickly and evenly, while saving energy. It also allows you to bake more within the same time!
2. Electric oven
As the name suggests, an electric oven is powered by electricity. It has a heating element called a resistor that is installed within it. When you switch on the oven, the resistor generates thermal energy. The thermal energy is what creates heat in the oven cavity!
In general, an electric oven can range in sizes, so you can choose a model that is suitable for the space on your kitchen top. It is able to maintain heat evenly, and its insides remain dry throughout the baking process. Depending on the food you are making, the latter can be of benefit to you!
3. Gas oven
A gas oven bakes using a gas-fuelled burner. It requires a steady supply of combustible gas to function, such as syngas, natural gas, propane, butane, liquefied petroleum gas or other flammable gas.
Typically, the main burner is fixed on the bottom of the oven compartment, and radiates very intense heat upwards to bake your sweet (and savoury) treats. An advantage of a gas oven is that it heats up quickly, and you have greater control over the levels of heat. Most gas ovens also have stoves installed above them, so you can get a two-in-one package!
10 best baking ovens in Singapore
1. Cornell CEOE20SL Electric Oven 20L
Price: $51.50
Key highlights:
Wide interior
Range of 100 to 250 degrees celsius in temperature
Dimensions: 45.8 x 28.9 x 33.5cm
With Cornell headquarters running in Singapore, it is a trustworthy brand catered to the local market. This Cornell Electric Oven has a wide interior that is suitable for your long baking pans, its capacity reaching 20L.
Also, it has a stainless steel heating element, which means that it is less prone to rusting when moisture is released or gets into the cavity during the baking process. This is a simple and operative baking oven in Singapore that can be easily placed on your countertop!
2. Mistral 35L Electric Oven MO350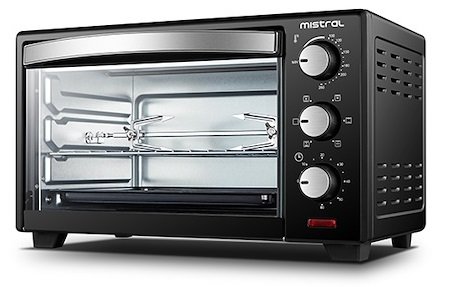 Price: $85
Key highlights:
Triple functions: basic, rotisserie and convection
Range of 100 to 250 degrees celsius temperature switch
Dimensions: 53.5 x 33.8 x 33.3 cm
The Mistral Electric Oven has the capacity of 35L, which equates to roughly 9 slices of toast or a 12-inch pizza. Weighing at only 6.56kg, it is a handy countertop oven that can cater to many of your needs. When you purchase, it also comes with a baking tray, grill rack, crumb tray and tong, which can expand not just your baking skills, but also your cooking abilities!
Priced at only $118, it is a worthy product indeed. On top of the cost, it also has a one-year warranty in Singapore. If you are looking for a baking oven in Singapore that is low-cost, versatile and reliable, this can be an option for you!
3. PowerPac 30L Electric Oven
Price: $89
Key highlights:
4-in-1 oven: cook, grill, toast and bake
Convection system with turbo fan
Stainless steel heating elements
Dimensions: 55.0 x 39.7 x 32.3cm
This PowerPac oven has 4 variations of heat selectors that can maximise efficiency and save energy during the food preparation process. Together with stainless steel heating elements and a tempered glass window with a touch handle, it is a safe oven for your children to use too! With its removable lower tray and smooth interior surfaces, it saves you time on the cleaning process. If you are looking for a flexible baking oven in Singapore that is easy to clean, do check this oven out!
4. Panasonic Steam Oven NU-SC100 (White)
Price: $365
Key highlights:
Quick steam
Hot air convection circulation
Compact size
While sizing up to only 15L, do not underestimate this small yet powerful oven! It is well equipped with the functions you need to make a good and healthy loaf – steam, bake, healthy fry and fermentation.
It is simple and easy to use, with three levels of steam temperature: low, medium and high. It is even programmed with 16 auto menus for you to choose from. The (cooking) world is your oyster!
5. Delonghi Sfornatutto MAXI 32L Electric Oven EO32852 (Silver)
Price: $399
Key highlights:
7 cooking functions: convection, traditional, grill, gratin, defrost, rotisserie, warm
120 minutes timer with auto shut off
Dimensions: 53.0 x 45.0 x 34.0 cm
From the soft and moist interior to the crispy and golden top crust, this 32L Delonghi oven has got you covered. Coupled with a double glass door – a special Delonghi design – it insulates the oven's capacity, ensuring that heat is kept in and cool is kept out.
This makes the oven more efficient, saving electricity and time! With an auto shut off system, it also ensures that you waste minimal energy from start to finish! This baking over in Singapore is worth its price!
6. Tefal Delice Oven ELEC OF2858
Price: $449
Key highlights:
Convection system
Nonstick interior wall
240 minutes timer with automatic shut off
Dimensions: 38.9 x 33.6 x 21.6 cm
While it is priced the highest so far, this oven is definitely worth your investment. It has a 39L capacity, which is great for a layered cake that you may want to bake for an upcoming birthday! With an automatic shutdown system, you do not have to worry about burning anything while you are finishing up the day's work or tending to your hungry children!
Additionally, this oven has 9 automatic programmes and 5 manual programmes for you to explore into, and an adjustable thermostat of up to 240 degrees Celsius. If you are feeling adventurous, get your hands on this baking oven in Singapore now!
7. Tecno 6 Multi-Function Built-in Oven TBO630
Price: $588
Key highlights:
6 functions
Convection system
Auto switch off safety mechanism
Dimensions: 59.4 x 54.3 x 59.4 cm
The Tecno built-in oven has a 56L net capacity, allowing for uniform and quicker heating results. While containing heat is important for you to cook your food, this oven also has a cavity cooling system and an open ventilation system. This means that it is able to cool faster for you to clean up afterwards! Other functions also include a turnspit rotisserie, a fat filter and five shelf positions. If you are looking for a sleek and elegantly designed oven, this is one that you should consider!
8. Electrolux EOB2400AOX 72L Built-In Oven
Price: $653
Key highlights:
Cooking versatility
Convection system
Dimensions: 56.7 x 59.4 x 59.4 cm
This oven allows for baking, grilling and roasting purposes. With a whopping 74L capacity, you are capable of cooking and baking a feast for your family and friends! The convection system allows for uniform temperatures and efficient cooking. With its clean and smooth enamel interior, cleaning is made easy too! This oven offers you many options and diversities to hone your cooking and baking skills.
9. Breville BOV845BSS Smart Oven Pro
Price: $698 
Key highlights:
Convection system
10 pre set cooking functions: toast 6 slices, bagel, bake, roast, broil, pizza, cookies, reheat, warm, slow cook
Dimensions: 47.0 x 36.9 x 28.0 cm
This Breville Oven has a 22L capacity, which can fit a 9 cup muffin tray or a 13-inch pizza. With its flat surfaces and nonstick cavity coating, this can reduce the time needed for you to clean up after baking – which means more time to enjoy your food and share with your peers! WIth its flexibility, this multifunctional oven may just be the one for you!
10. Bosch 66L HBF134BS0K Built-in Stainless Steel Oven
Price: $789
Key highlights:
7 heating modes: hot air grilling, full width variable grill, bottom hear, conventional heat, 3D hot air, gentle hot air, pizza setting
Child-proof lock
Dimensions: 59.5 x 59.4 x 54.8cm
Bosch is one of the most reliable brands for home appliances. Based in Germany, it is a reputable brand for electric appliances ranging from vacuum cleaners, washer and dryers to baking ovens.
With 7 in-built functions, this oven supports you on your cooking and baking ventures! It also has a childproof lock, so those little hands are kept safe. WIth a special enamel grey coating in its interior, almost no cleaning is needed, simply because the rear wall is capable of absorbing grime. This oven will definitely be a handy partner!
Best places to buy a baking oven in Singapore
There are many retail stores islandwide that you can purchase your baking oven. Whether or not it's the price point, convenience or value-for-money, there is still a myriad of options for you in every neighbourhood! Here are our top picks:
1. Best Denki
The Best Denki Co., Ltd. is a Japanese electronics retailer with outlets across Japan, Singapore, Indonesia and Malaysia. With its first opening outside of Japan based in Singapore in 1982, it remains one of the most trustworthy companies for consumers to purchase various electronic goods. This ranges from kitchen and household appliances, laptops, televisions to small appliances such as fridges, washers, dryers and a baking oven. The diversity of appliances is yours to choose from!
2. Courts
Courts Singapore has a total of 14 stores in Singapore and over 14,000 electrical and technological lifestyle products. It has also extended its operations online and included islandwide delivery and click and collect services for consumers to purchase products directly on the website.
3. Harvey Norman
Based in Australia, Harvey Norman is a multinational company, selling household products ranging from bedding and furniture to computers, communications and consumer electrical products. It even has a photo store set up at its largest branch at Millenia Walk. With 12 stores islandwide and a 24/7 online store, it is also widely accessible and convenient for you to buy that fresh new baking oven in Singapore!
4. Parisilk
Parisilk is a Singapore-based company that offers a personalised shopping experience for your needs! It provides you with high-quality customer service, on top of its wide range of products. There are a few branches located around Singapore, and an online store that gives you the luxury of convenience – order from your couch any day and any time. One of its best features is that its customer service is available to you 24 hours a day – so you don't have to fret about not being able to set up your appliances, or about any problem while making your midnight supper. We all have those days.
5. Tangs
While most of us will think of Tangs as a departmental store selling fashion goods, it is also an excellent place for you to purchase your new baking oven. With its origins dating back all the way to 1932 Singapore, it still stands as one of Singapore's best department stores. While you are looking at your fresh baking oven, why not take a while longer to check out the place?
Related articles:
Other articles you may want to check out: