Over the past few months, one hobby that was quickly getting popular in Singapore was baking homemade bread. If you're thinking of making your own bread or looking to upgrade your current bread maker, this article is for you. Here, we feature our picks for the best bread maker in Singapore and discuss a few features you should consider before making your purchase.
What to look for when buying a bread maker in Singapore
1. Size and capacity
Are you baking for a large family and your friends? Or do you only want to make small portions?
Knowing how much bread you intend to make should definitely be part of your considerations when choosing a bread maker.
If you're just starting out, perhaps you should get a smaller bread maker and only switch to a bigger one when you've become more seasoned at bread making!
2. Crust controls
There are various crust controls you can experiment with a bread maker.
Higher-end models tend to have a wider range of controls for you to choose from. If you want to achieve a certain type of crust for your bread, comparing the range of crust controls of different bread makers will help you choose the one that suits your needs.
Additionally, you should also read and compare reviews on different sites to see if the crust controls on the bread-making models are precise.
3. Time-delay feature
Time-delay timers give you that extra time to add ingredients to the pan before the bread is baked. Usually, this feature is used for overnight bakes so you can wake up to the smell and taste of freshly baked bread!
If you want to make use of the time-delay feature, ensure that you're using a bread recipe that pairs well with the time-delay feature. Not all bread recipes are suited for this feature, particularly those that include milk, juice, fresh fruit, eggs, or other items that may spoil easily.
10 best bread makers in Singapore
1. Mayer 750g Bread Maker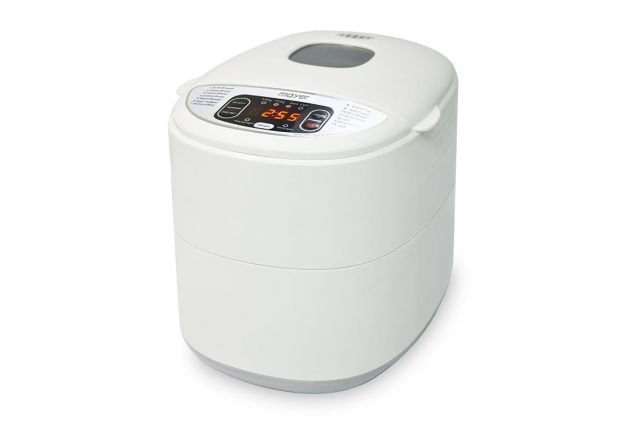 Price: $89
Product details
14 baking functions
Selection of 500g or 750g capacity
Bakes a fresh loaf in just an hour
15-hour Delay-Bake Timer
60-minute Keep Warm function
15-minute Memory function
Light and dark crust colour settings
LCD display
Viewing window
Non-stick baking pan and kneading paddle
Looking for the best bread maker in Singapore that's cheap? This Mayer bread maker offers a wide range of features at a very reasonable price tag. It has 14 baking functions and allows you to bake either 500g or 750g of bread.
Additionally, it has a quick baking function and can bake fresh bread in an hour! Who said baking bread needs to be a long and arduous process?
2. Midea ESC1510 Bread Maker
Price: $109.90
Product details
19 pre-set programmes
Time-delay timer
Capacity: 750g
Voltage: 200-240V
Power: 580W
Product weight: 5.4kg
If you're looking for an entry-level bread maker, this Midea bread maker is a great model to consider.
It has a 750g capacity — a portion that's just enough to share with a family of four to six. Additionally, given its 19 pre-set programmes and time-delay feature, it's relatively affordable for those who are just starting out.
3. Aztech ABM4600 Bread Maker
Price: $109.90
Product details
Bakes up to 1,000g of bread
60-minute Keep Warm function
13-hour time-delay preset
10-minute Memory function
Adjustable crust control function
12 pre-set programmes
Looking for an affordable bread maker that lets you bake bigger bread portions? This Aztech bread maker is perfect for you. It has a capacity that allows you to bake up to 1,000g of bread — which is about 2.2 loaves!
Plus, it has adjustable crust controls and 12 pre-set programmes which you can use to make the perfect bread that you and your family are craving for.
4. Mayer 1kg Bread Maker MMBM4406
Price: $139
Product details
LED display
Non-slip feet
12 baking functions
13-hour preset timer
1-hour ultra fast baking setting
Adjustable crust control feature
60-minute keep warm function
Removable non-stick baking pan and kneading paddle
Can't wait to have a taste of freshly baked bread? You'll love the ultra-fast baking setting that comes with this Mayer bread maker. This setting allows you to bake bread in one hour so you can take a bite into your homemade bread in no time!
What's more, it comes with 12 baking functions and adjustable crust control features to help you bake the bread you desire.
It also comes with a removable non-stick baking pan and kneading paddle, making it easy for you to wash and clean it.
5. Song Cho Bread Maker (SC-BK06A)
Price: $158
Product details
Sleek body design
Large LED display
13-hour customisable timer
Ceramic-coated bread barrel
10-minute power cut-off function
Bread weight: 680g to 900g
14 baking functions
Dimensions: 36.5cm x 25cm x 29.5cm
If you're looking for the best bread maker in Singapore that's compact and comes with a wide range of settings to choose from, you'll love the Song Cho Bread Maker.
It has 14 functions which allow you to not only bake the basic bread, but also make dough, cake, jam, gluten-free goods, and more.
Additionally, its ceramic-coated bread barrel makes it easy to clean. With a compact and sleek design, it won't take up too much space on your countertop too!
6. Rommelsbacher BA550 Bread Maker
Price: $179
Product details
13 programmes to choose from
Special gluten-free bread setting
Automatic ingredient container for nuts/ fruits
Stainless steel housing
Selection of two bread sizes (700/ 900g)
If you're looking for a bread maker with a stainless steel body, you should definitely consider this Rommelsbacher bread maker. It has 13 different programmes to choose from and even has a special gluten-free bread setting!
Love to share your bakes? With this bread maker, you can choose to bake a 700g or 900g loaf!
7. Kenwood BM450 Bread Maker
Price: $279
Product details
15 standard baking programmes
Five personal programme settings
58-minute rapid bake setting
Non-stick coated bread pan and kneader
Touch-screen controls
The Kenwood bread maker is perhaps one of the more high-end models in the market.
What makes this different from other bread makers in Singapore is that it has different personal programme settings so you can customise the baking process according to your very own recipe.
Additionally, it has a non-stick bread pan and kneader which makes cleaning fuss-free!
8. Zojirushi Bread Baking Machine
Price: $293
Product details
Compact and slim design
Three bread textures: Regular, firm, or soft
Quick baking cycle
Crust control function
13-hour delay timer
From cookie dough, pasta dough, French bread, and more, this amazing bread baking machine lets you experiment making a range of home-baked yummies. Its quick baking cycle prepares bread in less than 2 hours so you can have fresh bread in no time!
Don't have much countertop space? Don't worry; its compact and slim design makes it suitable for small kitchens.
9. Panasonic SD-P104WSH Breadmaker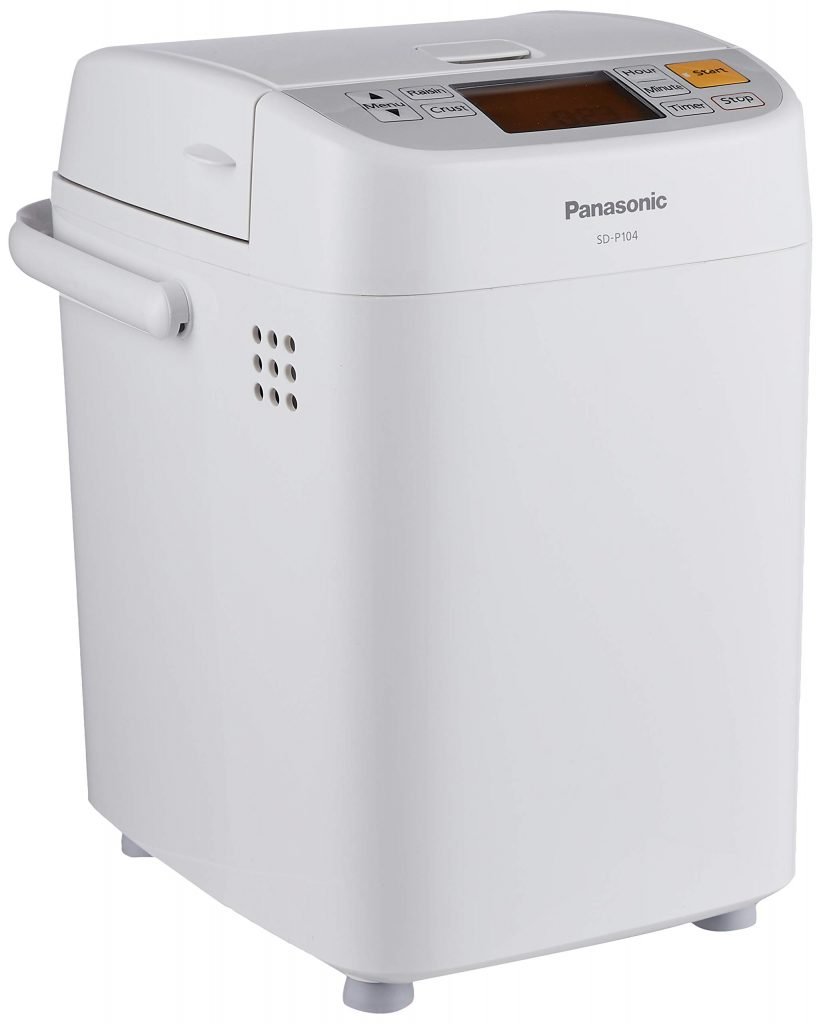 Price: $299
Product details
Automatic dispensers
13-hour digital timer
13 menus to choose from (includes rice flour bread and dumpling skin)
10-minute power interruption protection
Love being adventurous in the kitchen? You'd appreciate this Panasonic Breadmaker, which is probably the best bread maker in Singapore.
Its 13 menus allow you to bake a wide range of bread and even make dumpling skin! This bread maker is easy to use, convenient, and also has a 13-hour digital timer that allows you to enjoy freshly-baked bread in the morning.
What's more, its automatic dispensers allow ingredients such as yeast and raisins to be added at the optimum timing, ensuring an even mixing and distribution.
The breadmaker's power interruption protection also ensures that it retains its settings for up to 10 minutes during a power failure and continues to bake once there's power supply.
10. Zojirushi BB-KWQ10 Bread Baking Machine
Price: $339
Product details
Compact
Can prepare up to 500g of bread/cake
Programmable 13 hours timer
Wide LCD control panel
Viewing window
Quick baking option
Crust control programme
Automatic dispenser
If you want a highly customisable bread maker that's designed for small households, this bread maker is a great option to consider. It's compact and bakes up to 500g of bread.
With its programmable timer, you can set baking time 13 hours in advance and bake overnight. Nothing is more refreshing than the inviting smell of freshly baked bread in the morning!
It's also equipped with an automatic dispenser, so that you don't have to wait for the alert tone to add things like raisins and nuts during the baking process.
Other places to buy the best bread maker in Singapore
Best Denki is one of the best stores to browse for the best bread maker in Singapore. There's a wide selection, various brands to choose from, and the stores are located all across the island.
You'll be able to find various bread maker models with Harvey Norman. There are frequent discounts and promotions on their products too, so make sure you check out the store and compare prices before making your purchase.
Looking for affordable, high-quality bread makers? You should definitely check out what Lazada has to offer. On the site, you'll get to read reviews, compare prices, and features between different models easily. If you love the convenience of online shopping, you should definitely look through the selections on Lazada.
Tried any of these bread maker models? We'd love to know more about your experience!
Related articles:
Other articles: