Tired of washing piles of dishes after every meal? Do you spend 15-20 minutes cleaning all the pots and pans after family dinners? A dishwasher can save you precious time, water, and electricity. Here are our top picks for the best dishwasher in Singapore for your household needs.
Things to consider before you buy a dishwasher in Singapore
Before we get into our list of dishwashers, we have summarised all the factors you need to consider before buying the best dishwasher in Singapore.
1. Capacity
One of the important factors is the capacity. How big is your family? How big is your kitchen? If it's just two to three people, a compact size dishwasher should suffice. Usually, compact dishwashers come in an 18-inch and have a six to eight standard place setting.
If your household has more members, you should consider a 24-inch standard size dishwasher with a capacity of 12 – 14 standard places. If you have a small kitchen, make sure to measure the space first to ensure that the standard dishwasher fits.
2. Energy-saving
Modern dishwashers are energy-efficient. However, not all models use the same water or electricity quantity.
Cheaper models won't have the same technology as expensive ones. If you have extra money to spend on a good dishwasher, it's an excellent investment that will serve your household well, saving you much more money on water and electricity.
3. Features
Some dishwashers may require you to rinse and pre-wash your dishes and clear away leftover food before putting it into the dishwasher.
However, technology has advanced. Today, many models have a hard food disposal feature that allows you to skip the extra step and put the dishes straight into the dishwasher. Some models even have a self-cleaning filter, requiring less maintenance on your part.
Dishwashers with these advanced features usually come at a higher price, so knowing and picking only what you need is important.
4. Types: built-in, portable, drawer, or countertop
The type of dishwasher to get usually depends on your kitchen size and if you're renting or have your own place.
Built-in and drawer dishwashers need to be installed into the kitchen interior. As such, these are more suitable if you have your own place. These dishwashers are usually bigger and better for larger families as they can cater for a larger load.
Portable and countertop models are cheaper and more economical. They're smaller than built-in and drawer dishwashers and are suitable for couples or small families. Another great feature is that they're compact and portable. If you're renting a place or planning to move frequently, portable and countertop dishwashers are a better option.
5. Washing cycles
In general, there are three types of washing cycles — light, regular, and heavy. Most models of dishwashers in Singapore have these.
You should also look out for a dishwasher with additional cycles like an economy wash, fast wash, and rinse. These cycles are more convenient when you need a quick wash for a couple of plates and glasses. Wash cycles like glass stemware, pot scrub, or sanitise wash are also helpful but will come at an extra cost.
10 best dishwashers in Singapore
1. Toshiba Mini 5L Portable Dishwasher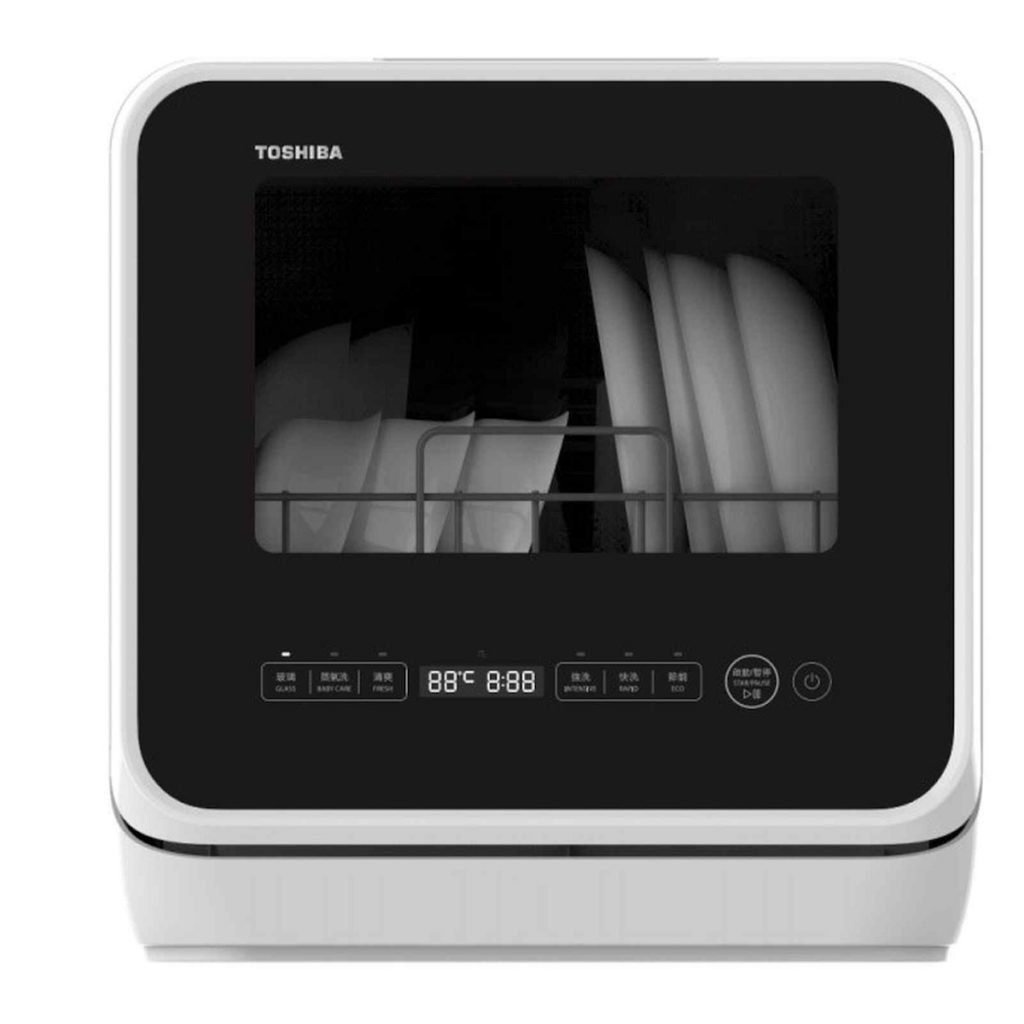 Price: $499
Product details
Compact and portable
Fruit wash function
Intuitive touch control
Want to get back home, eat your dinner, and relax without thinking about dishes? With a 5-litre capacity, this Toshiba Mini dishwasher is perfect to fit dishes for two to three people.
It's also great for people who are renting a small flat or thinking to move soon. This beautiful dishwasher is portable and adaptable to any interior.
One unique feature of this dishwasher is its fruit wash function. It allows you to clean any hidden dirt from your fruits with just a touch of a button!
Based on the size, design, and versatility, this Toshiba Mini dishwasher makes for the best dishwasher in Singapore for small households and budget-conscious folks.
2. Europace EDW3050U Portable Dishwasher
Price: $535
Product details
Compact
5L capacity
Smart touch control panel
Easy to install
Have a tiny kitchen with barely any free space? EuroPace portable dishwasher can fit on a counter, under a table, or in a bigger drawer.
Its smart touch control panel is also pretty straightforward to use—simply select from four wash settings and let it do the job! After the wash, you can keep the dishes inside to dry and even leave them to store.
3. Electrolux ESF6010BW 55cm Compact Dishwasher
Price: $709
Product details
Six programmes
Compact
Child-lock
Anti-flood protection
This Electrolux ESF6010BW is a compact dishwasher that can be fitted in almost any kitchen. Just 55cm in width, it's smaller than regular countertop dishwashers or even ovens.
It has six automatic washing programmes to cater for a variety of washes, along with anti-flood protection, and child-lock features. It's the best dishwasher in Singapore for families with young children. No more worrying about washing tons of dishes after cooking up a feast!
4. Elba EBDW 1251 A W Dishwasher
Price: $899
Product details
12 place setting
Five wash programmes
Inexpensive
For just under $900, this Elba EBDW dishwasher features a 12 place setting. That's enough for a family of up to six members. This model has five standard wash programmes for your dishwashing needs.
A unique feature is its LED indicators. These indicators show the progress of the current wash status and how much time is left of the cycle. If you're a multi-tasker looking for a dishwasher that can help you manage your time well, this is the one for you.
5. Beko DFN28J21X Free Standing Dishwasher
Price: $1,099
Product details
14 place setting
Dirt sensor
Anti-bacterial seal
Watersafe+
The Beko DFN28J21X dishwasher is very versatile and simple to use—just chuck your dishes in and use the Auto programme. The dirt sensor inside the dishwasher will determine how dirty your dishes are and will start an appropriate programme.
It features a Watersafe+ technology which automatically shuts off the water if there's any leakage. Additionally, its antibacterial seal safeguards against bacteria reproduction on the dishwasher gasket.
If you're looking for a standard dishwasher in Singapore that is safe and easy to use, Beko DFN28J21X is the one to go for.
6. Bosch ActiveWater 60 cm Dishwasher
Price: $1,099
Product details
13 place setting
EcoSilence Drive
2-year local warranty
From one of the world's best dishwasher brands, this Bosch ActiveWater dishwasher features Bosch's evolutionary EcoSilence Drive brushless motor. The brushless motor allows you to do your dishes at night or when your baby is sleeping. It's extremely silent, energy-efficient, and also quick.
Its AquaSensor feature also saves water by monitoring the progress of the wash. It controls the duration, water used, and exact temperature, saving you up to 4 litres of water per wash.
7. Brandt VH1772J Built-in Dishwasher
Price: $1,250
View on Amazon
Product details
12 place setting
Half-load option
4-in-1 function
The Brandt VH1771J is slim and great for small kitchens in Singapore. It's slightly wider than a typical countertop dishwasher, but offers a 12 place setting—just right to wash dishes for a family of four to six!
It has a half-load option to help you save more energy and water while using. Its 4-in-1 function uses multi-function pallets to optimise the washing and drying cycle.
Its slim design, large capacity, and energy-efficient wash make the Brandt VH1771J the best large dishwasher in Singapore on our list.
8. LG DFB425FP Truestream Dishwasher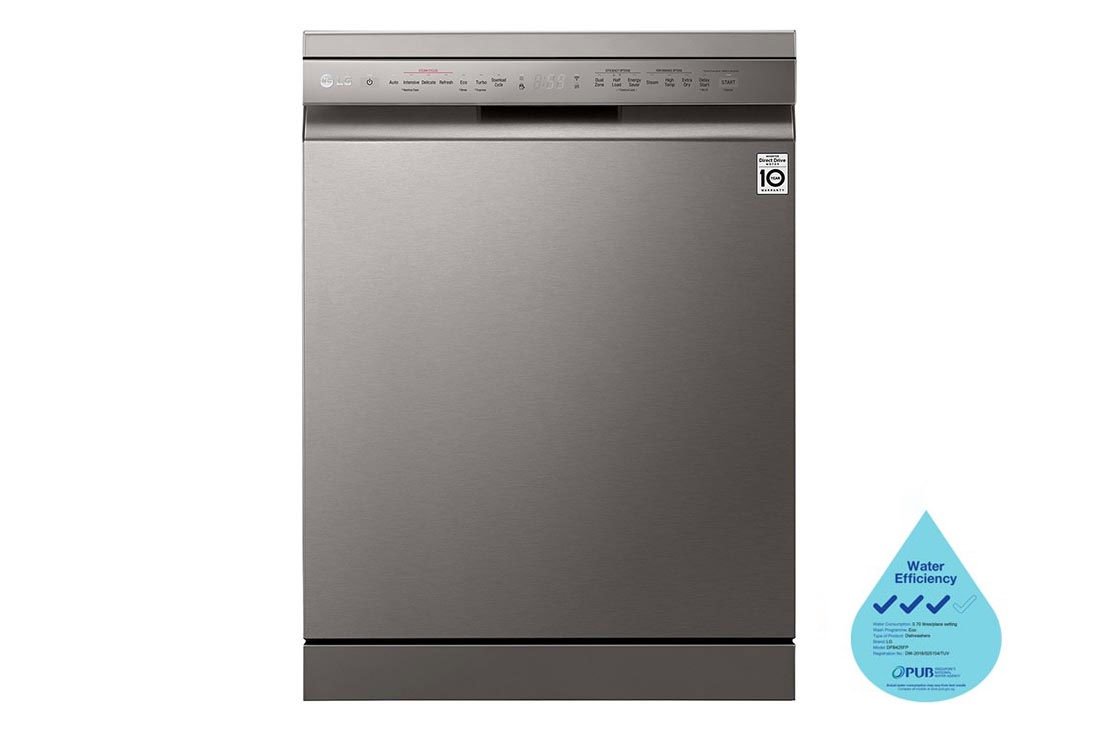 Price: $1,679
Product details
14 place setting
QuadWash technology
Truesteam technology
Child-lock
2-year warranty
This LG DFB425FP truesteam dishwasher is a standard-sized dishwasher suitable for large families.
Truesteam technology uses hot steam to help break down stuck food or scrape easily. It also improves drying, causing fewer watermarks. The QuadWash technology provides high-pressure cleaning with not two but four spray arms, which rotate back and forth while spinning to provide power-clean from all angles.
Its innovative technologies and capacity makes it one of the best dishwashers in Singapore for large families.
9. Fisher & Paykel DD60SCTX9 DishDrawer Tall Single Dishwasher
Price: $1,699
Product details
14 place setting
15 programmes
Very durable brushless DC motor
Child-lock
Anti-flood protection
This slick, stainless steel dishwasher will be a great addition to any kitchen. Besides being beautifully designed, this Fisher & Paykel dishwasher is pretty compact as well.
Its DishDrawer technology combines innovative electronics and smart layout in the washer to provide a 14 place setting. In addition to that, independent drawers will allow you to wash plates and pots on two different programmes.
10. TEKA DW605S 60cm Partially Integrated Built In Dishwasher
Price: $1,950
Product details
12 place setting
Six wash programmes
Auto programme
Energy-efficient
This Teka dishwasher has a 12 place setting and six wash programmes to clean even the toughest of stains. If you're unsure which programme to use, go with the Auto function and it'll detect the dirt level and select a programme by itself.
Energy-efficient and very quiet, this dishwasher allows you to start a wash cycle even at night when everyone is sleeping.
Best places to buy a dishwasher in Singapore
Looking for the biggest dishwasher selection in Singapore? COURTS is the place to go. This retailer offers a wide variety of kitchen appliances. Whether you're on a tight budget or looking for the best dishwasher in Singapore, COURTS has it.
With 14 outlets across Singapore, Harvey Norman carries a wide variety of products ranging from the latest home entertainment systems and computing technology to modern, innovative home appliances.
While their range of dishwashers isn't extensive, Harvey Norman only sells the highest quality dishwashers. If you're looking for kitchen appliances with advanced technologies and innovations, Harvey Norman is the place to shop at.
Related articles:
Other articles: