I once believed that balconies were rooms that didn't know how to behave like rooms.
A house refers to a human habitation, typically with a floor, a bunch of walls, and a roof. Anything within this confine is known as the 'indoors', and everything outside them is known as the 'outdoors'. At four years old, the outdoors were dangerous, and bad people could hurt you.
When I grew up and stopped being a plebian, I found out that some people actually incorporate spaces that aren't walled or roofed into their homes. Gardens and lawns were, of course, within my scope of knowledge, but outdoor patios in a HDB apartment? Balconies in condominiums? Why would anyone willingly buy a house with a room that forgot it was supposed to have walls and a ceiling?
Then, at the age of 16, I believed that balconies were spaces for people to grow plants that require a lot of sunlight. After all, you can't put anything made of metal there. Rain causes rust, and nobody will put a metal chair outside in the harsh sunlight of Singapore. I was absolutely convinced that anyone who had an outdoor area was a either a gardener, or a fool.
Seeing the light
The years went by, and I didn't give balconies any more thought (I'm not THAT obsessed). It wasn't until I went to Taiwan with my friend that I realized the true joy of living existed in the weirdest places.
Our AirBnB came with a tiny balcony that couldn't fit more than a single table and chair. It overlooked the busy streets of Ximending, and the air often smelled of fried chicken and smog. Despite that, some of my fondest memories of Taiwan were the hours we spent sitting by the balcony, watching videos of Super Smash Brothers Ultimate tournaments while eating sweet potato balls and fried chicken.
I don't quite know why. It could be the outdoor air, or the inconsistent blowing of the winds. It could be the commotion of the people outside, or the white noise you filter out when you're shielded by ferrocement walls.
Either way, I realized that the turmoil in my heart – which had been present ever since I realized sunburn existed – had been filled. That's why I'm here to talk about the ways you can make your outdoor life better than ever.
Modern balconies
Before we start, let's take a look at the modern balcony.
The balconies of today are smarter in their design. Most balconies now incorporate some form of shelter to keep out the rain. They also have some variation of a half-wall to stop inanimate objects and infants from being too adventurous.
Another thing that can be found in modern balconies are rainproof blinds, the same things that the kopitiams roll out whenever it begins to rain.
In Singapore, the new guidelines state that outdoor balconies must be at least 1.5m wide. This is to ensure that the residents will be able to use the space for something.
What are the requirements for outdoor furniture?
Usually, there aren't any rules when it comes to furniture choices. If you want a green wall with orange polka dots, power to you! Ultimately, you spend the most time in your house, so you have the rights to design it any way you want.
Unfortunately, outdoor furniture is a bit different. The design choices are still up to you, but the materials used in their design have to follow a few criteria.
Will not get destroyed by rain.
Despite the rain shields, moisture can still seep into your balcony. This means that anything that doesn't cope well with water is prone to damages. Apart from electronics, this also means that products made from leather, cotton, and velvet should not touch the outdoors at all. It also includes wood, since wood is prone to rot if it's not covered by some kind of proofing.
Will not get destroyed by heat/light.
The Singapore Sun is a great way to destroy your electronic equipment. Exposing LCD screens to a consistent, strong amount of light will cause the liquid crystals inside the screen to deteriorate, permanently damaging your device.
Another item that doesn't hold up well to strong sunlight is leather. Heat will dry out leather and cause it to crack. This makes leather objects one of the worst things to put outdoors.
Is not lightweight.
If you happen to own a ceiling fan, maybe one with lights, you may find it annoying when your papers get blown off your desk. Maybe a few seconds will go by where you halt all your progress in order to pick them up.
If you tried this on the balcony, the wind might carry your precious papers over the edge and into Malaysia. This means that furniture such as light plastic chairs, cork boards and loose fabrics should not be put outside.
What materials are suitable for the outdoors, then?
Glass
Glass is heavy, doesn't give a damn about heat or rain, and looks great on any tabletop. It fits almost all themes and designs, and can be used to hold down less resilient objects. One example could be to use the glass top of a table to weigh down polaroids or pictures.
Rattan
A popular choice amongst many homeowners with an outdoor deck, rattan has a timeless design, and can hold up to both rain and heat. The downfall of rattan is that it's quite light, and although Singapore doesn't really have extremely strong winds, it's still advisable not to leave them near stuff like swimming pools.
Canvas
Canvas holds up well to rain, and while it might get hot under the sun, it doesn't really denature as quickly. And yes, it's prone to blowing away, but most canvas sheets meant for the outdoors are used in things such as rain shields or hammocks, and are weighed down.
Terracotta
Gardeners probably already know this, but terracotta pots are fantastic at doing what they do – keeping potted plants outside. They're heavy, aren't affected by the rain and sun, and move moisture out of themselves, preventing root rot.
Let's take a look at some outdoor furniture!
Before I start, do take into consideration a few factors that will influence my judgements:
I have not tested any of these products
All information provided is as per listed on the website
I cannot read Chinese well, so there may be a few inaccuracies in Chinese articles
Opinions provided are my own, and not influenced by any sponsors, sadly enough
The names provided by the sellers are a bunch of bollocks
Let's go!
Price: $4.80
Material: Plastic
In Asian countries, we usually walk around barefoot when we're at home. However, when you have an outdoor deck or balcony, dust can build up very quickly, and you might get that dust all over your nice indoor carpet.
That's why we recommend a small shoe rack that you can set up on your balcony to store all your indoor-outdoors shoes. You can store your oldest, ugliest slippers here, and wear them in the comfort of your own home, where nobody can ever see them.
This shoe rack is made of plastic, which can stand up to rain and harsh sunlight well. It is a bit on the lighter side, but with 90% of its body being open air, I reckon it won't be flying anywhere anytime soon.
Match this with a bucket of soapy water to wash away any sediments.
Price: $27
Material: Rattan
A garden chair is a great way to bask in the sunlight without having to change your clothes. The mesh nature of the chair is also resistant to sweat, which makes it a good option for people who tend to perspire a lot.
Most rattan furniture is actually made of synthetic rattan – which is some variation of plastic. This is because organic rattan is a plant fibre, and therefore is susceptible to bacterial growth. Synthetic rattan is resistant to heat and rain, and goes great with all kinds of designs and themes.
I'm not sure what material the frame is made up of (if you can read Chinese, please let me know!), but it seems to be aluminium. Aluminium is a very common choice for most budget outdoor furniture, since it's cheap, lightweight, and isn't prone to damage after being exposed to heat. Pure aluminium does corrode if it's exposed to acidic or alkaline water, but given the advancements in technology, I wouldn't be surprised if scientists have developed something to coat the aluminium in, similar to how drink cans don't corrode themselves.
Price: $165.90
Material: Canvas
A hammock is a bed that you can lie in without having to worry about getting it dirty. They're comfortable no matter what material they're made from, water resistant, and sweat-repelling. It might get hot under the sun, but apart from the inconvenience, no harm will be done to the hammock.
Unfortunately, hammocks take up a lot of space – depending on your balcony size, you might not be able to include any other outdoor furniture if you own a hammock.
Some people may worry that the hammock's physical similarity to a parachute might mean that its prone to being carried away by the wind. And they might be right if they were talking about the hammock alone; hammocks usually come with weighted stands heavy enough to support your body weight. If you enjoy being lazy and doing nothing for hours on end, this is the perfect investment to make.
Goes well with a fancy cocktail sipped through a bendy straw.
Price: $259.80
Material: Wood. I can't read chinese, so let's just assume that the whole set is waterproof, frames and all.
This quaint little set is perfect for the posh lady who likes to sip tea while gossiping with her high SES friends. The seats don't get hot in the sun, shrug off the rain, and are heavy enough that a passing breeze won't be able to do as much as twitch them.
Pure wood has a tendency to absorb moisture and become a home for algae, so they are treated with wood sealers and waterproofing products.
Pair this with a modern tea set for maximum chic, or go for a tea set made from porcelain if you want a more vintage vibe.
Price: $278.40
Material: Wood
It says children up in the title, but come on. You can't tell me you've never wanted to sit one of these rocking chairs before. They're an absolute pleasure to sit on, although you can't really slouch down on them like ordinary benches.
Rocking chairs are a perfect way to waste your life. I've spent hours on the swings at my park, thinking about nothing and feeling the wind in my face. If it wasn't for the younger generation discovering my hideout, I might still be there today.
Pairs well with an ice cold beer and a panoramic skyline.
Price: $368.70
Material: Rattan wicker
Wicker is a tricky topic. For the sake of clarity, wicker isn't a material, but a method of weaving – that's why rattan is the main material. However, it's the weaving style that causes wicker to be so fragile.
Wicker is made from thin, interwoven plant fibers that will lose their structural integrity when they are saturated with water. Sure, the occasional light rain may not damage it, but once the sun comes out, the heat will weaken it further. If you're using natural wicker, you cannot expose it to the weather, regardless of how many proofing materials you apply.
Most wicker meant for outdoor use is actually resin wicker, also known as all-weather wicker. Resin wicker is closer to plastic than plants, since most manufacturers make it entirely from polyethylene.
But enough about materials – let's discuss the furniture. The 'Outdoor Wicker chair Three pieces set courtyard balcony table chair combination outdoor Terrace Leisure Garden creative rattan furniture' has cushions, which is a terrible thing to have on a piece of outdoor furniture. However, take a look at this:
Any time a rain cloud as much as sneezes, all your have to do is to pick up your cushions and shove them into the shelf. Problem solved!
The glass top is also a nice touch for the rattan table, since it forms a solid sheet for you to put your drinks on. You can keep your family photos underneath that glass sheet, or a yearly calendar.
Pairs well with a newspaper, a cup of coffee, and sleeping kids.
Price: $97.80
Material: Polyester cloth umbrella, plastic stand
If you want to lounge on the deck without exposing yourself to the sunlight, consider getting this umbrella. It's made of high quality polyester, which provides shelter from the rain and sun. It's high enough that the heat won't be transmitted to the people sitting beneath it, and if a strong wind comes, you have nothing to fear. The entire structure is weighted down by an 80kg water tank that you can drain whenever you feel like transporting it elsewhere.
These umbrellas are so cost-efficient that many companies have already incorporated them into their businesses. From the outdoor tables at Starbucks to restaurant patio seats, the usefulness of the polyester cloth umbrella cannot be understated. As a bonus, it also comes in several different colours: wine red, brown, rice white, and green.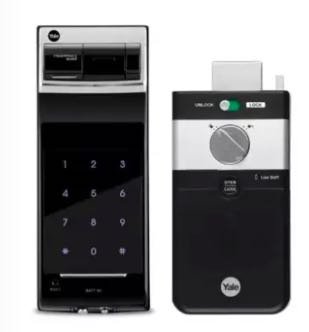 Price: $499.00
Material: No idea.
Okay, hear me out.
It's not a piece of outdoor furniture, but for all of those who live in ground floor apartments, it's not difficult for people to enter your house through your patio. Yes, it's extremely rare in Singapore, but this Yale digital lock will be a great piece of insurance for the nights you're too drunk to remember to lock your balcony door.
Every time you close your door, this Yale digital lock will lock it for you, making it impossible for people to come in if they don't know the password, or have your fingerprint at the ready. The drawback is that I'm not entirely sure it's waterproof, and exposure to strong sunlight will almost definitely destroy this device. However, if your door is in the shade and you don't mind spending a little more to ensure the safety of your home, the 'Yale YDR 4110 Biometric Fingerprint Digital Door Lock (Rim Lock)' is definitely worth consideration.
Pairs well with not getting robbed of your $4,000 TV.

And there you have it. Honestly, there are so many different combinations of furniture that it's impossible to go through everything, so I simply picked the ones that would fit most people's preferences. I think.
All you non-outdoor having people, don't be upset. Let's keep working harder; one day we'll be able to get our own outdoor space too.
Alternatively, we can just stop working and the whole outdoors will be our home.