Disclaimer: This article was written in partnership with Hailstorm Umbrella. Views expressed are solely that of Unopening's.
Most of us are familiar with owning umbrellas that give way after some time—worse still, right in the middle of a stormy day. If you're looking for an umbrella in Singapore to buy for the long-term, we've got you covered here with the 10 best ones you can buy in Singapore. But before we dive into our list, let's look at a few factors you should consider first when looking at an umbrella.
What to consider when buying an umbrella in Singapore
Price aside, you should look at factors such as size and materials. Don't just buy an umbrella because it looks pretty.
Size and weight
This depends on your lifestyle and how you usually travel. If you use public transport and walk quite a bit, it's better to get a lightweight and compact umbrella that you can easily put in your bag and carry around.
If you travel around mostly by car, a larger and less compact umbrella like a golf umbrella could suffice. You can simply leave it in the car and only carry it with you when you need it.
UV protection
Umbrellas that come with UV protection can be beneficial especially in sunny Singapore. If you always put on sunscreen before going out, you can consider getting an umbrella with UV protection to further protect yourself from harmful UV rays.
Wind protection
It can get rather windy in Singapore during the rainy season. Your umbrella can get damaged by the wind if it isn't strong enough, and you want one that doesn't flip outwards easily during such times.
If your umbrella keeps doing so during windy seasons in Singapore, you can consider getting a double-layered one instead. Such a design allows the wind to pass through the umbrella, preventing the canopy from getting blown upwards by the wind.
Durability
A heavy umbrella isn't necessarily durable. In fact, the strength of an umbrella is largely dependent on its materials.
For instance, fibreglass frames are more durable than metal frames. Since fibreglass frames are more flexible, they can simply flex and not give way during heavy winds. This makes them less likely to break compared to metal frames.
It's also a good idea to get an umbrella with frames that don't rust easily, or at all. This includes frames made of materials such as stainless steel and fibreglass.
Before we dive into the best 10 umbrellas we'll be looking at in this article, here's a snapshot of the umbrellas and their respective prices.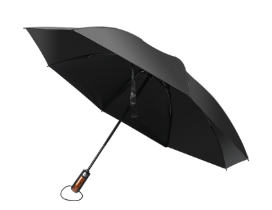 Price
Key highlights
Inverted design: Unlike typical umbrellas in Singapore, the Hailstorm Umbrella has its wet side facing inside when closed—while the dry side is exposed. That means you don't have to get your hands dirty and wet when closing and storing the umbrella. What's more, if you don't have the umbrella sleeve on hand, you can still keep it in your bag without getting the other items wet.
Open-close button: This function allows you to conveniently open the umbrella with one hand. This can come in handy if you're carrying many things and it suddenly rains. You can also easily close the umbrella with a push of the button.
Curious to know more about the Hailstorm umbrella? Read our in-depth review here!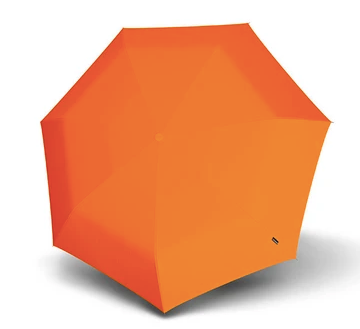 Price
Key highlights
Rounded tips to reduce the risk of scratching others: When opening an umbrella in a crowded area, you can sometimes end up scratching someone near you with the pointed umbrella edges. To avoid this, the Knirps Floyd Umbrella comes with rounded tips, making it safe to open and use in crowded places.
Windproof: The umbrella is fitted with a ten-edged Knirps shaft that prevents it from twisting. It's also gone through a wind tunnel test with a speed of 120 km/h, so you probably don't have to worry about the canopy flipping outwards during windy and stormy seasons.
Lightweight: At 270g, the Knirps Floyd umbrella is one of the lighter umbrellas out there. If you're looking for an umbrella in Singapore that isn't too much of a burden carrying around, you can consider getting this.
Price
Key highlights
Sturdy 9-rib canopy: While most compact umbrellas have 6 to 8 ribs, the Repel Windproof Double Vented Travel Umbrella is built with 9 resin-reinforced fibreglass ribs. These additional ribs allow the umbrella to better maintain its shape in heavy rain and strong winds.
Open-close button: This is yet another umbrella in Singapore that allows you to open and close the umbrella with one button. Even if you're carrying lots of stuff and it suddenly rains, you can still open the umbrella with one free hand.
Fast-drying: The canopy of this umbrella is coated with Teflon to enhance its water repellency. This allows the water droplets to quickly slide off the canopy, so you don't have to leave it open to dry for a long time.
Price
Key highlights
Large canopy: For a folding umbrella, this umbrella has a pretty wide canopy. The umbrella stretches to a width of 107 cm in the open position, allowing 2 people to comfortably fit under it. If you're sharing the umbrella with someone else, you probably won't have to worry about either of you getting wet.
Sturdy frame: This umbrella is probably one of the sturdiest umbrellas on our list. It's built with more than the usual number of ribs in order to withstand wind and better maintain its shape.
Compact: This umbrella is also one of the shorter ones in Singapore. While it has a length of 62cm when opened, its length is nearly halved at 32cm in the close position. If you're looking for a compact umbrella in Singapore, you can consider getting this since it won't take up a lot of space in your bag.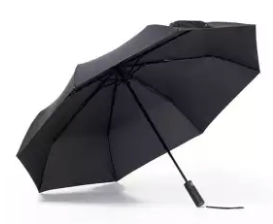 Price
$29.90
Usual price of $49.90
Key highlights
UV protection: If you intend to use your umbrella to also shield yourself from the sun, you can consider getting this. The Xiaomi Mijia Automatic Umbrella makes of a UVoutex Fabric, which effectively blocks harmful UV rays to protect the user.
Open-close button: As with some of the other umbrellas we've looked at, this button allows you to open and close the umbrella with one hand through the open-close button.
Lightweight: At just 295g, the Xiaomi Mijia umbrella is one of the lighter folding umbrellas in Singapore that comes with the automatic open-close function.
Price
Key highlights
Durable frame and canopy: The canopy of the Samsonite Windguard Auto Open Umbrella is made of Teflon-coated polyester. Coupled with the rugged steel ribs and shaft, the umbrella is wind-resistant and can maintain its shape during heavy rain and strong winds. These features make it the perfect umbrella for travelling.
Spacious canopy: The umbrella's canopy is also big enough to provide ample coverage for 2 people. No more squeezing and worrying about getting wet.
Comes with a 2-year warranty: Unlike other umbrellas in Singapore, this umbrella comes with a warranty covering manufacturing defects. You can get it repaired for free if you find any defects within 2 years of the purchase.
Price
54″ (137cm): $32.46
62″ (157cm): $22.58
Key highlights
Wide coverage: Golf umbrellas have a wider canopy and coverage than folding umbrellas. If you prioritise coverage, you can consider getting the G4Free Automatic Double Canopy Golf Umbrella—available in 2 sizes.
Windproof: When used in strong wind conditions, the double-canopy design of this golf umbrella creates a vent that allows the wind to pass through it. Coupled with its hardened stainless steel frame, this umbrella can offer good protection in windy conditions.
1-year guarantee: The umbrella also comes with a guarantee, covering any defects found within 1 year of the purchase.
Price
Key highlights
Great wind resistance: The BLUNT Metro Travel Umbrella is possibly one of the toughest umbrellas available in Singapore. Its Radial Tensioning System allows it to resist heavy rain and gale-force winds of close to 90km/h. When used in heavy and windy downpours, you can be sure that it won't flip out and leave you dripping wet.
No tips: What's unique about this umbrella is that it doesn't have the sharp points at the canopy edge that most umbrellas in Singapore have. This allows you to quickly open the umbrella when it suddenly rains, without having to worry about accidentally poking or scratching someone.
UV protection: Not only can the umbrella protect you from heavy rain and strong winds in Singapore, it can also shield you from the sun. Its canopy comes with a UV rating of 96%.
Price
Key highlights
Easy-fit storage pouch: Storing an umbrella inside its pouch can take quite a while, especially if it has a small opening. What's special about the LifeTek FX1 Windproof Travel Umbrella is that its pouch has a bigger opening than most umbrellas in Singapore. This allows you to insert the umbrella in the pouch easily without having to force it in.
Very compact: At a length of around 30cm in the close position, this umbrella is one of the more compact umbrellas on this list. It can easily fit in any kind of bag—from handbags to backpacks—making it convenient to carry with you wherever you go.
2-year guarantee: The thing about most umbrellas is that once there's a defect, you can't get it replaced for free. On the other hand, this umbrella comes with a guarantee that allows you to get a free replacement if you find any manufacturing defects within 2 years of the purchase.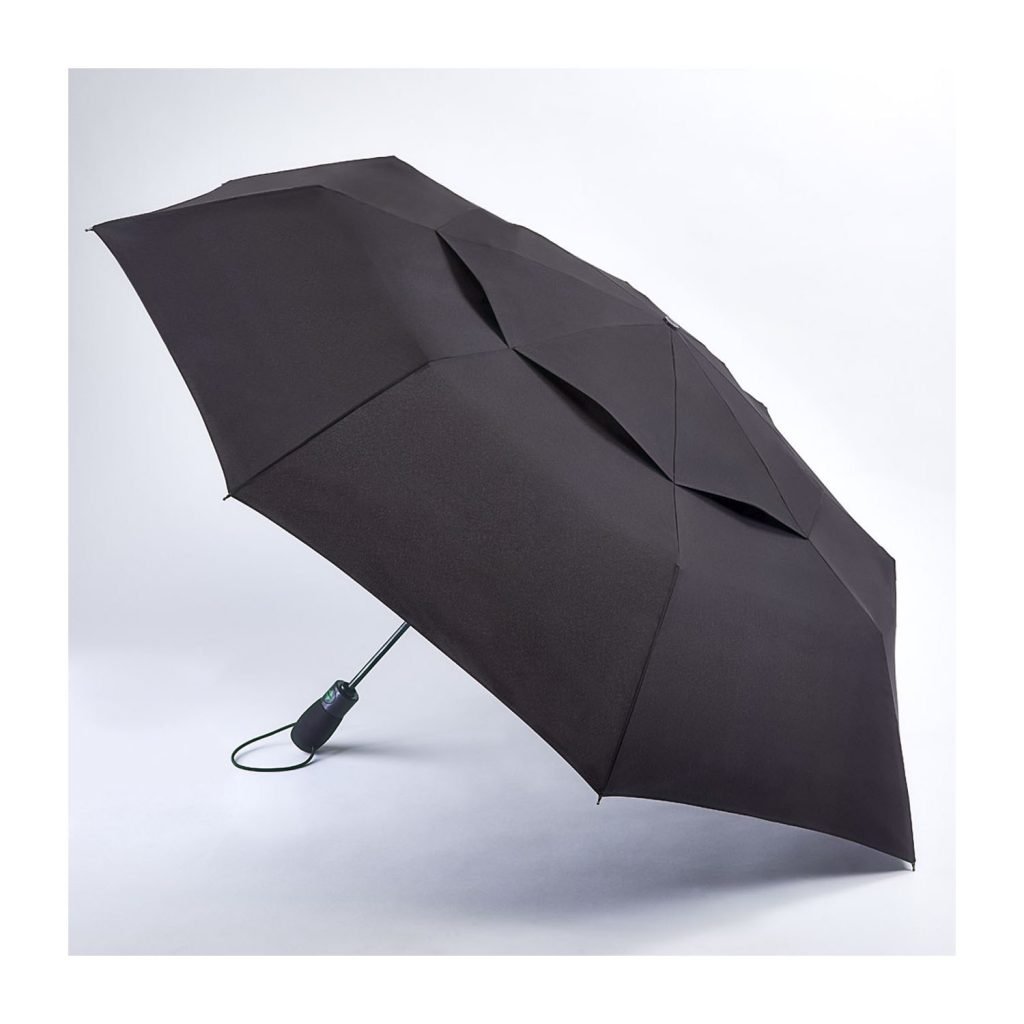 Price
Key highlights
Wind-resistant: The Fulton Tornado Umbrella comes with a vented canopy, allowing the wind to pass through it instead of blowing it upwards. The fibre reinforced polymer ribs also make the umbrella more durable, allowing it to maintain its shape in the harshest weather conditions.
Wrap-over case: What sets the Fulton Tornado Umbrella apart from other umbrellas in Singapore is that it comes with a wrap-over case. This allows you to quickly take the umbrella out of the case when it suddenly rains and store it easily after use.
Soft handle: Holding up an umbrella for a long time can put a strain on your arm, especially when it has a stiff handle. The handle of the Fulton umbrella is made of EVA foam, providing a comfortable grip.
Related articles:
Other articles you might want to check out: